The Research & Development team members at SharkNinja really seem to be outdoing themselves. Time after time, they surprise us with new, modern, efficient vacuum cleaners. And this will be evident to you in our Shark Navigator Swivel Pro Complete Upright Vacuum NV150 Review.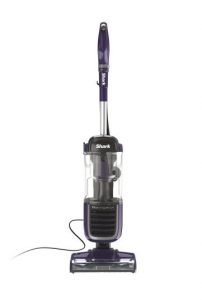 Apart from its eye-catching design, there's plenty that this upright vacuum has to offer in terms of performance. In this article, we take a look at all the features that make it one of the best upright vacuums in the market today.
Rest assured that all the fundamental features that have made Shark a household name are still intact. However, there has been a significant improvement that will leave your home sparkling clean.
>See the best Shark upright vacuum on the market<
Shark Navigator Swivel Pro Complete NV150 Review: Features
In this section, we point out all the main features of Shark Swivel Pro Complete NV150.
No Lift-Away technology
First, let's get this out of the way. I know you expect any Shark vacuum to have the lift-away feature. In case you don't know, lift-away technology allows you to remove the dirt canister from the core unit. This is one way to make cleaning hard-to-reach areas easily.
However, the Shark Navigator Swivel Pro Complete does not allow you to do that. Alternatively, you can remove the wand from the unit and attach accessories for easy above-floor cleaning.
Powerful suction
For a vacuum to be classified as "good" or "the best", it must first and foremost be able to do its fundamental job – suck. A vacuum that can't pick up all kinds of messes is a terrible investment. However, with the Shark Swivel Pro Complete, you won't be frustrated. It possesses strong suction that sucks in dust, pet hair, and debris like a pro.
Also, suction control is available so that you can choose how much suction to use on which floor. Therefore, you can increase the suction when cleaning hard floors and reduce it when dealing with carpets. Cleaning area rugs will also be a walk in the park.
Multi-floor cleaning
In the current age where everyone is looking to de-clutter and downsize, having a versatile vacuum is like hitting a mega jackpot. And we have good news for you. If you have bare floors (tiles, hardwood, etc.), carpets, or rugs, this unit will handle them all.
The first setting (or mode I) is ideal for hard floors. At this stage, the brushroll spins gently to ensure that your precious floor isn't left with scratches and dents. When you need to clean carpets, switch to the second setting (or mode II). This ensures that the brushroll spins faster. Also, the suction is moderated so that no dust or debris remains on the floor.
Filtration
Cases of allergic reactions are on the rise. The most common allergies relate to pollen and dust. Also, there are quite many people living with asthma. Granted, you may not be having any of these issues. However, your relatives or friends may be sufferers.
How can you help them comfortable when they come to visit? Well, there are many things you can do to improve indoor air quality. And having a vacuum cleaner with excellent filtration is one of them. A good vacuum must be able to trap all the captured pollutants inside the dirt canister.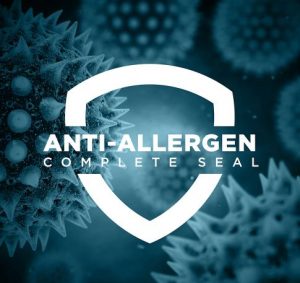 Luckily, the Shark Navigator NV150 Swivel Pro Complete upright vacuum uses a HEPA filter. This is combined with Anti-Allergen Complete Seal Technology to ensure that almost 100% of allergens are trapped. For optimal performance, the Shark filters need to be washed every so often.
Accessories
Accessories make vacuums complete. Without the proper attachments, you will end up just cleaning the floor. What about the above-floor areas such as upholstery, baseboards, shelves, drapes, window sills, walls, and so on?
The Shark Navigator Swivel Pro Complete comes with three important accessories. These are a crevice tool, an upholstery tool, and a dusting brush. On-board tool storage points offer convenience that is rare in most uprights. So, whenever you need to use the tools, they're just at arm's reach.
Amazingly, the extendable hose and the wand can help you reach up to 11 feet from the vacuum. So, cleaning stairs and other above-ground surfaces such as stairs becomes a walk in the park.
Dirt canister
While the dirt canister will not pick up liters upon liters of dirt, it is quite big and should be sufficient for any home – especially if you clean the house often. The size is rated at 2XL, which is bigger than what most upright vacuums offer.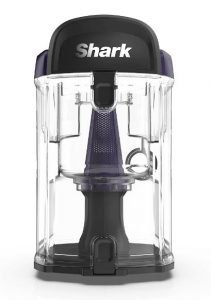 For example, compared to the Shark NV360 which has a capacity of 1.2 dry quarts, the Shark Navigator NV150 can hold up to 1.7 dry quarts of dirt.
Remember that you need to empty the canister before dirt reaches the "max fill" line. This way, you will not experience loss of suction as you clean. Also, some dirt tends to emit odors if left in the vacuum for too long.
Swivel steering
As the name suggests, the Shark Navigator Swivel Pro Complete is very easy to use. An advanced swivel steering technology allows you to easily move around furniture as you clean. So, you don't have to use a lot of effort as you vacuum your floors. You also don't have to get rid of any obstacles before you start cleaning.
Shark Navigator Swivel Pro Complete Review: features & specs summary
Here is a quick summary of all the features and specifications of the Shark Navigator Swivel Pro Complete Upright Vacuum:
Type: upright, bagless
Weight: 14 lbs.
Swivel steering
Washable HEPA and foam filters
Anti-Allergen Complete Seal Technology
Suction control
Dirt capacity: 1.7 dry quarts
Motor: 700W, 5.8 Amps
Power cord length: 25 feet
Crevice tool: 5.5 inches
Total above-floor reach: 11 feet
Cleaning path: 12 inches
Dimensions: 9.64 L X 12 W X 45.66 H (inches)
Shark Navigator Swivel Pro Review: Pros and Cons
Lastly in our Shark NV150 review, we take a look at the vacuum cleaner's pros & cons. While there are so many positives, we need to point out some drawbacks so that you make an informed decision.
Pros
These are the pros to look forward to:
Strong, adjustable suction
Multi-floor cleaning
Fantastic for fighting allergies
Easy to maneuver
Has three useful accessories
The filters are washable
Picks up pet hair
Moderately priced
Easy to empty and clean
5-year limited warranty
Cons
These are the cons that you have to endure:
No headlights
It lacks the lift-away feature
The power cord could be longer
Click here to see its current price.
If you don't get a new one, you can get a renewed or refurbished NV150 and it will still deliver the same results. Learn more about renewed vacuums.
So, Should you buy the Shark Navigator Swivel Pro Complete?
Shark vacuums are among the best in the industry. And the Shark Navigator Swivel Pro Complete NV150 is no exception. While it is a bit smaller in size compared to previous models, it does pack a punch. It powerfully picks up all kinds of dirt from a variety of flooring installations with ease.
So, if you are looking for a good upright vacuum for all your needs – both on the floor and above the floor, this is a very good option. It is easy to assemble, use, and clean. It is also excellent at trapping dust and other pollutants and has a large capacity compared to its peers.
Therefore, unless you need headlights or the lift-away capability, there's no reason why you shouldn't purchase this Shark vacuum cleaner.