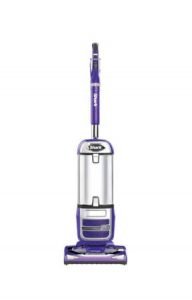 There are several reasons why we vouch for Shark vacuums. SharkNinja's extensive experience through the years has produced some of the best-selling upright vacuums in the market. Today, we look at the Shark Navigator Powered Lift-Away Upright Vacuum NV586 Review.
Shark vacuums are highly functional and innovative and you are assured of minimal repair issues as the vacuums deliver as presented. Besides, if there's any fault (which is rare), you will not lack a Shark service provider near you.
Studies suggest almost 70% of vacuum users opt for upright vacuums. They are more versatile compared to other vacuums. Also, they are designed as multi-floor cleaners and they clean effectively yet so effortlessly.
Uprights are also popular in being more cost-effective in terms of maintenance. Besides that, most of them are fairly priced and easy to assemble.
The Shark Navigator NV586 stands out as one of the best upright vacuums in regards to maneuverability, cleaning efficiency, and affordability. It's ultra-powerful yet extremely user-friendly. Here is everything you need to know about it. We have listed the features in summary, as well as its pros and cons.
Shark Navigator NV586 Review: Main Features
What should you expect from the Shark NV586? Below, we look at the main features of this upright vacuum.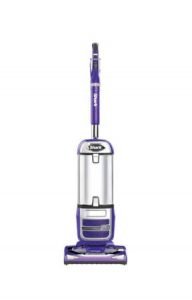 It's a 2-in-1 vacuum
As an upright, the Shark Navigator NV586 cleans swiftly and efficiently. It offers epic dirt and hair pick up. It also swivels so smoothly to a point of leading the way as you clean. Additionally, its height minimizes bending thus making it suitable for tall people.
Besides, you can engage the powered lift-away mode that allows you to separate the canister from the rest of the unit. This way, the vacuum becomes compact and lightweight and can reach under furniture. Also, cleaning stairs and other above-floor areas will become a walk in the park.
Powered lift-away means than the brushroll keeps spinning even when you have detached the pod.
Suction
The top-selling feature of the Shark Navigator NV586 is its suction. After all, a vacuum without significant suction power is a total waste of money.
Its hair picking ability is superb while the ability to pick up debris on hard floors, rags, and carpets is equally impressive. Also, it's thorough on cleaning above-floor areas such as upholstery. When cleaning high pile carpets, however, you may need to slow down for the brush to get to the base of the carpet for thorough deep cleaning.
We find the Shark Navigator NV586 quite impressive on hard floors. Yes, it will clean carpets but it does an excellent job on vinyl, tiles, hardwood, and concrete floors.
Swivel steering
Let the weight not discourage you; the Shark Navigator NV586 is so easy to move you will hardly feel the weight. It actually has a pull effect as you vacuum. Some users hate the way it guides you because they prefer being in control. However, this is a huge plus for the petite and elderly.
Filtration
One of the main things to check when shopping for a vacuum is filtration – especially if you have to deal with asthma and allergies.
We commend the way Shark leaves nothing to chance when it comes to filtration. By installing HEPA filters, they ensure the vacuum traps up to 99.97% of all pollutants. Also, the Anti-Allergen Complete Seal technology helps to ensure that no pollen, dust, mold, hair, or any other allergen is released back to the air when vacuuming.
The vacuum is also equipped with two foam filters that prolong the life of the HEPA filter. These form filters are washable and need to be cleaned approximately every 3 months depending on the intensity of use. Failure to do this may rob you of consistent suction power.
LED headlights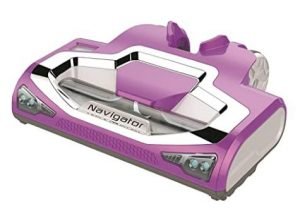 You may not realize how much you need LED lights until you discover how much dirt is hidden in those dark spaces. The bright LED headlights on the cleaner head lead you to where there is dirt. So, you will rarely leave untouched areas.
It's a corded vacuum
Some people prefer cordless vacuums because of unlimited reach. But I'll tell you what is limited – the runtime. With cordless vacuums, you don't have the freedom to clean for as long as you want. So, you may end up leaving some dust and dirt lying around.
However, corded vacuums allow you to clean to the last spec of dirt. The Shark Navigator NV586 comes with a 25-foot power cord. While it is not retractable, it has cord wrap hooks to make storage easier. Also, we feel that the cord could use a few more feet. But this is a non-issue if your rooms aren't large.
Dirt disposal
This is a bagless vacuum with an easy-to-empty large dirt cup that can hold up to 2.4 quarts. This allows non-stop vacuuming since you do not need to pause vacuuming to empty the bin. Although it can hold dirt for more than one cleaning session, we recommend emptying after use to ensure you retain high suction.
Besides, some dirt tends to stink if left in the vacuum for too long. No one wants that!
Attachments
A good vacuum must have a few accessories to make cleaning above-ground areas easier. The Shark NV586 has a couple of handy attachments – a duster crevice tool and a pet multi-tool.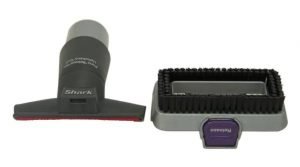 Shark NV586 Review: Features and Specifications Summary
Here is a detailed summary of Shark Navigator NV586 features:
Type: upright, bagless
Weight: 15.2 pounds
Power cord length: 25 feet
Wattage: 1140 Watts
Hose length: 6 feet
Dust cup capacity: 2.4 quarts
Advanced swivel steering
Cleaning path: 12 inches
LED headlights on the floor nozzle
HEPA filtration
Anti-Allergen Complete Seal technology
Powered lift-away technology
Dimensions: 30.7 x 13.5 x 13.1 inches
Shark Navigator NV586 Review: the Pros & Cons
Well, nothing is perfect. Therefore, expect the Shark Navigator NV586 to have its advantages and a few drawbacks. Below, we look at the many things to like about this upright vacuum as well as a few turn-offs.
Pros
It has great suction – thoroughly picks dust, debris, pet hair, and other dirt
Features a HEPA filter that offers over 99.9% efficiency
Easy to maneuver thanks to its advanced swivel steering
Well priced in comparison to most of its peers
It's versatile – the powered lift away mode makes it easy to move and clean with
It has a wide cleaning path thus facilitates quick cleaning
Relatively light – we recommend it for seniors, petite, or sickly users.
Comes with a large dirt can that is easy to empty and clean
The vacuum's small head fits easily under furniture
Fingertip controls are easy to access and use
Brushroll on/off feature allows for smooth transitioning between floors
It comes with a pet multi-tool that helps you to thoroughly clean pet dander and hair
The canister and accessories are easy to detach and replace
Cons
Lack of cord rewind makes storage tedious and time-consuming
The power cord could be longer
Click here to see its current price.
How to Clean and Maintain an Upright Vacuum Cleaner
Regular emptying
The vacuum's suction system is designed to work with sufficient room for sucking up dirt. When the dirt can or bag is full or almost full, the system cannot function optimally. So, it's interesting how many people ignore this simple fact and end up replacing a perfect vacuum cleaner.
For a bagged vacuum cleaner, ensure you don't exceed the directed limit. If your vacuum uses a dirt can (like the Shark NV586), we recommend you empty after every use. If you have been emptying regularly but the suction is weakening, check if the hose is blocked.
Clearing blockages in the vacuum
If you suspect the suction is being affected by clogging. There are 2 parts you should check, the vacuum's floor head and the hose. The vacuum's head is easier to clean. You only need to get a sharp object, detach the brush if possible, remove stuck-on debris, and cut tangled hair.
To unclog the hose, detach the hose and get a thin long object – like a wire. Insert mildly to avoid poking. Then, remove any clogging dirt and debris, and put the hose back in place.
Maintaining filters
Upright vacuums have between 2 and three filters. Check your manual to know if the filters are washable or not. If they are, wash them with clean running water. But remember that filters need to be left for about 24 hours to dry before re-installing them.
So, should you buy the Shark Navigator NV586?
As long as this vacuum's dirt cup is not full and the hose is clean, the Shark Navigator NV586 will deliver a fade-free suction. It will collect all types of dirt and debris, leaving a polished look on the floor. The powered lift-away feature enhances its performance by giving you easy access to corners, under furniture, stairs, and ceiling.
Even though corded vacuums are inconveniencing at times, this vacuum's power cord grants you the ability to clean small to medium-sized rooms in a single plugging. The only challenge with it is it's not retractable. Therefore, it takes a while to wrap the power cord manually.
Whether you have carpet flooring or bare floors, this is a very good all-round vacuum. Also, the Shark Navigator NV586 comes with two accessories – the pet multi-tool and the duster crevice tool. These come in handy especially while cleaning pet messes and above-floor surfaces.
Overall, considering the performance, price, and quality of this vacuum, it is undoubtedly one of the best upright vacuums in the market. You should try it!