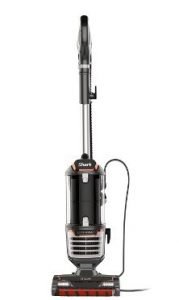 Have you been looking for a user-friendly vacuum for your family? Are you tired of investing heavily in vacuum cleaners that hardly deliver? This is your opportunity to put that to a stop. In this article, we present you with an in-depth Shark DuoClean Lift-Away Speed Upright Vacuum NV771 Review.
In today's review, we explore Shark DuoClean NV771's main features as well as its pros & cons. Being a Shark vacuum, we have confidence it will meet your expectations. However, we'll also let you in on a few drawbacks so you can make up your mind wisely.
Before we start on the features, it's good we remind you that upright vacuum cleaners have multiple features that support cleaning busy homes. Whether you have children, pets, and several other occupants causing heavy traffic, this is your kind of vacuum.
The Shark NV771 is light, easy to assemble, and above all, affordable. Let's have a look at its features in detail.
Shark DuoClean NV771 Review: Main Features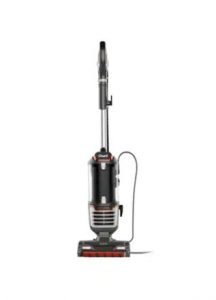 In this section, we discuss the standout features on the Shark NV771. This way, you'll have a clear picture of what to expect from this upright.
Shark's DuoClean technology
The vacuum is equipped with 2 brushes – a bristle brush and a soft brush. Both brushes are attached to the main floor nozzle and rotate in sync. The softer brush picks large debris and directly but gently engages the floor leaving it beautifully polished.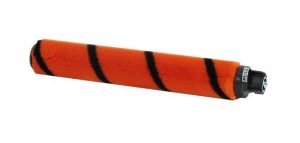 On the other hand, the bristle brush targets rugs and carpets. The tough bristles reach the base of the carpet and get rid of stuck-on debris, pet hair, and dust. This makes Shark DuoClean Speed NV771 an impressive deep cleaner.
Shark's lift-away technology
This technology enables you to detach the canister and use the wand and hose extension to reach above floor areas, the stairs, and under furniture. You may carry the canister with one hand as you clean or simply place it down.
The only challenge is that it easily topples. Therefore, you can't clean totally stress-free.
Weight and portability
The Shark DuoClean NV771 almost tops the list of Shark's lightweight upright vacuums. At just 13 pounds, you can easily vacuum the whole house without a hint of fatigue. This weight, in addition to lift-away technology and swivel steering, makes the vacuum very easy to use even with many obstacles.
LED headlights
With the Shark DuoClean NV771, you'll enjoy improved visibility whether you are vacuuming in broad daylight or at night. This vacuum's LED lights don't go off as long as the vacuum is at work. So, you can always trace any dirt hidden in those tight corners, under furniture, and stairs.
Swivel steering
Similar to other Shark vacuums, the Shark DuoClean NV771 is also equipped with swivel steering. So, you can move swiftly around obstacles as you clean.
However, movement occasionally proves hard on high pile carpets and rugs while suction is set to carpet mode. In case this happens, switch to hard floor settings for a moment. This modifies the suction slightly so that you can keep cleaning.
Dirt disposal system
This is a bagless vacuum. It has a sizeable dirt cup with a 0.91 quarts capacity. Well, this capacity is comparatively small, meaning that you may have to empty the vacuum more frequently. However, if you are used to vacuuming often, the dirt cup will be more than enough.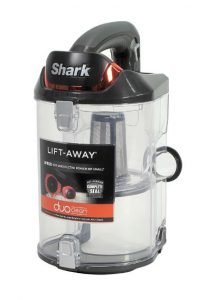 We recommend cleaning the dirt cup after every use. This guarantees the vacuum's suction remains at the optimum level.
Power system
The Shark DuoClean Speed NV771 is a corded vacuum. It comes with a 30-foot power cord. The only disservice is that this cord requires manual wrapping. An auto-rewind feature would have made it easier to store. However, it has wrapping hooks that make the cord steady.
Besides, the vacuum has a powerful 900-Watt, 7.5-Amp motor. It's also equipped with a power surge protector in case of overheating. Whenever the vacuum senses excess heat, it automatically shuts down. Overheating mainly happens when the unit is clogged.
So, be sure to check out our guide on how to unclog your vacuum at the end of this review.
Accessories
As expected of any good vacuum cleaner, the Shark DuoClean NV771 comes with a crevice tool and a pet multi-tool. Also, the vacuum has onboard storage for its accessories.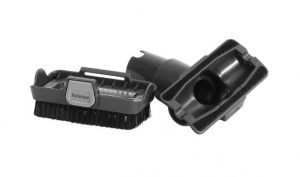 To put any attachment on the wand, release the wand by pressing the button on the pod's head and attach the accessory.
Filtration
This vacuum filtration system is a combination of a foam filter, a felt filter, and a HEPA filter. To ensure the elimination of all allergens and consistent suction, keep the filters as clean as possible. The recommended routine is to wash the HEPA filter annually and the foam and felt filters every three months.
These filters, in conjunction with an Anti-Allergen Complete Seal technology, ensure that almost 100 percent of allergens are prevented from being blown back into the air. This is very good news for allergy sufferers and the asthmatic.
Shark DuoClean NV771 Review: features and specifications summary
Below is a detailed summary of Shark DuoClean Speed NV771 features & specs:
Type: upright, bagless
Weight: 13 pounds
Power cord length: 30 feet
Dirt capacity: 0.91 quarts
DuoClean technology
Swivel steering
LED headlights
Filtration: foam filter, felt filter, HEPA filter
Anti-Allergen Complete Seal technology
Lift-away technology
Onboard tool storage
900 Watts, 7.5 Amps
Dimensions: 10 x 9.5 x 46 inches
Shark NV771 Review: Pros & Cons
Before buying any home appliance, it's always good to know the good and the bad. In this section, we look at the many positives of the Shark NV771 as well as a few areas of concern.
Pros
Great suction – superbly deep cleans carpets as well as hard floors
Uses HEPA filtration and Anti-Allergen Complete Seal to deliver excellent filtration efficiency
Long power cord – facilitates whole room cleaning on a single plugging
Very easy to maneuver thanks to the swivel steering feature
Lightweight – easy to move around
Efficient hair removal using the pet multi-tool
Allows for compact storage – accessories are stored on-board
Easy to switch from upright mode thanks to lift-away technology
Great suction despite the power amperage
Easy-to-access fingertip controls
DuoClean technology enables efficient deep cleaning of carpets and debris collection on bare floors
Fairly priced
The LED headlights ensure that no dirty spots are left unattended
Cons
The dirt can is relatively small
Its long power cord doesn't auto-retract, making storage cumbersome
The vacuum falls over often, especially when the wand is detached
Click here to see its current price.
What makes upright vacuum cleaners fail?
There are a few things that can affect the vacuum's suction, or make the vacuum stop functioning altogether.
i) The vacuum's overheating
Overheating can easily damage a vacuum cleaner. The most common cause of overheating is clogging. You may be having a clogged hose, clogged filters, or a tangled brush. However, the Shark DuoClean NV771 is designed to shut-off in the event of overheating.
To solve this issue, detach the hose and check for stuck-on dirt that could be blocking it. Also, wash the filters regularly as advised in the manual. As for the brush, remove entangled hair but cutting it off and pulling by hand. If this doesn't help, contact Shark's support team.
ii) Poor suction control
When this vacuum is on carpet mode, it is set to deep clean so it might prove hard to move on carpets. If it does, switch briefly to hard floor mode and then resume after a while.
iii) Delayed emptying
Even when the vacuum is working, empty the dirt can as often as possible to avoid loss of suction. Furthermore, leaving dirt too long may result in the emission of unwanted odors. Fortunately for Shark DuoClean NV771, you are forced to empty often as the dirt can is relatively small.
Other minor issues could be the failure to assemble properly and general mechanical failure. So, ensure you follow the manual step by step when assembling the unit or attaching and detaching the canister and the extra tools.
So, should you buy the Shark DuoClean NV771?
Shark's upright vacuums have near similar features so it's easy to confuse them. The best way to distinguish them is by checking the specifications keenly. For Shark DuoClean NV771, the weight, DuoClean feature, and the Lift-Away design stand out.
It has a few cons such as having a small dirt cup and lacking balance when the wand is detached. However, these are minor issues compared to its strengths. Besides, it picks hair so efficiently you will be amazed. It also (with good suction control) picks debris in detail. The fact that it's light and has swivel steering makes it much more pleasurable to use.
Overall, Shark DuoClean NV771 is a great vacuum to have and Shark has priced it quite fairly so, why not give it a try? If you have a large family or several pets, however, you may need to check out a vacuum with a larger capacity, such as the Shark APEX AZ1002.