What's the best LG vacuum? Well, LG's tag line Life's Good almost makes you want to buy something on the go. But that's not the reason why we are reviewing the best LG vacuum cleaners. It's because they really do live up to the expectation of such an amazing brand.
First, they are quite powerful and efficient. Secondly, we think LG's team keeps their word when they say that they design everything with you in mind. Their innovative, eco-friendly solutions actually make your life good, if not better.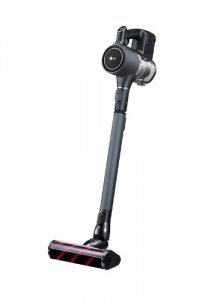 Now, the best LG vacuums have come into a market dominated by Dysons, Sharks, and the like. But can these vacuums hold their own against such stiff competition? We believe they can. And as you'll see, LG vacuums have a lot to offer.
Besides, LG has put up a good fight against the competition by designing and redesigning their products to match the market expectations.
Most of these products are top-notch and have won the hearts of many consumers despite the relatively high pricing. Besides, LG is a leading global brand in electronic devices such as TVs and Home Audio systems.
Best LG Vacuum 2023 – Comparison Table
Here is our list of the best LG vacuum cleaners plus all the details you may need to make a purchasing decision:
| Best LG Vacuum | Type | How it looks |
| --- | --- | --- |
| 1. LG Cordzero A9 Ultimate A907GMS | Stick/Handheld | |
| 2. LG CordZero A9 Charge Plus A906SM | Stick/Handheld | |
| 3. LG Cordzero A9 Charge A905RM | Stick/Handheld | |
| 4. LG HOM-BOT CR5765GD | Robot | |
Reviews of the Best LG Vacuum Cleaners in 2023
LG has not been in the vacuum cleaner space for long. So, do not expect numerous vacuums to choose from. In our review, we have managed to isolate four of the best options to pick from. However, our list is dominated by the CordZero brand of LG cordless stick vacuums.
This is understandable given that this is the flagship LG vacuum line. Apart from the stick vacs, we'll also review the current best LG robot vacuum. These are the best LG vacuum cleaners to buy in 2023:
1. LG CordZero A9 Ultimate Cordless Stick Vacuum Cleaner A907GMS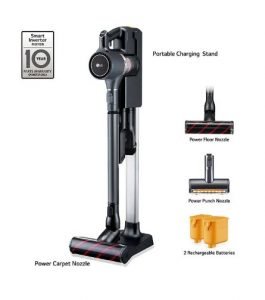 The first thing that impressed us about LG CordZero A907GMS is its multiple accessories. It even has 2 cleaner heads – one for carpets and another one for hard floors. This, in addition to the sheer efficiency and ease of use, makes it the best LG vacuum.
One of the tools known as the power punch nozzle is a brushless hand tool that agitates surfaces and removes embedded dirt. It cleans impressively well without the usual tangling that affects vacuum brushrolls. Also, you get a crevice tool, a combination tool, and a telescoping wand.
The stand is another helpful tool, it's easily portable and apart from being a charging base, it also acts as a storage base for accessories such as the crevice tool. It's also easy to fix and will hardly leave a mark on your wall.
We also like that the LG CordZero A9 Ultimate's lithium-ion battery is removable. Besides, the unit comes with two of them, meaning that you don't need to pause cleaning to recharge. The batteries combined can give you more than one hour of cleaning on Normal mode.
Lastly, this unit easily converts into a handheld vacuum for quick cleanups of above-floor areas. Therefore, the cleaning of upholstery, drapes, stairs, and so on will not require an extra vacuum.
Features
Type: stick/handheld
Weight: 5.63 pounds
Max runtime (handheld): 80 minutes
Max runtime (stick): 60 minutes
Charging time: 3.5 hours
Smart Inverter Motor
Suction power: 140 Air Watts
3 power modes: Normal, Power, Turbo
Axial Turbo Cyclone system
5-step filtration system
Washable filters
400 Watts, 25.55 Volts
Noise level: 84 dB
Dirt capacity: 13.5 oz
Battery life & charging indicators
Dimensions (W x H x D in inches): 10.2 x 44.1 x 10.6
Pros
Powerful, fade-free suction
Ergonomic design – recommended by AAFA and BAF
Very easy to use thanks to one-touch control
Recommended for cleaning hard floors, carpets, and upholstery
Easily converts to a hand vacuum
Effectively picks pet hair without tangling
It's very easy to maintain, empty and clean
The stand is portable and allows charging from anywhere
Excellent filtration system
Light and easy to maneuver
Reaches easily under furniture
Cons
A bit pricey
Cleaning time is limited because it's cordless – especially on Turbo mode
It is not fitted with headlights, so it may be hard to spot dark spots
Click here to see its current price.
2. LG CordZero A9 Charge Plus Cordless Stick Vacuum Cleaner A906SM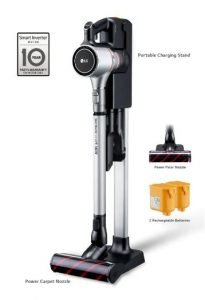 Another great option for anyone looking for the best LG vacuum is the CordZero A9 Charge Plus.
If you have experienced hard times cleaning pet hair and pet dander from carpets or upholstery, you just landed the best LG vacuum that deeply and thoroughly cleans all surfaces. Thanks to its cleaning head's direct-drive motor, pet dander, and other debris are no match for the CordZero A9 Charge Plus.
Another plus for this vacuum is its effectiveness in getting rid of allergens. Dust, pollen, pet dander, mold, and all sorts of pollutants go through the 5-step filtration system and are totally eliminated. The filters include a pre-filter, a metal dust filter, and a fine dust filter.
LG CordZero A906SM also comes with 2 removable and rechargeable lithium-ion batteries. Besides, you can clean and charge simultaneously. The two batteries combined give you close to one and a half hours of cleaning time. The vacuum's wattage is 400 Watts.
Also, just like the CordZero A9 Ultimate, it has a range of useful accessories. These include a combination tool, a telescoping wand, and a crevice tool. You also get two cleaner heads – a Universal Power Nozzle and a Power Floor Nozzle.
Features
Type: stick/handheld
Weight: 5.89 pounds
Smart Inverter Motor
Suction power: 140 Air Watts
Lithium-ion batteries
Charging time: 3.5 hrs.
Max runtime (handheld): 80 minutes
Max runtime (stick): 60 minutes
Dirt capacity: 13.5 oz
Axial Turbo Cyclone system
5-step filtration system
400 Watts, 25.55 Volts
Noise level: 84 dB
Removable, washable filters
Cleaning modes: Normal, Power, Turbo
Charging & battery life indicators
Dimensions (W x H x D in inches): 10.2 x 44.1 x 10.6
Fingertip on/off controls
Pros
Versatile – reaches easily under furniture and above-floor areas
Delivers powerful, consistent suction
Easy to use – fingertip controls
Suitable for all floor types and above-floor cleaning
Effectively captures allergens such as dust and pollen
Converts simply and quickly to a handheld vacuum
The charging/storage stand is easily portable and allows compact storage
Effectively picks pet hair without tangling
Uses easily maintained washable filters
It has useful attachments
Cons
It is pricey compared to most stick vacuums
The runtime is limited especially on Turbo mode
Click here to see its current price.
3. LG CordZero A9 Charge Cordless Stick Vacuum Cleaner A905RM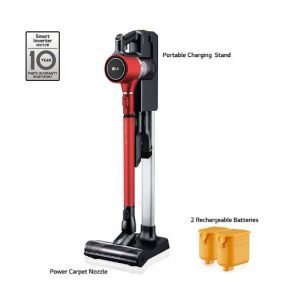 It is with the introduction of the LG CordZero A9 Charge that we learned that the best LG vacuum feature is that you can wash the cyclone system alongside the filters. This helps to maintain and prolong the service life of these vacuums. Unlike other models, LG CordZero vacuums use a pre-filter, a fine dust filter, and a cyclone filter.
All other features in this vacuum are similar to other CordZero stick vacuums. However, it doesn't come with an extra floor head that is available with the newer LG CordZero A9 Charge Plus and Ultimate.
So, expect efficient cleaning coupled with excellent filtration that keeps allergens at bay. It has a 5-stage filtration system that takes care of this. Also, it's controlled with a single touch button with on and off options and suction control.
The vacuum also uses two rechargeable lithium-ion batteries. You may opt to detach while charging or charge as you vacuum. Both batteries run for a maximum period of 80 minutes and have an indicator light to alert on charge status.
The LG CordZero A905RM is also suitable for cleaning all floor types as well as upholstery and other above-floor areas. To reach far areas like the ceiling, you need to transform the vacuum to handheld and extend the telescoping wand. Other accessories include a combination tool and a crevice tool.
Features
Type: stick/handheld
Weight: 5.63 pounds
Smart Inverter Motor
Axial Turbo Cyclone system
Suction power: 140 Air Watts
Dirt capacity: 13.5 oz
Two Lithium-ion batteries
Charging time: 3.5 hrs.
Max runtime (handheld): 80 minutes
Max runtime (stick): 60 minutes
400 Watts, 25.55 Volts
Noise level: 84 dB
5-step filtration system
Removable, washable filters
Charging & battery life indicators
Cleaning modes: Normal, Power, Turbo
Dimensions (W x H x D in inches): 10.2 x 44.1 x 10.6
One-touch control
Pros
Powerful, fade-free suction
Spotless cleaning for all surface types
The adjustable telescopic wand helps reach above floor areas
Long runtime on Normal mode
An effective 5-stage filtration system
Fingertip controls
Quickly transforms from stick to hand vacuum and back
Economical to maintain – filters are washable
Compact storage stand – portable and easy to use
Not tiring – easy to maneuver even for petite people
Ergonomic design
Cons
It's a bit pricey
The runtime can be drastically reduced on Turbo mode
The dirt cup can be hectic to empty if it's filled with pet hair
Click here to see its current price.
4. LG HOM-BOT Wi-Fi Enabled Robotic Vacuum CR5765GD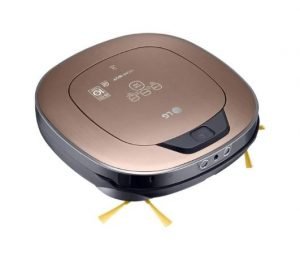 Apart from the cordless stick vacuums, LG has ventured into the robot vacuum space. You can see other brands in our best robot vacuum review.
Smart cleaning is rapidly taking over as we get busier each day. This LG Hom-Bot takes it a notch higher by letting you choose among its 7 different customized cleaning modes. And each cleaning mode is set to handle a different task.
The cleaning modes include Cell by Cell, My Space, Smart Turbo, Zigzag, Spot (Spiral), Turbo, and Repeat.
When it comes to controlling the bot, there are a few handy options. First, you can harness the power of LG's SmartThinQ technology to use an app on your smartphone. Also, Wi-Fi connectivity allows you to give voice instructions to the robot vacuum via Alexa or Google Assistant.
Also, LG's HomeView makes it possible for the robot to send a real-time video of the room. So, you can instruct it to get cleaning before you (or your guests) arrive. Besides, the innovative HomeGuard security feature uses a motion sensor to detect any movement when you're not at home.
Then, the Hom-Bot takes a photo and sends it directly to your phone – convenient, right?
Also, the vacuum's low-profile design allows it to fit under most furniture – it's just 3.5 inches thick. Besides, the side brushes are long enough to reach all corners and edges. It may take a bit of time to map your house but once it does, the results will be epic.
This smart vacuum has a standard-sized dirt bin capacity and has a little brush fixed on the lid to ease emptying. LG HOM-BOT battery runs for about one hour and a half on Normal mode then docks back to recharge before it resumes cleaning. It takes about 3 hours to recharge.
Features
Type: robot
Weight: 6.6 pounds
Thickness: 3.5 inches
Wi-Fi enabled
Navigation system: Robonavi11.0
Charging time: 3 hours
Max runtime: 100 minutes
Max noise level: 68 dB
Recharge & resume
Magnetic Wall
Dirt capacity: 0.6 liters
4V lithium battery
Obstacle and cliff sensors
Smartphone & remote control
Voice control (Alexa & Google Assistant)
HomeView technology
HomeGuard technology
7 cleaning modes
Cleaning diary & reports
Cameras on top and bottom
Pros
It has commendable suction
The innovative design absorbs noise so you enjoy a quiet cleaning session
Convenient cleaning using the app, remote control, or voice control
You have seven customized cleaning modes to choose from
Cleans in detail including corners and under furniture without leaving spots
Effortlessly cleans hard floors and low pile carpets
Easy to operate even if you don't have a tech background
It has sensors that prevent it from hitting obstacles of falling off cliffs
The HomeGuard feature sends you alerts when it senses motion thus works as a security tool
It allows you to schedule cleaning times for example daily, weekly, or monthly
Cons
Quite expensive
Takes some time to learn your home layout
It may get stuck if you have low furniture, fluffy carpets, or other obstacles such as clothes on the floor
Click here to see its current price.
Benefits of investing in LG vacuum cleaners
LG as a brand speaks for itself but there are several reasons why it has gained popularity in the vacuum cleaner space. Here are a few reasons why you should consider investing in an LG vacuum:
Longer cleaning time
One disadvantage of owning a cordless vacuum is the inconvenience of being interrupted by a low battery while cleaning. Sadly, most batteries take hours to recharge. LG has sealed this gap by ensuring their batteries run for a longer time.
Moreover, for the CordZero series of stick vacuums, the double battery provision is a huge plus as it enables you to recharge as you vacuum. This is not just a time-saving feature but a convenience feature too. Besides, it allows you to charge one battery as you continue vacuuming.
As with all cordless stick vacuums, however, you cannot clean for an unlimited time. So, you must plan yourself accordingly and ensure that the batteries are charged before you start vacuuming.
Great suction
LG ensures the vacuums have powerful suction that remains consistent from start to finish. As for the stick vacuums featured in this review, they are fitted with a Smart Inverter Motor. This boosts their suction power up to 140AW. The company believes in this motor so much that they offer a 10-year warranty for it.
Excellent filtration
LG vacuums use a 5-Stage filtration system comprising of a metal dust filter, cyclonic filters, a pre-filter, and a fine dust filter. It works by separating dust into the dust cup and filtering the fine dust further. This achieves an impressive 99.99% dust and dirt capture.
So, LG vacuums are a good option for the asthmatic as well as allergy sufferers. It's not a surprise, therefore, that the vacuums have a stamp of approval from the Allergy and Asthma Foundation of America and the Allergy UK.
Multiple surfaces cleaning
It's not unusual to get a vacuum that isn't effective on some floor types. That's why we laud LG for ensuring their vacuums deliver epic results on carpeted floors as well as hard floors. In each vacuum's nozzle cleaning head, there is a direct drive motor that lifts dust, digs out embedded dirt, and effectively picks pet hair from any surface type.
LG vacuum cleaners also pick debris in detail, big or small. They may need frequent emptying due to the small bin size, but as long as the bin has space, you will pick all dirt and debris in a single run.
Ease of use and versatility
It's quite easy to change accessories on LG vacuums. Other vacuums require effort and may even discourage you from cleaning the whole house at once, but not these. Switching between different floor nozzles is simple and fast. Attaching the accessories is also superbly easy.
Transitioning between stick and hand vacuum, for instance, is also smooth and so is assembling, emptying dirt, cleaning filters, and using finger controls. Besides, storage is quite convenient because you can use a wall-mount or use the portable charging stand.
Ergonomic design
I consider a good handle a great resource while cleaning large areas. You may not realize it but a handle can be the reason why you either enjoy or loathe cleaning. LG vacuum's handles are light and have a good comfortable grip.
The LG stick vacuums' general design also makes it extremely easy to maneuver. For this reason, LG vacuums have been certified by United States Ergonomics.
Our verdict
If you don't closely scrutinize LG vacuums, you may not notice their core differences. The filtration system is almost the same, the storage system differs slightly, and their general outlook doesn't help much. We noticed the vacuums have the same average weight and are all easy to maneuver.
For sure, this makes it a bit hard for us to declare our verdict.
In this review, however, we chose the best LG vacuum cleaner based on positive consumer reviews, efficiency, and uniqueness. Because of this, we propose the LG CordZero A9 Ultimate as the outright best LG vacuum in 2023.
It is not only versatile in cleaning, light, easily maneuvered, but it also offers compact storage. The battery life is also commendable considering both batteries run for close to an hour and a half non-stop.
The LG CordZero A907GMS also has one unique feature – the two cleaner heads (one for carpets and the other for hard floors). These cleaner heads and other attachments boost its efficiency greatly. LG priced this vacuum a bit high but it's understandable considering all these qualities. In our opinion, this is a worthy investment.
In summary, these are the best LG vacuums on the market in 2023:
LG CordZero A9 Ultimate Cordless Stick Vacuum Cleaner A907GMS
LG CordZero A9 Charge Plus Cordless Stick Vacuum Cleaner A906SM
LG CordZero A9 Charge Cordless Stick Vacuum Cleaner A905RM
LG HOM-BOT Wi-Fi Enabled Robotic Vacuum CR5765GD