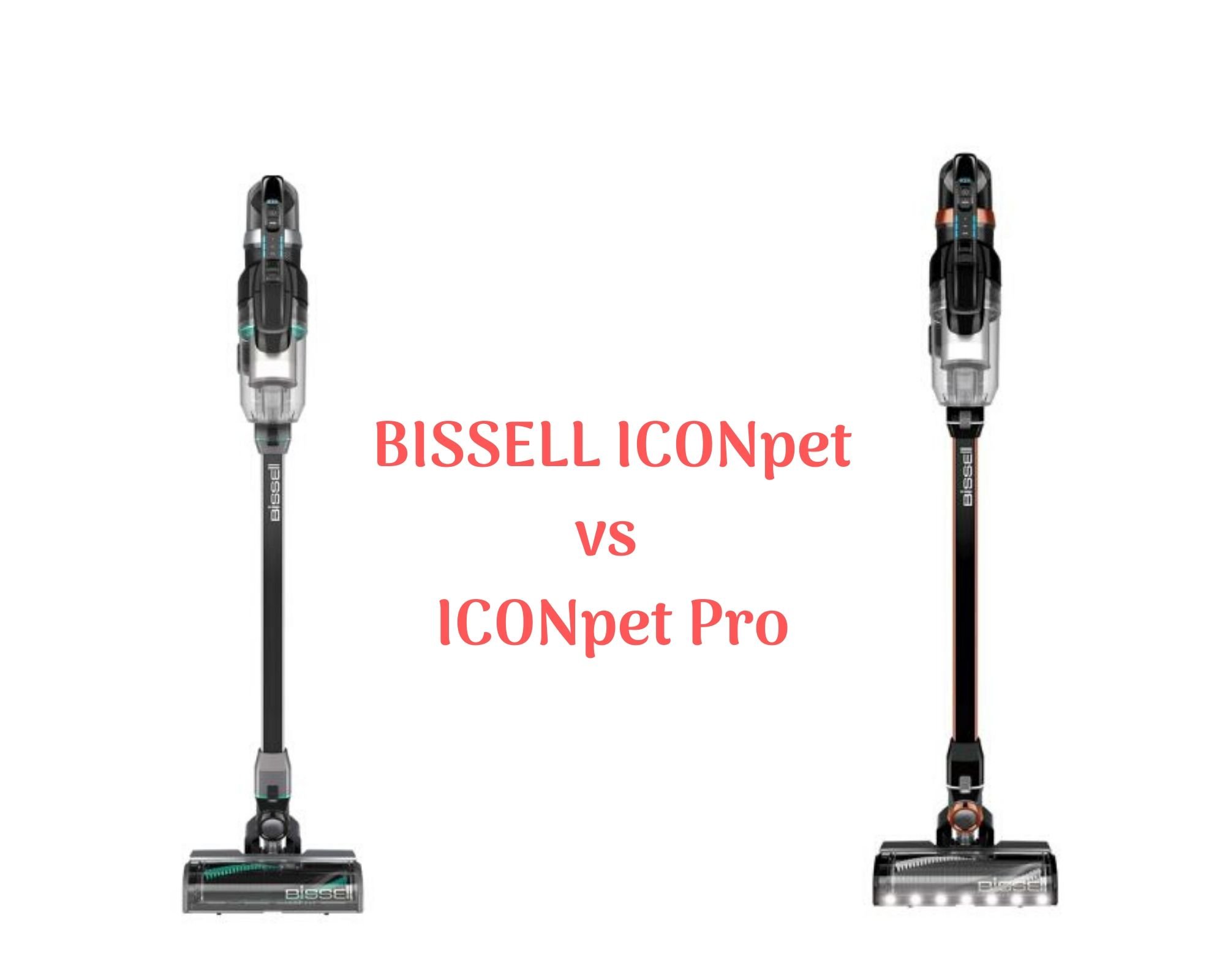 If there is one cordless stick vacuum that people have taken to, it's the BISSELL ICONpet. Today, we compare the Bissell ICONpet vs ICONpet Pro. Well, there are just a few differences between the BISSELL ICONpet Cordless Stick Vacuum Cleaner 22889 and BISSELL ICONpet Pro Cordless Stick Vacuum Cleaner 2746A.
Apart from getting to know all the awesome features of the Bissell ICONpet, we'll point out exactly what makes each one of the options unique.
BISSELL ICONpet 22889 vs ICONpet Pro 2746A – Comparison Table
Before we get into more details, below is a summary of their features:
| Features | BISSELL ICONpet 22889 | BISSELL ICONpet Pro 2746A |
| --- | --- | --- |
| | | |
| Weight | 7 lbs | 7 lbs |
| Battery | 22V lithium-ion | 25V lithium-ion |
| Charging duration | 4 hrs | 4 hrs |
| Dirt capacity | 0.4 liters | 0.4 liters |
| Filtration system | SmartSeal | SmartSeal |
| Tangle-free brushroll | Yes | Yes |
| Soft bare floor brush | No | Yes |
| Attachments | 2 | 4 |
| Converts to hand vacuum | Yes | Yes |
| Wall-mount | Yes | Yes |
| Cleaning path | 10.5 inches | 10.5 inches |
| Cleaning system | Cyclonic | Cyclonic |
| Variable suction control | Yes | Yes |
| Clean filter indicator | No | Yes |
| Auto height adjustment | Yes | Yes |
| Swivel head | Yes | Yes |
| LED headlights | Yes | Yes |
| Warranty | 2-year limited | 3-year limited |
| | | |
A Side by Side Comparison of BISSELL ICONpet vs ICONpet Pro
In this section, we take a look at all the amazing features that come with the BISSELL ICONpet line of stick vacs. Also, where there is a difference between the ICONpet and ICONpet Pro, we'll point it out.
Battery
The most critical part of any cordless stick vacuum is the battery. Because you cannot connect it to the power supply, you must ensure that you buy a vacuum that has a high-quality battery. BISSELL ICONpet stick vacuums use lithium-ion batteries.
However, the ICONpet has a 22-Volt battery while the ICONpet Pro has a 25V battery. So, you will get a bit more power from the ICONpet Pro. The 4-hour charging time is quite long, so ensure that the vacuum is charged well in advance of vacuuming.
Suction
While the 55,000 RPM motor provides great suction, a cyclonic system ensures that dirt and dust do not clog the vacuum's filter. So, the vacuum can achieve fade-free suction until you finish vacuuming.
Also, suction control gives you the freedom of how much suction to use depending on the kind of dirt or floor type you're dealing with. This is available in both options.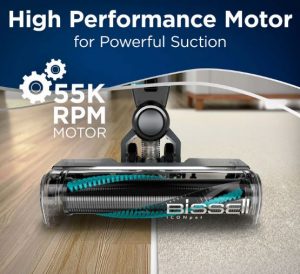 Weight
One of the reasons most people prefer cordless stick vacs is that they are light. So, they are usually ideal for petite people, seniors, as well as people struggling with back pain and arthritis. And the two models are very light, as expected.
The ICONpet and ICONpet Pro weigh a measly 7 pounds. A major problem you may encounter with stick vacuums is that they tend to topple over because of the top-heavy design – and the ICONpet is not an exception.
Dirt capacity
Due to the compact size and design of stick vacuums, do not expect these stick vacuums to hold a lot of dirt. However, this shouldn't be an issue if you vacuum often. At just 0.4 liters, the capacity is quite small, but within the industry average for stick vacuums.
A piece of advice – always empty the vacuum when the dirt reaches about halfway through the dirt canister. This way, you will be guaranteed that the suction remains consistent. Also, leaving some kinds of dirt in the vacuum may result in the emission of unwanted odors.
Filtration
While the ICONpet stick vacuums do not have HEPA-branded filters, the filtration is top-notch. BISSELL employs a SmartSeal Allergen system to take care of pollutants – all allergens sucked into the vacuum remain trapped inside the dirt canister.
Therefore, BISSELL ICONpet is ideal for asthmatic individuals as well as allergy sufferers.
Pet hair
When it comes to dealing with pets, pet parents (or pet guardians) are specific about what kind of vacuum they buy. So, a key consideration would be the ability to deal with pet hair and dander. BISSELL ICONpet is great at dealing with both.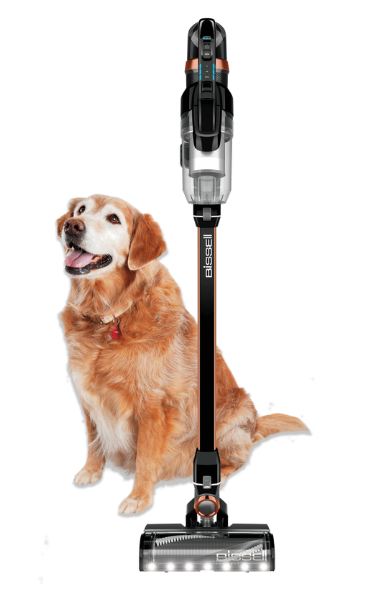 First, powerful suction helps to pick up such dirt effectively. Secondly, a tangle-free brushroll means that you seldom have to manually pull out pet hair.
Multi-surface cleaning
Both options are made for vacuuming hard floors as well as low-pile carpets and area rugs. Also, cleaning of above-floor surfaces is a breeze thanks to the availability of attachments. Besides, you can easily convert the stick vacuum to a convenient handheld vacuum.
Further, the BISSELL ICONpet Pro comes with a soft bare floor brush that leaves flooring such as hardwood and vinyl polished and sparkling clean.
Transitioning from bare floors to carpets and vice versa is also a walk in the park. This is made possible by the automatic height adjustment feature. Also, a swivel head makes it very easy to maneuver around obstacles as you clean the room.
Attachments
The good thing is that both units have attachments that come in handy for above-floor cleaning. However, ICONpet Pro has two more tools than its counterpart.
The BISSELL ICONpet comes with a motorized Turbo brush and an LED crevice + dusting brush combination tool. On the other hand, the BISSELL ICONpet Pro has a flexible crevice tool, an LED crevice tool + dusting brush combination tool, a motorized Turbo brush, and a pet dusting brush.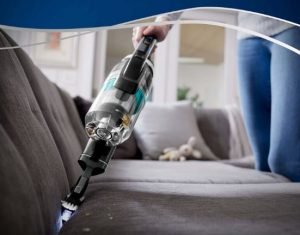 Also, a wall-mount that doubles up as a charging station and a tool storage area is provided.
LED headlights
For dark areas, you need a vacuum that has headlights on the floor nozzle. Luckily, both options use LED lights for this purpose. Therefore, you will hardly leave any dirt or dust untouched as you vacuum the house.
Besides, the combination tool provided has LED lights to help you get dirt that is hidden deep inside cracks, crevices, or in between seat cushions.
Warranty
Lastly, you want to deal with a manufacturer that believes in its products. A good indicator that BISSELL believes in the ICONpet line of stick vacuums is the long warranty period offered. The ICONpet comes with a 2-year limited warranty while the ICONpet Pro has a 3-year limited warranty.
BISSELL ICONpet Review – Pros & Cons
As usual, we must tell you the good and the bad of all the vacuum cleaners that we review. It's always good to know the shortcomings of any home appliance before deciding to invest in it.
Pros
Very light
Commendable suction with suction control
Cordless cleaning convenience
LED headlights help to illuminate dark spots
There are useful attachments
Excellent filtration
Very easy to maneuver
Great for pet hair and dander
Cleans a variety of flooring types
Easy-to-install wall mount for charging and tool storage
Cons
A bit pricey
Small dirt capacity
Not ideal for high-pile carpets and rugs
Top-heavy, so it may easily topple over
Verdict – which one to buy?
Clearly, if you need to pick between the two ICON pet vacuums, the ICONpet Pro carries the day. It has many advantages over its sibling. For example, it has an extra soft brush for bare floors and two more attachments.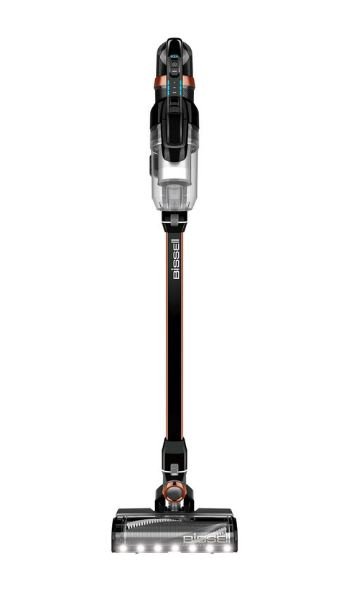 Also, it has a higher-capacity battery, a 'clean filter' indicator, and a longer warranty. Besides, the price is almost the same, so it doesn't make sense to give up on the many extras. Click here to see its current price.