In a market flooded with overwhelming vacuum choices, Shark stands out as a one-stop-shop for home solutions; specifically vacuums. Shark Rotator NV752's electrically powered TruePet attachment sets it as a top-pick vacuum in its range.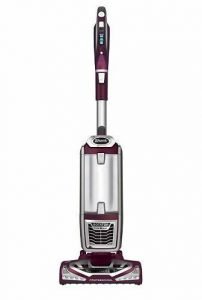 There are many factors to consider while settling for a vacuum. However, good suction, attachment availability, maneuverability, and filtration are some of those unparalleled qualities a user needs to pay attention to. Only a few fairly priced vacuums have majority or all of these qualities.
In this review, we ask ourselves, what are the endearing qualities of the Shark Rotator Powered Lift-Away TruePet NV752? How does it perform and who is the perfect candidate for it? We will list and analyze all its features and also pinpoint its pros and cons.
Shark Rotator Powered Lift-Away TruePet NV752 Review
This section discusses the features that make Shark Rotator Powered Lift-Away TruePet NV752 a great vacuum. We also explore their application and effectiveness.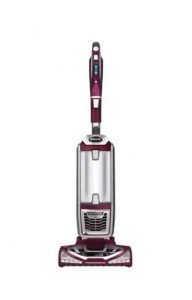 TruPet motorized brush
This utility makes this vacuum a must-have for any pet owner. Since you have no control over how much hair your dogs or cats will shed, the only alternative you have is to clean your house with a vacuum that picks effectively.
For this reason, the Shark Rotator NV752 has a TruePet tool crafted for this purpose.
Though we have other brushes on the vacuum, the TruPet brush is specifically designed for pet lovers. Pet hair and loose debris have no chance with this tool. Whether you are cleaning the car, carpets, upholstery, area rugs or hard floor, the tool ensures you achieve your desired level of neatness.
2-in-1 operation
The Shark Rotator Powered TruePet NV752 not only functions as an upright vacuum but also as a handy canister vacuum. On upright mode, the vacuum, enabled by its swivel wheels moves swiftly around furniture and cleans all open paths. It also maintains great suction and allows you convenient transitioning between floors using the buttons on the handle.
Then, once you detach the canister, you can place it on the caddy and drag it along as you vacuum. The lift-away mode enables you to recline the vacuum via its wand and reach under furniture without straining. You can also clean stairs on this mode. However, for corners and crevices, it's more convenient to use the extended crevice tool.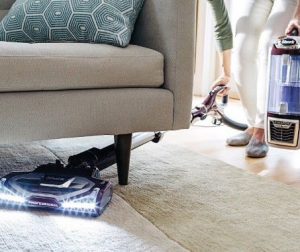 Removing the canister also helps you to reach the ceiling, drapes, upholstery, and furniture. So, you never run out of options with this vacuum. All the accessories are easy to attach and detach and can either be used with either the wand or the hose. The attaching and detaching clips are well placed and easy to configure, thus adding to the vacuum's bonus points.
Fingertip controls
The vacuum has buttons placed right in the middle of the handle, which makes changing settings quite easy. The topmost button is an on and off button. Then, the middle button is your brushroll/beater bar control. It enables you to adjust suction as you transition between floors.
The middle setting works on low pile carpets; the brushroll starts to spin on this setting.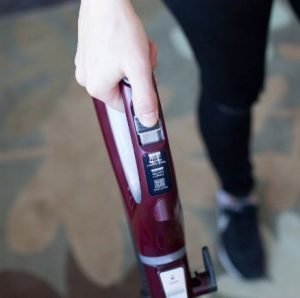 Moving the middle button up when cleaning a high pile or thick carpet keeps the brushroll spinning and opens up the side vents. This helps to ease the main nozzle suction and deep clean. It also enables it to clean area rugs without lifting them.
The bottom button switches the vacuum to hard floor mode. On this setting, the brush doesn't spin. This ensures the floor does not get scathed as some floors such as vinyl are quite sensitive. It also ensures that the vacuum doesn't scatter debris.
Functionality
The Shark Rotator TruePet NV752 comes with several tools. As earlier mentioned, each of these tools can attach to both the wand and the handle. Moving the vacuum does not require much effort because first, it has swivel wheels and secondly, it's fairly light. The lift-away pod is about 8 pounds which is a fair weight for the majority of users.
Shark Rotator TruePet NV752 is a multi-surface tool. It's thorough at both high pile carpets and hard floors. You can effectively use it for concrete floors, wooden floors, tiles, vinyl floors, carpeted floors, area rugs, furniture, drapes, and upholstery.
Should the vacuum encounter obstruction and is unable to move, it has an electric shutoff switch that shuts the nozzle motor to protect it and the belt from wearing out. Moreover, Shark's belts generally last through the vacuum's lifetime.
Accessories
Let's start with the dusting genie; this tool is basically a crevice tool only you can extend it. You can use it to clean corners and other hard-to-reach areas. Then, you have a motorized pet tool – TruePet. This is obviously a tool for pet fur and hair pick-up. It's also good at debris collection.
The TruePet brush has a suction release button which enables you to moderate the level of suction in case it becomes too powerful.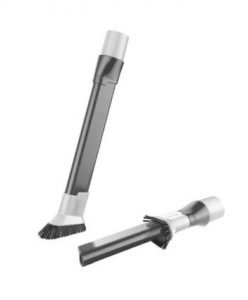 There's also the pet upholstery tool which you can use for above-floor cleaning. A dusting brush is on hand to help clean hard surfaces as well as upholstery. Then, there's what is referred to as the hard floor genie that has a suction channel at the front and uses a microfiber pad.
The microfiber comes with the vacuum and it's installed using the Velcro on the device. It is machine washable and is only used on dry surfaces.
Filtration
Nowadays, filtration is a key component of any vacuum. The Shark Rotator TruPet NV752 has three filters. It has a HEPA (post-motor) filter, the felt (pre-motor) filter, and the foam (pre-motor) filter. All these filters are washable. The felt filter and foam filter may be washed every three months while the HEPA filter can be cleaned once or twice a year.
Consistent washing and rinsing of the filters ensures that they last longer and the vacuum delivers optimal results.
More importantly, HEPA filtration ensures that over 99.9 percent of allergens are removed from the air. Shark's Anti-Allergen Complete Seal Technology also goes a step further to ensure no air leaks out of the vacuum before filtration takes place.
Shark Rotator Powered Lift-Away TruePet NV752 Review: Features & Specs
Here is an overview of Shark Rotator TruePet NV752 Upright Vacuum features:
Type: upright, bagless
Weight: 16.7 pounds
Anti-Allergen Complete seal Technology
HEPA filter
Power cord: 30 feet
Hose: 6 feet
Dirt capacity: 3.3 dry quarts
Cleaning path: 10.5 inches
Powered lift-away technology
Multi-floor cleaning: hard floors, high, medium and low carpets plus area rugs
Package includes; dusting genie, pet tool, dusting brush, TruPet motorized brush, hard floor genie, microfiber pad, accessory bag
Finger-tip controls to facilitate transitioning between floors
1150 Watts; 9.5 amps
Dimensions (LxWxH): 13.2 x 11.9 x 45 (inches)
LED lights (handle and floorhead)
Shark Rotator NV752 Review: Pros & Cons
Here, we review the merits and demerits of this vacuum. Even though the benefits outweigh the shortcomings, going through them will help you make an informed decision.
Pros
Strong, consistent suction
Effective hair/fur pick-up
On-handle controls enable the swift transition between surfaces
It offers great filtration using a HEPA filter and Anti-allergen Complete Seal Technology
Swivel steering allows easy maneuverability around obstacles
Inbuilt LED lights enable you to see dirt and dust in darker areas
Effective multi-surface cleaner – hard floors, carpets, rugs, drapes, etc.
2-in-1 cleaning modes: upright and canister mode
The tools can be attached to both the wand and the hose
Lift-away technology makes it easy to vacuum the ceilings, drapes, furniture, stairs, and hard-to-reach areas
The dirt canister is easy to detach, empty and clean. In case of stuck-on debris, you can open the canister's top and remove any dirt that couldn't get out through the bottom.
Relatively wide cleaning path
It has a lengthy power cord
Slightly quiet compared to its peers
Long warranty – 7 years limited
Click here to see its current price.
Cons
Relatively heavy
The dirt cup could be a bit larger
There is no on-board storage for all accessories, though the accessories come with Shark's branded draw-string bag.
Shark NV752 Review: Verdict
In conclusion, the Shark Rotator NV752 effortlessly competes with other Shark vacuums. Its detailed pet hair and dirt pick up positions it highly since almost every house is a home to a pet – and in most cases more than one pet. The combination of a motorized TruePet tool and a pet multi-tool makes it the ideal vacuum for every pet guardian.
The Shark Rotator NV752 also comes with various accessories, an extendable crevice tool, hard floor tool (nicknamed hard floor genie) with microfiber pads, an upholstery tool, and a dusting brush. The extendable wand and stretchy hose added to the option to attach the accessories to either the handle or the wand boosts the versatility of the vacuum.
One last safety feature that makes this vacuum a premium choice is that regardless of the mode setting on the handle, the vacuum shuts the brush off whenever the vacuum is on an upright position.
This ensures the brushroll stops as soon as you stop vacuuming. So, you can't burn your carpet. The vacuum cleaner also has a brushroll indicator which turns green to alert you when the brushroll is on.
Therefore, it is a good bet for its modest price.