Traditionally, corded vacuums are more trusted. They are perceived as convenient, long-lasting and more efficient. As for cordless vacuums, users are still warming up to them. Today, we look at the Hoover ONEPWR Blade MAX Cordless Stick Vacuum BH53350 Review.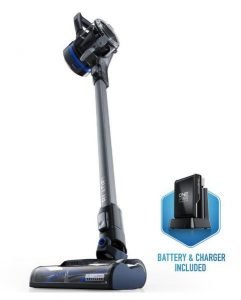 However, from the manufacturers' (and our) point of view, it's not the absence or presence of a cord that determines how perfectly a vacuum delivers. Furthermore, the cord can be somehow limiting especially if it's not long enough to reach all corners of the room.
Also, some corded vacuums are quite heavy. So, there many factors to consider other than the absence or presence of a cord. To be fair, corded vacuums have proved quite reliable but so are their competing peers, cordless vacuum.
The Hoover ONEPWR Blade MAX BH53350 will prove to you that a cordless vacuum can also be as versatile, efficient and long-lasting. In this review, we will explore Hoover ONEPWR Blade MAX Cordless Stick Vacuum features, shortcomings and its winning qualities.
Hoover ONEPWR Blade MAX Cordless Stick Vacuum BH53350: Review
In this section, we delve into what Hoover ONEPWR Blade MAX BH53350 can offer you, each feature at a time. By the time you finish reading this; all your questions on why it's the vacuum to go for regardless of the price will be answered.
These are the main features of the ONEPWR Blade MAX:
1. Hoover ONEPWR Blade MAX BH53350 Power System
With one of the latest Hoovers, you will get to enjoy a cord-free powered system. The Hoover ONEPWR Blade MAX is powered by a chargeable ONEPWR lithium-ion battery that provides up to 45 minutes of consistent runtime.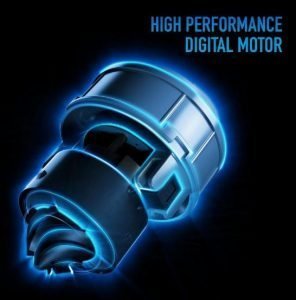 If you require more cleaning time, the batteries are removable (interchangeable) and rechargeable. You can also purchase additional batteries separately. Another plus for this charging system is that these same high-performance batteries can be used by other battery charged Blade MAX cordless vacuums.
To extend your run time, switch to ECO mode and have the vacuum run as efficiently but for a longer period.
2. Multi-surface cleaner
You will agree with me that one of the most appealing qualities of any good vacuum is the ability to deliver epic results on all surfaces. And the Hoover ONEPWR Blade MAX BH53350 is equipped to do exactly that.
Armed with a Microfiber Hard Floor Nozzle, the vacuum delivers epic results floors like vinyl floors, cement floors, tiles, and even wooden floors.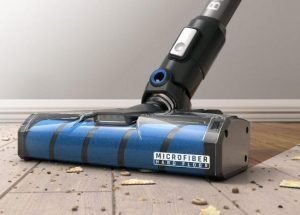 Also, the transition between the floors is so smooth you will hardly need to pause. The fingertip controls make it quite easy to switch operation. The two-speed brush roll is also engineered to remove embedded dirt, stains, and all types of debris from both carpets and hard floors.
Removable Hoover ONEPWR Blade MAX BH53350 accessories also make it easy for it to deliver optimal results. Let's have a look at them as the next feature.
3. It's a 2-in-1 vacuum
Sometimes, you need to undertake quick cleanups in the house. For that, a handheld vacuum is the most ideal. But do you need to buy a separate hand vac? The answer is a simple NO. With the Hoover ONEPWR Blade MAX, you have both a stick vacuum and a handheld vacuum.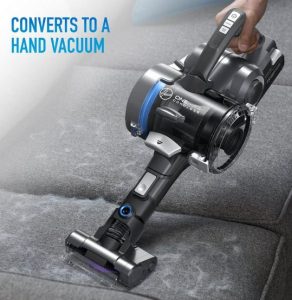 You can quickly transform it into a hand vacuum whenever you need to and get on with dusting.
4. Accessories
As mentioned earlier, the vacuum comes with a microfiber hard floor nozzle which is thorough at dirt removal on all flooring types. The multi-surface brush roll ensures total dirt pickup. Then, there is a crevice tool to help you reach the cracks and crevices that might prove hard to reach with the brush.
The Hoover ONEPWR Blade MAX BH53350 also comes with a motorized pet tool. For an average American home, pets contribute to about half the dirt in the house. However, with the ONEPWR Blade MAX, you need not worry about the fur spreading all over the couches and floor. The pet motorized tool will help effectively pick all fur and dander left behind by the pets.
It's also easy to clean above-floor areas like the ceiling, stairs, corners, under cushions, windows, and doors while using the vacuum on handheld mode. The upholstery tool together with the dusting brush and other accessories also enable you to clean the whole house, edge to edge.
5. Filtration
The Hoover ONEPWR Blade MAX BH53350 features a world-class dual cyclonic DustVault technology. This system is known to capture over 99% of all allergens such as dust particles, dust mites, and mold.
Also, the filtration does not interrupt suction and there's no chance of trapped allergens getting back into the air. This ensures an odor-free environment that is especially safe for people with asthma and allergic conditions.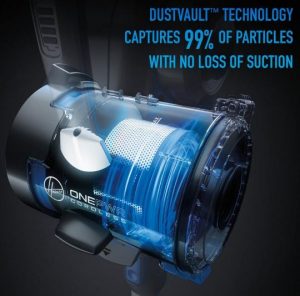 Also, the filters are washable and rinseable. So, you will save on buying replacement filters frequently. The filters on this vacuum can last a good 6 months.
6. Dust cup
Emptying dirt with Hoover ONEPWR Blade MAX BH53350 is easy as it comes with a removable dust cup. The cup is completely removable at a simple press of a button.
7. DustTracker LED headlights
Sometimes, you may leave patches of dust in darker corners or when cleaning at night. The LED headlights will lead you to where the dirt is, whether under furniture, corners, stairs or hard-to-reach areas.
8. Storage
Also, the Hoover ONEPWR Blade MAX BH53350 vacuum has a compact storage feature. A wall mount accessory comes in handy for safe and convenient storage.
9. ECO Mode Function
As hinted above, the vacuum offers extended cleaning time with the same efficiency using ECO mode function. This is not a common feature in most cordless stick vacuums. However, when vacuuming carpets, you may want to use Carpet Mode for deeper cleaning.
Hoover ONEPWR Blade MAX BH53350 Features and Specifications
Here's is a summary of all features that make this vacuum worth your consideration.
Type: stick/handheld
Weighs 7 pounds
Dimensions: 45H X 8D X 9.5W (inches)
Cordless
Power: 1 lithium-ion battery (interchangeable, rechargeable)
Battery: 20 Volts
Charging time: 3.5 hours
Uses a digital motor
Dirt capacity: 0.6 liters
Can be flattened to reach under immovable furniture
Up to 45 minutes of uninterrupted run time in ECO mode
Filtration: Dual cyclonic DustVault technology
Accessories: Wall mount (for storage), dusting brush, crevice tool, microfiber hard floor nozzle, motorized pet tool, upholstery tool, multi-surface brush roll
Converts into a handheld vacuum for above-floor cleaning
Hoover ONEPWR Blade MAX Cordless Stick Vacuum BH53350 Pros & Cons
Like every other vacuum, the Hoover ONEPWR Blade MAX has its pros and cons.
Pros
Perfect suction, swift, and easy to maneuver
Convenient as there is no cord to limit movement
Lightweight – easy to move from one room to the other and up and downstairs
Un-interrupted, fade-free, consistent run time of up to 45 minutes
Hoover ONEPWR Blade MAX BH53350 has unbeatable ability to pick up debris whether large or small as well as pet hair using provided accessories
Convenient fingertip setting change while switching between various surfaces
Over 99% filtration efficiency with the dual-cyclonic DustVault technology
The filters are washable
Completely removable and easy-to-empty and clean dirt cup
The vacuum is detachable and can be used efficiently both on handheld and stick mode
ONEPWR removable lithium-ion batteries charge fast and remain powerful throughout cleaning time. The batteries are also sharable with other ONEPWR products.
The vacuum has an ECO mode function that helps to extend run time while offering the same efficiency
LED lights meant for dirt tracking help to see dirt in dark areas and far corners, thus, no area is left unattended
Allows compact, convenient and safe storage using the wall mount accessory
Multi-surface cleaner – suitable for carpets, hard floors, area rugs, and upholstery
3-year limited motor warranty
Click here to see its current price.
Cons
The vacuum is a bit pricey
The battery life may not last long enough to finish cleaning large rooms, though that has been countered by having the option to buy extra batteries
Doesn't stand alone, though it comes with a wall-mount accessory for quick storage and pick-up.
Conclusion
You don't have to use a corded vacuum to get great suction. Most users will be amazed that the Hoover ONEPWR Blade MAX BH53350 beats much larger vacuums in suction. It is also much lighter and more versatile.
Be careful to switch to Eco mode so that you can enjoy that extended cleaning time. For smaller rooms, you can clean at a go without the need to recharge or replace the battery. Overall, the Hoover ONEPWR Blade MAX Cordless Stick Vacuum BH53350 is a splendid product.