A new, versatile entrant into the robotic vacuum space is at hand. In this article, we look at the Bissell EV675 Robot Vacuum Cleaner review.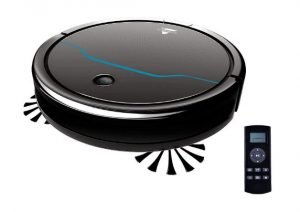 Bissell is one of the leading manufacturers of floor care appliances. Over the years, the company has become a household name when it comes to carpet cleaners, steam and hard floor cleaners, sweepers, and vacuums.
While Bissell has been producing upright, canister, and hand vacuums, the focus now is on robotic vacuums. And the pioneer Bissell robot vacuum is the Bissell EV675. Today, we present a detailed Bissell EV675 Robot Vacuum review that focuses on the main features, pros & cons.
Bissell EV675 Robot Vacuum Cleaner: Main Features
The main purpose of buying a robot vacuum is to get a helper that will take care of things when you're too tired or have other tasks to accomplish. And the Bissell EV675 Robot Vacuum is an ideal choice based on its performance and modest price.
There are many things to love about the EV675 Bissell Robot Vacuum Cleaner as you will see below.
Programmable Cleaning
This is the main reason why a vacuum is labeled as a robot is that it needs minimal supervision to clean the house. Also, it rarely needs minimal intervention – apart from emptying the bin. Therefore, you should expect the same from the Bissell EV675 Robotic Vacuum.
With the included remote, you can issue instructions to the vacuum to clean the house. There are several instructions that you can give the robot:
Auto Mode cleans the whole house
Spiral Spot Mode concentrates on a specific spot until it is spotless
Wall Mode picks up all dirt and debris along edges and corners
Single Room Mode instructs the vacuum to concentrate on a single room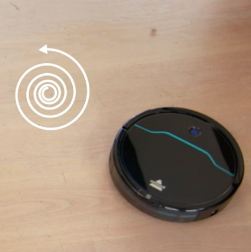 In fact, you can schedule cleaning to take place while you're not at home. So, you don't need to worry about your house while you're away at work or on a trip.
Triple Action Cleaning System
With powerful suction, the efficiency also increases because of a triple-action system. Here, there is a rotating brushroll that works hand in hand with two side brushes. So, you get excellent performance on the floors as well as edges and corners.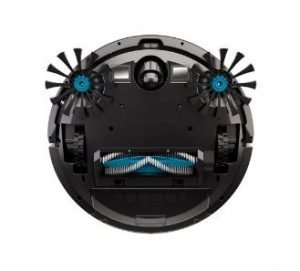 Also, a special wall-follow feature enhances its cleaning ability.
Multi-Surface Cleaning
When looking for any good vacuum, it's always good to seek a versatile one. You don't need a vacuum for carpets, another one for tiles, and another for rugs. An all-in-one vacuum will not only save you the trouble of having to deal with multiple units but also reduce your expenses.
Thankfully, the Bissell EV675 Multi-Surface Robotic Vacuum takes care of a variety of flooring types. It is ideal for bare floors, low pile carpets, and area rugs. This is made possible by automatic height adjustment capability.
Cliff Detection
One of the main concerns for prospective robot vacuum owners is if they have good sensors. With good sensors, the vacuum should be able to avoid obstacles and sudden falls that may cause damage. This way, you will get to utilize your investment for longer.
To prevent this, the Bissell EV675 has sensors that prevent it from falling off edges, stairs, and such areas.
Self-Recharge
How would you feel if you left your vacuum cleaning the house but find it dead in the middle of the floor? Angry, that's how I would feel. However, with the Bissell EV675 Multi-Surface Robotic vacuum, you don't need to worry about that.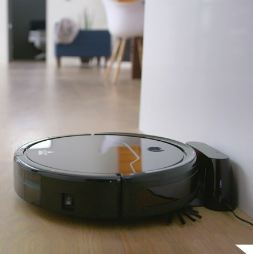 While its lithium-ion battery can last for up to 100 minutes, it has to be recharged at some point. Once the robot's sensors detect low charge, it goes back to its docking station for a boost. So, it will always be ready for the next task.
Low-Profile Design
Some robot vacuums may find it hard to clean tight spots such as under low-lying couches. However, Bissell EV675 is not very thick. It can comfortably get under tables, seats, and beds to pick up dust, dirt, and debris.
Bissell EV675 Robot Vacuum Features & Specs Summary
Whereas the main features are the most important to know, it's good to appreciate what this amazing robot vacuum has to offer.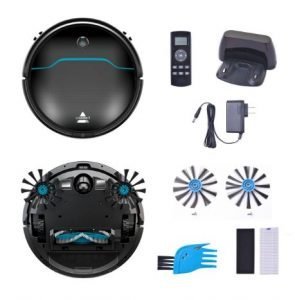 Here is a summary of all its features and specifications:
Weight: 4 pounds
Programmed cleaning
Triple-action cleaning system
Multi-surface cleaning
Cliff detection sensors
Automatic recharge
Low-profile design
4 cleaning modes
Scheduled cleaning
Dual edge cleaning
Wall-follow technology
Automatic height adjustment
Dirt bin capacity: 0.4 liters
Color: black (plus disco teal accents)
One-year limited warranty
Pros & Cons of the Bissell EV675 Robotic Vacuum 2503
Well, while there are many good things about this robot vacuum, there is also room for improvement. What are its advantages and disadvantages? Let's find out…
Pros
Strong suction
Multi-floor cleaning
It's surprisingly very quiet
Long-lasting battery
Won't fall down the stairs
Automatically recharges when the battery is low
Cleans under furniture with ease
It's easy to empty and clean the dirt bin
Click here to see its current price.
Cons
The dirt bin is relatively small
It doesn't map out the room
No smart home connectivity
You cannot schedule to clean on a specific day. It cleans at a specific time daily.
Conclusion: Should You Buy the Bissell EV675 Robot Vacuum?
Before you buy a particular item, you must know its pros and cons. In this article, we have reviewed the Bissell EV675 Robot Vacuum (2503) in detail, even pointing out its good and bad aspects. So, you are in a better position to make up your mind.
First of all, the vacuum is effective in picking up dirt and debris from different kinds of surfaces. Also, it is the quietest robot vacuum we have seen so far. With this in mind, it's also good to know the negatives. For example, it cannot store a map of the room. This would make subsequent tasks easier.
Also, it doesn't have sensors that would prevent it from bumping into obstacles. Instead, it tends to bump into them before it turns. Compared to other brands such as Roombas, this is an area that needs improvement.
Despite its shortcomings, however, we would recommend it any day. Given that it's very quiet, efficient, and can clean well under furniture, it's a pretty decent choice for anyone looking for a budget vacuum.
To see the robot vacuum in action, you can watch this YouTube video by Bissell: