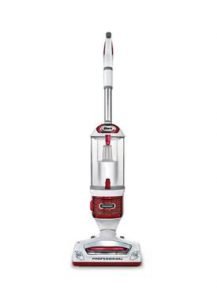 Shark produces some of the best upright vacuum cleaners on the market today. They are versatile, easy to use, and efficient at collecting pet hair, dust, dirt, and debris. They also feature modern technologies and a sturdy structure that is surprisingly user-friendly.
Shark Rotator NV501 ranks among the best shark vacuums for many reasons. It's not only suitable for heavy-duty cleaning but also has great features for its price range. Some of these outstanding features include excellent maneuverability, multi-surface cleaning, and exceptional filtration featuring HEPA filter and the Anti-Allergen Complete Seal technology.
This Shark NV501 review explores everything about it. We discuss its top features, its tools, plus pros & cons. We'll also share our verdict on it.
Shark Rotator Professional Lift-Away Upright Vacuum NV501 Review: Main Features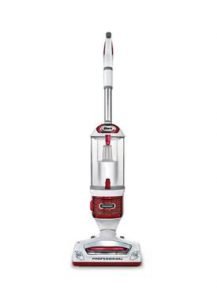 As mentioned above, this unit will definitely wow you because of how much it can get accomplished. But what makes it an ardent performer? Let's find out…
Suction
Uprights usually have powerful suction and Shark Rotator NV501 is no exception. It sustains tremendous suction across carpets, rugs, bare floors, and above-floor areas such as the windows and ceiling. The suction also remains consistent while using attachments.
Multi-surface cleaner
Shark Rotator NV501 is fitted with a dynamic brush roll for all-surface cleaning. So, it effectively cleans carpets, tiles, wood floors, and above-ground areas. The vacuum certainly ranks among the best vacuums for its detailed cleaning and ability to handle various floor types.
Brushroll shutoff capability means that you can stop worrying about scratching your precious vinyl polished hardwood flooring as you vacuum.
Also, you don't need to struggle to remove embedded dirt on carpets. This vacuum cleaner will do that for you. It also does a great job cleaning after pets, picking pet hair, and getting rid of odors and allergens such as dust and pollen.
Versatility
The vacuum transforms easily into Lift-away mode. You only need to "lift away" the pod at the press of a button to increase the vacuum's mobility. This way you can easily vacuum under furniture and up the stairs with ease. You also get accessories that enable you to clean the tight corners, crevices, walls, drapes, upholstery, and other above-floor surfaces.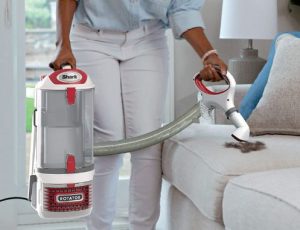 Also, you enjoy great maneuverability boosted by Shark's swivel steering technology. Besides, the brush roll has a power switch that allows you to control suction while transitioning between various surfaces. It's also ultra-light thus easy to carry up and down the stairs or from one room to the other.
Filtration system
Shark NV501 uses a pre-motor felt and a foam filter plus a post-motor HEPA filter. This filter combination captures up to 99.97% of allergens. Moreover, Anti-Allergen Complete Seal technology prevents allergens from escaping back into the air.
The filters are washable and need regular cleaning to maintain powerful suction. The pre-motor filters (foam and felt) should be cleaned every 3 months while the HEPA filter can be cleaned annually. Detach and rinse with clean water then leave them to air-dry completely before re-installing. In between rinsing, be sure to remove excess dirt by tapping the filter mildly as you empty the dirt can.
Overall, it is one of the best vacuums that help to fight allergies and asthma by preventing pollutants from being blown back into the indoor air.
Disposal system
Shark Rotator NV501 is bagless and uses an easy-to-empty dirt can with a capacity of 0.88 quarts. For routine cleaning, this should last you for a whole cleaning session unless the house is too dirty. It opens both ways – top and bottom thus no chances of leaving stuck-on dirt.
To ensure optimum suction, empty the can after every vacuuming session. You can do this by holding the dirt cup over the dirt bin and pressing the dirt cup button. Suction may be affected if you surpass the MAX fill mark but, since the can is transparent, you will see as it fills.
So, ensure that you empty the dust cup and clean it as often as you can. Besides the negative impact on suction, odors may start emanating from the vacuum if it's not emptied on time.
Attachments
Apart from a flexible main unit, Shark compliments its units with several accessories. These go a long way in making vacuuming enjoyable and stress-free.
This one comes with a wide pet upholstery tool, a 12-inch crevice tool, a dusting brush, and a premium pet power brush. They can be attached to the wand or hose depending on how far you desire to reach. So, cleaning of above-floor areas such as drapes and upholstery is sorted out.
The only challenge, however, is that there are only two slots for onboard accessories storage. That means you need to keep going back for them while cleaning and you also need to get a storage bag to avoid misplacing them.
LED lights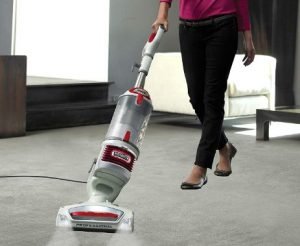 The Shark Rotator NV501 is fitted with two bright LED headlights on the floor nozzle. These lights help you to spot dirt and dust while cleaning at night or in dark areas. Therefore, you will not leave any part of the floor with unwanted specs of dirt.
Shark NV501 Review: Features & Specs Summary
Below is a breakdown of all you need to know about the Shark Rotator NV501 upright vacuum:
Type: upright, bagless
Weight: 15.5 pounds
Ergonomic handle
Power cord length: 25 feet
Hose length: 8.4 feet
Power rating: 1200 Watts, 10 Amps
LED headlights on the floor nozzle
Filtration: HEPA filters and foam filters
Anti Allergen Complete Seal technology
Dirt cup capacity: 1.3 quarts
Cleaning path: 9.5 inches wide
Dimensions (inches): 12.1L x 12.2W x 45.7H
Shark Rotator NV501 Review: Pros & Cons
There is no perfect vacuum. So, despite the many positives, expect to find a few shortcomings if you decide to purchase this unit.
Pros
Fairly priced
Strong, consistent suction that can be adjusted
It's easy to use and maneuver around obstacles
Allows edge to edge cleaning using the sizeable power cord and hose
Convenient for multi-surface cleaning
Has a relatively large dirt cup
Bright LED lights help to spot hidden dirt
Excellent filtration system
It is fantastic for dealing with pet messes
Comes with extra tools for cleaning upholstery, stairs, corners, crevices, etc.
5-year limited warranty
Cons
It does not have LED lights on the handle
The power cord may be short for if you need to vacuum large rooms
The cord does not auto-retract. So, you have to wrap it manually making storage cumbersome
Click here to see its current price.
Our verdict
There's so much to like about the Shark Rotator Professional Upright Vacuum NV501. First, it is relatively light and extremely versatile. Secondly, on lift-away mode, you get to clean hard-to-reach areas with ease. The hose and the wand are not too long but they do assist in above-floor cleaning.
Also, you get a wide range of attachments to deal with pet messes as well as vacuuming above-floor surfaces. The only downside is that you only have two slots for onboard storage meaning you need to figure out where to store the rest.
Besides that, it has an excellent sealed HEPA filtration that helps to keeps allergens away from your indoor air. The dirt cup is also sizeable and easy to empty and clean. So, if you have a large family, pets, or both, this is the kind of vacuum you need – regardless of the flooring type in your home.