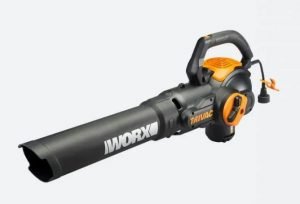 Cleaning the yard is one of the most hated chores especially by youngsters. There are several reasons why. It's tiring, murky, and sometimes too repetitive. Traditionally, we would rake and collect leaves across the yard and that would take hours of hard work. But, that's no longer the case.
Nowadays, we have blowers and leaf vacuum mulchers to ease the task of cleaning and disposing of the waste. These tools are extremely essential especially in fall when dead leaves cover our yards. The WORX WG512 Trivac 2.0 is a 3-in-1 leaf blower, vacuum, and mulcher made especially for this purpose.
In this review, we look at this powerful combo and explore its parts and how they work. We list for you its main features, pros, and cons. We'll also give you tips on how to maintain it in a mini buyer's guide. After that, we share our verdict. Let's dive in!
WORX Trivac 2.0 3-in-1 Blower/Mulcher/Vacuum Review: Main Features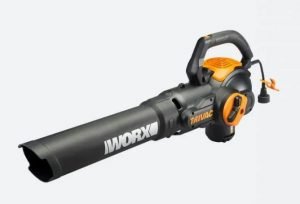 Many things set this robust tool apart from the rest. In this section, we look at the main features that will help you tackle the mess in your back and front yards like a boss.
3-in-1 leaf blower, vacuum, & mulcher
WORX WG512 Trivac 2.0 Vacuum may be all you need for cleaning your lawns. It's designed with a wide blower tube which makes it possible to blow large areas within a short time.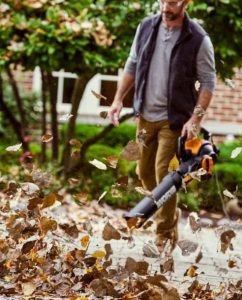 Besides, at only the turn of a dial, it switches from a blower to a leaf vacuum mulcher. A strong metal impeller enables the machine to mulch leaves at an impressive 16:1 ratio. However, it is effective when leaves are dry or slightly moist but does not do well with wet ones. Also, avoid using it to suck up muddy leaves.
2-speed setting
Depending on how heavy and how much leaves and debris you're dealing with, the two-speed setting enables you to choose the air volume. You can opt between regular or maximum performance. If you are cleaning tight corners, for example, regular speed will be ideal.
The maximum air flow generated is 600 CFM, which is higher than that of most leaf blowers out there.
Versatility
This is an ultra-light unit weighing 8.6 pounds only. The ergonomic handle also makes it easy to use and operate with one hand. Moreover, parts attach and detach with ease. The mulcher swiftly chops leaves and twigs into small pieces for your compost heap.
Being a powerful 3-in-1 machine is more than you can ask for. Whether you want to mulch a heap of leaves or simply blow them in one direction, you're sorted.
Disposal system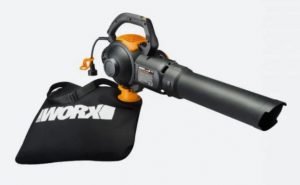 WORX WG512 Trivac 2.0 Vacuum comes with a lightweight easy-to-detach disposal bag. The bag is re-usable and holds up to 1.2 bushels of mulched leaves (approximately 8 gallons). It's also fitted with a zipper on the side which you unzip to dispose of the content into the garbage once done.
Also, you get a strap that can be adjusted to favor tall people. Carrying the bag on the shoulder is definitely much simpler than having it in your hand the whole time. However, the feed tube is a bit short and cannot be adjusted, which may pose a challenge for tall fellows.
Power and suction
First, we love the power cord retainer as it holds the cord firmly and minimizes chances of it snapping out of the extension cord as you move around. The electric power cord measures around 12 inches.
Besides, the machine is easy to turn off and on and has 75 MPH of airspeed. Supported by a 12-Amp motor and air siphoning design, WORX WG512 Trivac 2.0 Vacuum generates up to 600 CFM of air flow. Also, its no-load speed is 16500 per minute.
WORX WG512 Trivac 2.0 Review: Features & Specs Summary
Some technical specifications for your information:
Weight: 8.6 pounds
3-in-1 blower/vacuum/mulcher
12-Amp motor
Voltage: 120V 60Hz
2-speed operation
Metal impeller
Wide mouth tube
No-load speed: 16500/Min
Max air speed: 75 MPH
Max air flow: 600 CFM
Mulching ratio: 16:1
One-handed operation
One-knob change from blower to vacuum
Bag capacity: 1.2 bushels
Power cord length: 12 inches
WORX Trivac Review: Pros & Cons
What are some of the things you might have to contend with when you buy this unit? Let's find out below…
Pros
Time-saving – blowing the leaves into a pile and then vacuuming them takes much less time than raking and collecting the garbage
Has a great handle – it's easy to grip and user-friendly even for people with health conditions
The mulcher easily chops leaves for compost piling
It's relatively light
The power cord retainer ensures the cord doesn't pop as you work
It has a sizeable waste bag that comes with a strap for easier movement
You have 2-speed options. You can use MAX for open areas and switch back when working on corners or tight spaces
Ideal for small to large leaves
Easy to assemble and operate
Three-year warranty
Cons
The power cord is short
WORX WG512 Trivac 2.0 is not suitable for collecting wet leaves
The feed tube is not favorable to tall people because it's a bit short and not adjustable
Click here to see its current price.
WORX Trivac WG512 Review: Buyers Guide for 2023
Check out this awesome video by WORX:
The pleasant thing about using WORX WG512 Trivac 2.0 is that it is a low-maintenance unit. The disposal bag is re-usable and the parts are sturdy. So, you'll hardly have to deal with repairs. Here is a guide on how to maintain it.
Dealing with clogging
Leaves and twigs are cut in two stages by the metal impeller and its shredder blade. The mulcher is not designed for twigs though, it is meant for picking leaves. That makes it likely to jam if it sucks in a branch or a large twig or debris. Getting out stuck pieces is easy: open the plastic cover right under the handle, remove the stuck-on branch then replace the cover.
There is another reason why your WORX Trivac may clog. It is designed for dry debris and thus easily clogs if you try to vacuum wet leaves. If that happens, the vacuum stalls and operates as a blower throughout.
To solve this, disconnect the power, remove the stuck leaves from the vent, and ensure it is clean before continuing. You may also opt to vacuum at a warmer time when the leaves are not very wet.
Our verdict
WORX Trivac 2.0 (WG512 ) impressively accommodates all users. Although it is a one-handed unit, it's lightweight and comes with a shoulder strap for the waste bag. What's most impressive is its ease of use, for instance, how it easily converts from a blower to a vacuum and mulcher.
It also has a mind-blowing mulching ratio of 16:1 supported by a powerful airflow. The 2-speed option is also a crucial addition, especially when transitioning from working on the pavement to the lawn/yard.
Nonetheless, there are only two features that would make it better – an extra-ability to pick up wet leaves, and a longer tube to minimize fatigue especially for tall people. Apart from that, WORX WG512 Trivac 2.0 is sufficient for perfecting your yard.