SharkNinja boasts over 150 home appliances and having a presence in more than 8 countries. It's the company's attention to detail and unwavering customer focus that has kept its ranking at the top for household appliances over the years. And the Shark ION WANDVAC WV201 is among Shark Ninja's latest innovation.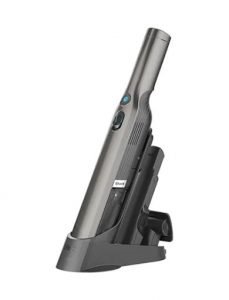 It's a lightweight handheld vacuum with a functioning power that beats much larger vacuums. It is the kind of tool you need for quick pickups, which are necessary from time to time.
Sometimes you notice some debris you need to clear on the go. Maybe the pets have left hair on the furniture or carpet; you have spilled cereal, or just picking up some dust from at the doorstep.
The Shark WV201 WANDVAC was introduced for this purpose. So, in this review, we explore it in detail. We examine how it functions, its design, the benefits to its users, and shortcomings if any.
Shark WV201 WANDVAC Cordless Handheld Vacuum Review: Features
Handheld vacuum cleaners are simple, with no much detail to discuss, unlike the larger vacuums. However, once we highlight this vacuum's features, it will prove itself a unique and reliable handheld tool. Let's explore it to know it better.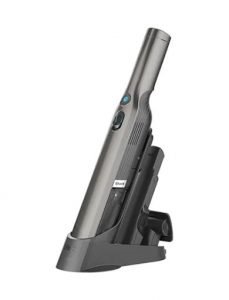 Power system: cordless
This is a cordless vacuum that uses 1 rechargeable lithium-ion battery. It charges as a whole unit (no option to separate the battery). Also, it comes with a charging dock that doubles up as a storage base and it needs to plug to the nearest power spot.
The Shark WV201 WANDVAC runs for ten minutes at most before the next recharge. It takes two and a half hours to charge the battery fully.
Although the runtime is short, Shark made sure you won't be caught unaware. The vacuum is fitted with an LED light that shows the remaining battery time. It also displays the charging status while docked.
Considering the long charging time and the 8 to 10 minutes runtime, it can be frustrating if you need to clean for long. Also, if you need to pick up a lot of dirt, maybe you need to have a normal vacuum, say an upright, on standby.
Versatility
The Shark WV201 WANDVAC is a handheld vacuum that weighs a mere 1.4 pounds. This way, it becomes a user-friendly tool for anyone including seniors. You enjoy complete control and balance as you clean.
Also, as mentioned earlier, this is a vacuum to use on the go or in between routine vacuuming. Although it has great suction, it may be tiring to clean the whole house with it. Besides, the power doesn't last long. We would recommend it for cleaning above-floor surfaces such as furniture, beddings, curtains, and drapes.
Lastly, the Shark WANDVAC WV201 is a multiple floor cleaner. It efficiently picks debris on low, medium, and high pile carpets, wood floors, vinyl floors, or tile floors. It also comes with useful tools that we discuss next.
Attachments
This vacuum's tapered nozzle is already designed for efficient pick up of all debris. However, if you want to reach tight spaces like corners and crevices – especially while cleaning furniture and stairs, you have been provided with a duster crevice tool.
The Shark WV201 WANDVAC also comes with a multi-surface tool which is essential while cleaning spaces with pet hair. It also comes in handy while picking up debris on carpets and rugs.
Last but not least, the charging dock also acts as the storage for the vacuum and accessories.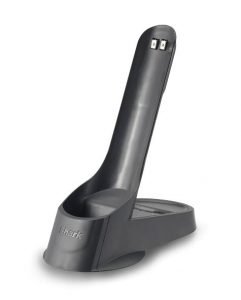 Suction
For such a small vacuum, Shark WV201 WANDVAC's suction is unbelievable. It uses a high-speed brushless motor to suck all types of debris from all floor types. Just like other shark vacuums, it does its job immaculately.
Filtration
The Shark WV201 WANDVAC's filtration effectiveness matches much larger vacuums. It's thorough at picking debris like fine dust, pollen, pet hair, and mold. While not HEPA, the filter ensures that such allergens do not make life difficult for allergy sufferers and the asthmatic.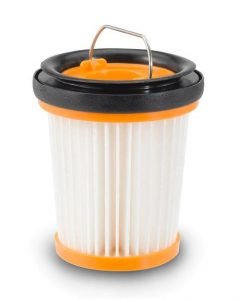 Besides, the filter housing can be detached for cleaning. Once you notice the suction reducing, remove the filter and clean it under running water. Leave it to dry completely before replacing it. After that, the suction's power should resume normalcy.
Dust cup
No need to get your hands dirty as you have an easy to empty dirt cup. The Shark WV201 WANDVAC has a single touch button for emptying debris. The bin has a 0.08 quarts capacity that can be detached for maintenance.
The size may be small, but that is expected of such a compact unit. Besides, for its intended purpose, the dust cup should be sufficient.
Dealing with pet hair and other debris
When you have pets, it's almost unavoidable to have strewn debris, dander, and hair spread on the floor, carpet, bed, seats, and other areas. Therefore, you need a reliable vacuum to help you handle such annoying dirt and debris.
The Shark WV201 WANDVAC outshines most of its peers in suction, filtration, and handling. The tapered nozzle, supported by the multi-surface accessory and crevice tool makes cleaning pleasurable. The multi-surface tool, especially, has a splendid ability to clean high pile carpets.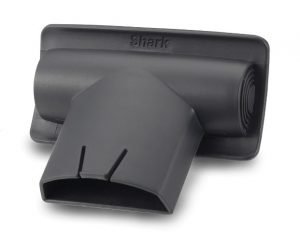 So, regardless of how deeply the litter is embedded, there are very few dustbusters better than the WANDVAC hand vacuum.
Moreover, Shark WV201 WANDVAC is also a terrific cleaner for car interiors. Due to the many tight spaces between and under the seats, the soft furnishings and roofing, you need a crevice tool and a well-designed nozzle for a thorough job.
Shark ION WANDVAC WV201 Review: Features & Specs Summary
As you have seen above, there are many things to like about the WANDVAC  hand vac. Let's have a look at these features, pros & cons in summary.
Features
Type: handheld vacuum
Weight: 1.4 pounds
Detachable dust cup
Dimensions: 16.5 x 2.5 x 2.4 (inches)
Charging dock
115 Watts; 10.6 Amps
Cleaning path 3.6 inches
Power: 1 lithium-ion battery
Dirt cup capacity: 0.08 quarts
Hands-free emptying at a button press
Accessories: duster crevice tool, multi-surface pet tool
Shark WV201 WANDVAC Pros & Cons
Just like all other vacuums, there are both merits and demerits of owning the WANDVAC. Below is an overview:
Pros
Ultra-light
Comfortable – ergonomic handle
Hygienic – easy to empty and clean dirt cup
Easily portable – compact size
Has LED display showing charging progress and also battery life
Great suction for a handheld vacuum
Cleans multiple floors
Comes with additional accessories: a crevice tool and a multi-purpose/surface tool
Suitable for households with pets
Easy maintenance – the filter and the dust cup are both washable
Click here to see its current price.
Cons
It has a very short battery life (Max 10 minutes) and can hardly finish cleaning an automobile. Most handheld vacuums average 20 minutes. However, the Shark WV201 WANDVAC compensates that with excellent power.
The vacuum charges as a whole unit and, therefore, once the battery drains, your cleaning will be interrupted.
Conclusion
It's not a surprise that the Shark WV201 WANDVAC won the Red Dot design award 2019. It has a great design and the beautiful thing is that its good looks are also complemented by its epic performance.
Starting with its charging dock, it remains one of the easiest vacuums to store. The appliance and all the accessories are easily lodged on the dock.
Whether you are cleaning your automobile's interiors, furniture, beddings, rugs, or carpets, the Shark WV201 WANDVAC got you covered. It uses a high-efficiency brushless motor to pick all kinds of debris. It also comes with a crevice tool and a multi-floor tool to enhance your cleaning for tight spots.
Apart from its short battery life, every other aspect of this vacuum is a plus. The ergonomic handle design gives you a firm grip and enhanced control. It's also ultra-light and easy to maneuver. The dust cup also flips open at a touch of a button so you don't have to touch the dirt.
This is not just any other Shark's innovation, it's a showcase of Shark's prowess in combining technology and style. This vacuum's extraordinary suction outdoes some of the larger vacuums, making it a great choice for everyday use.