Well, more often than not, we concentrate on famous brands such as Sharks and Dysons. But did you know that there are some hidden gems out there? One of them is the Tineco brand – and it has come to the industry all guns blazing. Today we review the Tineco A11 Master+ vs Tineco A10 Master.
If you are looking for a mid-range cordless stick vacuum, Tineco is a fantastic option. The current most popular Tineco Stick vacs are the Pure S12, A10, and A11, the latter being more recent. Tineco has produced both series under the "Master" and "Hero" models, but today we'll concentrate on the "Master" versions.
We will be doing a comparison of the Tineco A11 Hero and A10 Hero in a separate article. All in all, this is a game-changer. Stick around to learn more.
Side by Side Comparison of Tineco A11 Master+ vs Tineco A10 Master
As with any comparison article, we must point out what is common in the two beautiful units as well as what makes them different. We do so for each of the features. Being the newer model, however, expect the A11 to have better features overall.
2-in-1 versatility
Instead of buying two separate vacuums, why not get a 2-in-1 option? Both cordless stick vacuums can be easily converted into a hand vacuum. This is quite convenient when you need to do quick clean-ups such as picking up small messes. Dusting furniture and upholstery will also become a piece of cake.
This is available for both the Tineco A10 Master and Tineco A11 Master+.
Suction
Any good vacuum must be able to do its primary function – pick up dirt and debris. Without strong suction, it can hardly do that and, therefore, should not even be called a vacuum in the first place. Luckily, Tineco vacuums possess the requisite power.
Therefore, expect to get powerful suction from both the Tineco A11 Master+ and Tineco A10 Master vacuums.
However, there is a slight difference in suction owing to the different motors present in the two vacuums. First, the Tineco A10 Master uses a 350W brushless motor. On the other hand, the Tineco A11 Master+ uses a 450W digital motor.
This means that while the suction is strong for both, the Tineco A11 Master+ has an upper hand.
Runtime
The two Tineco vacuums are cordless, meaning that they run on batteries. So, there must be a limit of how long you can clean after a single charge. Unlike corded vacuums, cordless ones give you unlimited reach. However, there is the disadvantage of being limited by the amount of charge remaining.
The Tineco A10 Master uses two 2000mAh detachable lithium-ion batteries. These can last for up to 50 minutes with a maximum suction power of 110W. On the other hand, the Tineco A11 Master+ has two 2500mAh batteries that can run for up to 60 minutes. This produces a maximum suction power of 120W.
While the runtime should be enough to clean a large room or even the whole house, it can be drastically reduced if you use the vacuum on Max mode.
Dirt canister capacity
An area of concern to most vacuum buyers is how much dirt it can hold. To say the truth, you should expect much from any stick vacuum. Most sticks offer less than a liter of space – and this is true of Tineco cordless stick vacuums.
The Tineco A10 Master can hold only 0.4 liters of dirt. However, the Tineco A11 Master+ is marginally better, holding up to 0.6 liters of dirt. What you'll love about both is that they are quite easy to empty and clean.
LED headlights
Gone are the days when you could leave specs of dust and dirt in various parts of the house. Both options have LED lights that help to illuminate dirt – especially on bare floors. So, if there are any dark areas in the room, you will give them the same attention as any other area.
Filtration
If you intend to wage war on allergic reactions and asthma attacks, one thing to do is to ensure you're your vacuum plays its part. A good vacuum for allergies must be able to prevent allergens from being blown back into the air.
To this effect, both vacuums use a 4-stage filtration system that includes a True HEPA filter. HEPA filtration captures and traps up to 99.97 percent of all pollutants. So, dust, dust mites, pollen, and other allergens will no longer be a bother to you.
Moreover, Tineco's innovative rinse-free filter cleaning tool ensures that you don't have to touch the dirt. Also, you don't have to wait for the filters to dry out before the next cleaning task. Note that it comes standard with the A11 Master+, but has to be bought separately in case you want the A10 Master.
Weight
Most cordless stick vacuums are lightweight – and rightly so. This makes cleaning of the floor and above-ground areas a walk in the park. Both vacuums are very light. Tineco A10 Master weighs 2.87 pounds while the Tineco A11 Master+ is slightly heavier at 3.26 pounds.
Charging and storage
When it comes to charging and storage, there is a glaring difference.
Unfortunately, the Tineco A10 Master doesn't come with a wall-mount. Instead, it comes with a storage base that doubles up as a charging station. It may be cumbersome to deal with because of the somewhat bulky size. Also, you have to disassemble the vacuum for storage and assemble it again for use.
On the other hand, the Tineco A11 Master+ is much better in this regard. It comes with wall-mount storage that is also the charging station. You can store the vacuum and 3 attachments while charging the two batteries.
Continuous power mode switch lock
If you have used a cordless stick vacuum before, one downside is having to continuously press the trigger. Let go of the trigger and the power is off. While continuously holding the trigger may be a good feature in terms of power saving, it is definitely not lovable.
Tineco has realized this, and have offered an option to lock the switch and keep the vacuum cleaner on. This is pretty interesting and makes your work easier – and is available for both alternatives.
Accessories
Any good vacuum manufacturer knows the importance of attachments. These come in handy when cleaning upholstery, above-floor surfaces, and car interiors. Both the Tineco A10 Master and Tineco A11 Master+ come with a few useful tools.
Once you switch to hand-mode, you can use any of the tools for quick cleanups.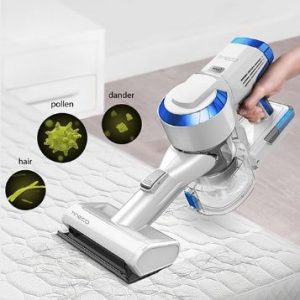 The attachments available include a crevice tool, a mini power brush, a 2-in-1 dusting brush, and a hair cleaning tool. The A11 Master+ also has extra tools namely: a long soft crevice tool, a soft dusting brush, a flexible multi-angle tube, and a flexible extension hose.
Tineco A11 Master+ vs Tineco A10 Master – Comparison Table
After going through the review of the two vacuums side by side, it is time for a summarized comparison. These are the main similarities and differences of the Tineco A11 Master+ and Tineco A10 Master:
| Features | Tineco A11 Master+ | Tineco A10 Master |
| --- | --- | --- |
| Detachable lithium-ion battery | 2pcs 2500mAh | 2pcs 2000mAh |
| Max runtime | 60 min. | 50 min. |
| Digital motor power | 450W | 350W |
| Max suction power | 120W | 110W |
| Wall mount | Yes | No |
| Dust bin capacity | 0.6 liters | 0.4 liters |
| Weight | 3.26 lbs. | 2.87 lbs. |
| Multi-tasker power brush | Yes | Yes |
| Soft-roller power brush | Yes | Yes |
| LED headlights | Yes | Yes |
| Rinse-free filter cleaning tool | Yes | No |
So, which one should you buy?
After going through all the features one by one, it is evident that the Tineco A11 Master+ stands out. It has more power and has a larger capacity. Moreover, it has more attachments and, therefore, gives you more versatility when it comes to wholesome cleaning.
However, the Tineco A10 Master is a bit cheaper and will offer more or less the same performance. So, if you don't have a lot to spend, it is the better option. But if the Tineco A11 Master is within reach, I'd go for it. Overall, however both are cheaper than the Dyson V11 Animal or Torque Drive.