When it comes to upright vacuums, Shark is the most preferred brand in the market right now. Whether you buy a Shark Navigator or a Shark Rotator, you will definitely get value for money. Today, we look at the Shark Rotator Lift-Away DuoClean Pro ZU782 Review.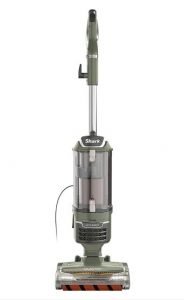 As expected of newer Shark vacuums, expect this upright to have the flagship lift-away technology. Also, DuoClean technology has become synonymous with this brand – more in the next section.
While there are many similarities with other shark vacuums, some features make the Shark Rotator Pro ZU782 stand out. So, we'll look at what it has to offer, its pros & cons, and the reason why it is a good option for anyone looking for a versatile vacuum cleaner.
Shark Rotator Pro ZU782 Review: Main Features
In this segment, we review Shark Rotator Pro ZU782 by exploring all the main features and how they come in handy in comprehensive house cleaning.
Suction
Like all Sharks, expect the Shark Rotator Pro ZU782 to leave no stone unturned. It has the requisite suction to powerfully pick up a wide array of dirt – dust, pet dander, pet hair, and any other debris. So, you need not worry about acquiring a vacuum that will disappoint you in this regard.
And it doesn't matter the kind of dirt you're dealing with. The vacuum sucks in small and large debris in equal measure. You can also control the suction depending on the task at hand.
Lift-away technology
Once in a while, you need to clean under furniture and other tight spots such as stairs. But a conventional upright may pose a challenge. More often than not, the large canister is inseparable from the rest of the unit. Therefore, it becomes a toll order to reach and clean such spaces.
However, this is not the case with the Shark Rotator Lift-Away DuoClean Pro ZU782. You can easily detach the dirt canister from the rest of the unit. This way, the size of the vacuum is drastically reduced, leaving with the light wand that you can easily manipulate accordingly.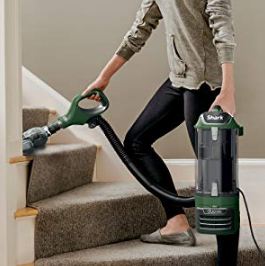 So, cleaning under the seats, tables, as well as above-floor areas such as stairs, becomes a walk in the park. However, it's good to note this is not powered lift-away that's available in other models such as the Shark NV803. This means that there's no power on the floor head in the lift-away mode.
DuoClean technology
Most homes nowadays have multi-floor installations. While a few still have all-bare or all-carpet floors, most people like to mix things up. A mix of bare floors (tile, marble, laminate, concrete or vinyl) and carpets is common – throw in some area rugs too.
If this is your situation, it would not make much sense to buy a carpet vacuum and a separate bare floor vacuum. What you need is a versatile unit that can handle both with ease. And the Shark Rotator Pro ZU782 is an ideal candidate.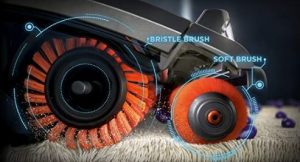 DuoClean technology employs a dual brushroll system. These two brushes work hand in hand to leave your bare floors sparkling clean and carpets deep-cleaned. Even deeply embedded dirt is easily picked up.
The bristle brush takes care of carpets, while the soft brush leaves hard floors polished and without scratches and marks.
Self-cleaning brushroll (Zero-M)
Also, like most of the recent shark upright vacuums, the ZU782 has Zero-M anti-hair wrap technology. When cleaning a room where pets and humans have shed hair, you always have to stop and remove tangled hair from the brushrolls. However, this is not the case with the Shark Rotator Pro ZU782.
Anti-hair wrap technology ensures that the brushrolls are self-cleaning. They are made in such a way that as you vacuum hair, it is continually untangled from the brush. This is not to say that the technology is perfect. Therefore, you may occasionally have to intervene.

If any stubborn hair strands are remaining on the brushroll, you can pull them by hand. A pair of scissors may come in handy – cut the hair to make it easy to pull out.
Also, there is a brushroll indicator that lets you know when there is a challenge. If it's green, everything is fine. However, it turns red when there is a blockage in the brushrolls, and flashes red when the floor nozzle overheats.
Filtration system
Allergies and asthma affect a large number of the populace. There are many things you can do to fight allergies, including buying a good air purifier. But you can also invest in an allergy-friendly vacuum. But how can a vacuum help to fight allergies?
Well, any good vacuum must have a great filtration system. This way, allergens that have been picked up by the vacuum remain inside the dirt canister. And the Shark Rotator Pro ZU782 is one of them. It utilizes an Anti-Allergen Complete Seal Technology to trap in all pollutants.
Also, a HEPA filter is available to increase efficiency. HEPA filters are known to capture particles as small as 0.3 microns in diameter. This translates to an efficiency rate of up to 99.97 percent. So, if you need to fight allergies and asthma, this is a fantastic option.
Advanced swivel steering
It would be so frustrating to struggle to navigate around furniture as you vacuum – or having to get obstacles out of the way. This unit employs advanced swivel steering to help you maneuver around tables, chairs, and other furniture with ease.
So, if you're petite or are struggling with joint problems, this can be a good option for you. It allows you to smoothly glide across the room as you clean.
LED headlights
While they not necessary in all cases, LED headlights can be useful especially if there are dark areas in the room. The lights help to illuminate any surface that has been unknowingly skipped, mainly in areas where natural or bulb lighting is not sufficient.
Thankfully, the Shark Rotator Lift-Away DuoClean Pro ZU782 has headlights on the floor nozzle for this purpose.
Accessories
Any good vacuum must come with the right accessories. These attachments make work easier, especially when cleaning above-floor surfaces – stairs, walls, shelves, drapes, ceiling fans, window sills, etc.
The tools also help to pick up dirt and debris from tight spots such as cracks, crevices, and in between cushions. As expected, the Shark Rotator Pro ZU782 Upright Vacuum comes with a few accessories – an upholstery tool, a crevice tool, and a pet power brush.
Shark Rotator Pro ZU782 Upright Vacuum Review: Features & Specs
We have looked at all the major features of the Shark ZU782. In summary, this is what to expect from the powerful upright vacuum:
Type: upright, bagless
Weight: 17.7 pounds
Dimensions: 13 L x 12.2 W x 30.7 H (inches)
Hose length: 8.4 feet
Power cord: 30 feet
Advanced swivel steering
Dirt capacity: 1.3 quarts (XL)
1200 Watts, 10 Amps
Cleaning path: 12 inches
Washable foam and HEPA filters
Anti-Allergen Complete Seal Technology
Zero-M technology (self-cleaning brushroll)
DuoClean technology
Lift-away technology
Shark Rotator Pro ZU782 Review: Pros & Cons
Since nothing lacks positives and negatives, we have managed to establish both for this unit. However, the pros outweigh the cons by far.
Pros
Incredible suction
Easy to assemble
Efficient pet hair pick-up
Very easy to maneuver
It has LED lighting
Excellent above-floor cleaning (lift-away)
Comes with suitable attachments
It's easy to empty and clean the dirt canister
Fantastic filtration helps to fight allergies and asthma
DuoClean technology allows smooth transitions from hard floors to carpets
5-year limited warranty
Click here to see its current price.
Cons
It's heavy
The dirt canister is a bit small
Conclusion
SharkNinja is a household name across the globe due to the quality products it sells. Ranging from sticks to robots to uprights, the Shark brand has it all. It is no wonder that the Shark Rotator Pro ZU782 Upright Vacuum is one of the best in the market.
With its multi-floor capability, powerful suction, excellent filtration, and user-friendliness, it is very hard to beat. Moreover, it is great at handling pet hair as well as human hair. Also, Zero-M anti-hair wrap technology allows you to clean without stress.
So, should you buy the Shark Rotator Pro ZU782? Our answer is a confident YES. Despite the few cons, we feel that it has much more to love. Therefore, if you can afford it, there is hardly any reason why it should not be your next (or first) vacuum.