The vacuum industry giant Shark has unveiled yet another outstanding robot vacuum. The Shark IQ R1001AE Robot Vacuum features Shark's latest top-notch technologies for optimum cleaning. Today, we review the Shark IQ Self-Empty Robot Vacuum R1001AE in depth.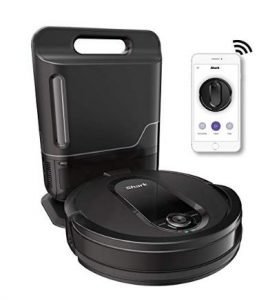 Shark's self-emptying base, self-cleaning brushroll combined with IQ navigation and automatic charging ranks this vacuum among the top industry players. The surprising thing is that it retails at almost 50% of the price of its peers.
Here's is more about the vacuum cleaner – its features, pros & cons as well as a maintenance guide.
A Review of the Shark IQ R1001AE Robot Vacuum with Self-Empty Base
What are the features of this unique, top-of-the-range robot vacuum? In this section, we take a look at the features that make it stand out from the rest.
1. Self-empty feature
This is a robot vacuum that empties its bin while full – imagine that! This is a very recent technology that has so far been adopted by iRobot. For more information, see our iRobot Roomba s9+ Review.
So, you no longer have to intervene when the bin gets full.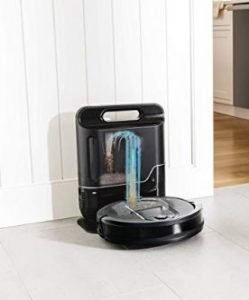 If it's in between cleaning, the robot halts cleaning and goes back to the base. Then, it automatically empties itself and resumes cleaning where it paused. The vacuum's bagless base has a dirt holding capacity of up to one month.
2. IQ Navigation home mapping
The Shark IQ R1001AE Robot Vacuum also outdoes any other Shark robots in terms of accurate mapping. It magnificently takes one row after another and cleans room to room without repeating.
Also, it will map your home for routine cleaning. Therefore, you don't have to give repeat instructions.
You can use the home mapping feature to instruct the robot on the specific rooms you need cleaning and when you want them cleaned. You can also map the rooms to avoid using BotBoundary strips or room-select option on the app.
3. Voice control
Another amazing capability is that you can use voice control to give instructions to the vacuum. Unlike most robot vacuums, the Shark IQ R1001AE has 3 navigation options. You can use Shark's app or issue voice instructions via Alexa or Google Assistant.
4. Automatic re-charge
In the same way it self-empties, Shark IQ R1001AE Robot docks back when it runs out of charge. Here, it recharges and resumes cleaning where it stopped. It takes an average of 4 hours to charge fully.
5. Self-cleaning brushroll
Shark employs the self-cleaning technology on this robot. If you have long hair or pets that shed, this is a must-have feature. Human hair is also picked up with ease.
The brushroll for traditional vacuums tends to tangle and stop until you remove the hair. However, this is not the same with the Shark IQ R1001AE robot vacuum. Shark has come up with the self-cleaning technology to seal this gap.
So, as the robot picks up dirt, it consistently removes tangling hair such that cleaning is not interrupted.
6. Powerful suction
Regardless of how many other features a vacuum cleaner has, if it does not pick up debris efficiently, it's not worth your money. The Shark IQ R1001AE robot vacuum will pick up all debris from the largest to the smallest.
It also has splendid ability to deep clean and sucks out embedded dirt from your carpet.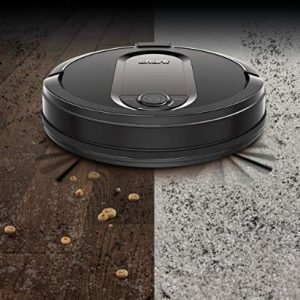 The brushes also get rid of stuck-on debris and dust on any hard floor whether wooden, concrete, vinyl, laminate, or tile. While the robot may do a bit of back and forth, it eventually clears the dirt.
In case it sucks in something larger than it can handle, for instance, a sock, it may stop and await your rescue. Overall, however, it does a great job picking up hair, food particles, dust, debris, and pet litter.
7. Efficient edge-to-edge cleaning
The Shark IQ R1001AE robot vacuum has a moderate height and, therefore, fits under most furniture. It also effectively maneuvers around doors and immovable items.
Two angled cleaning brushes to handle hidden corner dust and dig out embedded dirt debris from crevices, edges, and corners. These are located on the sides.
Shark IQ Robot Vacuum Review: Features and Specs
Below is a summary of all the features of the Shark IQ R1001AE Self-Emptying Robot Vacuum:
Type: robot vacuum
Weight: 5.87 pounds
Wattage: 35.3
Amps: 1.8
Self-cleaning brushroll
Self-empty base (capacity: up to 30 days)
Automatic re-charge and resume
Dual edge-cleaning brushes
Dust cup capacity: 0.17 quarts
Non-washable filter
BotBoundary strips – marks areas to avoid
'Find my robot' option – trace the robot as it plays a tune so you save time finding it
It can use remote to function.
Pairing to Wi-Fi or smartphone gives you access to more features
Uses SharkClean app
Voice control using Google Assistant or Alexa
IQ NAV room navigation – maps the whole house and has a room selection option
Up to 1-hour cleaning time
Cleaning path: 5.63 inches
Dimensions: 12.9L x 12.6W x 3.5H (inches)
Shark IQ Self-Empty Robot Vacuum Review: Pros & Cons
Pros
Powerful suction – sucks up all types of debris
Convenient – self-cleaning brushroll, self-emptying and self-charging
Easy to set up – only takes about 3 minutes to download the app and pair
Cleans multiple surfaces (carpets and hard floors)
Fairly priced compared to its peers such as the Roomba i7+
IQ Navigation using voice control makes cleaning convenient; maps your home for future cleaning, select the rooms to clean and those to avoid
App notifications help to know when the robot is stuck or done with the cleaning
Bagless you do not need to keep purchasing dirt bags
Shark's parts are readily available when you need replacement
One-year VIP warranty
Click here to see its current price.
Cons
A bit noisy especially on Max mode
The 4-hour charging time may be inconvenient if it's between cleaning
The Shark app may crash occasionally
Shark IQ R1001AE Robot Vacuum Maintenance
Shark IQ R1001AE Robot Vacuum requires minimal maintenance. Also, since it's self-emptying, you only need to empty the base once a month.
To keep it clean, wipe the dust off with a clean dry cloth. Also, you need to wipe the sensors, the wheels, as well as the docking base. To clean the side brushes, use a damp cloth to wipe the dirt the leave them to air dry and re-install.
Even though the brushroll is self-cleaning wipe off remaining dirt and replace the brush if worn out. Also, you can replace the vacuum's battery annually depending on the need.
Should you buy the Shark IQ Robot Vacuum? – Our Verdict
Compared to other high-end robotic vacuums, the Shark IQ is cheaper and can offer almost similar efficiency in terms of performance. For example, the Roomba s9+ and i7+ are over 40% higher in price.
In fact, Shark IQ R1001AE performs quite well for its price. Also, it has the advantage of being a bagless robot vacuum. The money you use replacing bags for other robotic vacuums makes them even more expensive.
All things considered, the Shark IQ R1001AE is in our opinion one of the best and most affordable robot vacuums in the market today. So, we would recommend it to anyone looking for a mid-priced robot vacuum that is powerful and versatile.