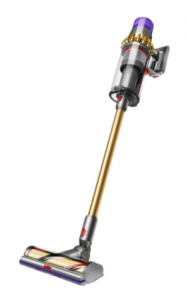 Dyson keeps surprising us with cutting-edge inventions. Their products have always been at the forefront of innovative technologies that disrupt the vacuum cleaning industry. In today's article, we present you with a comprehensive Dyson Outsize Absolute+ Review.
This stick vacuum is an improvement from its predecessor, the Dyson V11 outsize. So, expect better features and even better performance.
Related articles:
The moment you receive the three boxes containing the vacuum, accessories, and stand could be the beginning of an amazing journey. Not only does it have amazing suction but it is also very easy to use across various flooring installations.
Plus, it looks amazing!
Below, we discuss its main features and how beneficial they are to anyone who wants to leave their floors clean and presentable.
Dyson Outsize Absolute+ Review: Main Features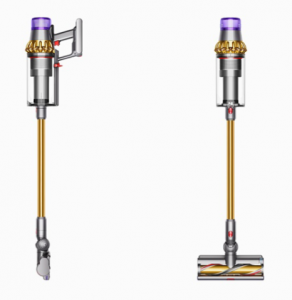 In this section, we discuss what we love about this awesome vacuum. Once you know all the features that set it apart from other cordless vacuums, you can make an informed decision. These are the standout features of the Dyson Outsize Absolute+:
Powerful suction across various floors
When you go out in search of a vacuum cleaner, your main goal is to get rid of all dust and dirt from the floor and other surfaces. Thankfully, Dyson Outsize Absolute+ has a lot of power – just like its predecessors.
So, you can be sure that it leaves no dirt untouched. So far, the unit has raving reviews from buyers because of how efficient it is on both hard floors and carpet. Besides, it has a full-size floor nozzle (High Torque XL) unlike most Dyson cordless vacuums.
This allows you to get the job done quickly regardless of the floor size as if you were using an upright or a canister vacuum.
Also, when vacuuming hard floors such as linoleum, concrete, or tile, you don't need to worry about leaving patches of dust. Simply fix the Laser Slim Fluffy cleaner head. While it leaves the floor sparkling clean, it illuminates any untouched dust using a green laser that's safe for your eyes.
What's more, it runs on fade-free power from the nickel-cobalt-aluminum battery. That, combined with Radial Root Cyclone technology that prevents filters from clogging ensures that the suction remains consistent from start to finish.
The in-line configuration further boosts suction because the air goes through the vacuum a straight line from the cyclones into the bin.
Pet hair removal
Dyson vacuum cleaners have a reputation of being ruthless when dealing with pet and human hair. So, expect Dyson Outsize Absolute+ to be as effective if not better than the previous models. Both cleaner heads take care of pet messes and hair on carpet and bare floors.
Also, the attachments help to pick pet hair from furniture such as seats and beds. Besides, this vacuum comes with a unique hair screw tool for such scenarios. Amazingly, the hair will rarely get tangled on the brush bar.
Filtration system
When vacuuming the floors, you don't want dirt and dust to be blown back into the air. So, you must buy a vacuum that has top-notch filtration. Dyson has developed an Advanced Whole-Machine filtration system that is installed on all the models.
Dyson Outsize Absolute+ has the same, with a 6-stage filter system trapping up to 99.99 percent of particles inside the vacuum. So, it is ideal for asthma and allergy sufferers. However, since it's not bagged, you must be very careful when emptying so that dust and other dirt aren't blown back onto your face.
Battery
As mentioned earlier, this vacuum uses a nickel-cobalt-aluminum battery that can maintain power for a commendable duration. With 2 battery packs and running on the lowest power mode (Eco), you can get up to 120 minutes of cleaning time from this vacuum.
Also, the fact that the vacuum only turns on when you press the trigger helps to conserve energy. However, some people prefer a vacuum that you just turn on and vacuum instead of constantly pressing the trigger.
Like most vacuums, it takes a long time to charge (up to 4.5 hours). So, it's best to leave it charging on the wall-mounted dock once you are done. This way, you'll not be frustrated next time you want to use it.
Versatility & convenience
This vacuum only weighs 7.9 pounds. So, carrying it from one place to the next is a walk in the park. Also, you can easily switch between the two cleaner heads depending on whether you are vacuuming hard flooring or carpet.
Also, apart from getting numerous attachments, you can quickly convert it into a handheld vacuum. This comes in handy when you want to pick up small messes on the go.
Dirt disposal
The dirt bin is very easy to empty and clean. Also, Dyson has made a lot of effort in ensuring that emptying is not messy. Simply point the canister down into the trash can and 'shoot' the garbage inside. Besides, the dust cup is quite big for a stick vacuum and should allow you to vacuum for long periods without stopping.
Attachments
Like other Dyson vacuums, you will not get a chance to complain about lack of attachments or having few options. Dyson Outsize Absolute+ has five handy attachments to help with vacuuming above-floor surfaces.
The accessories include a combination tool, a stubborn dirt brush, a crevice tool, a mini soft dusting brush, and a hair screw tool. Besides, you'll get extra stuff to make your life easier – two chargers, an extra battery pack, a wand clip, and a docking station for storage and charging.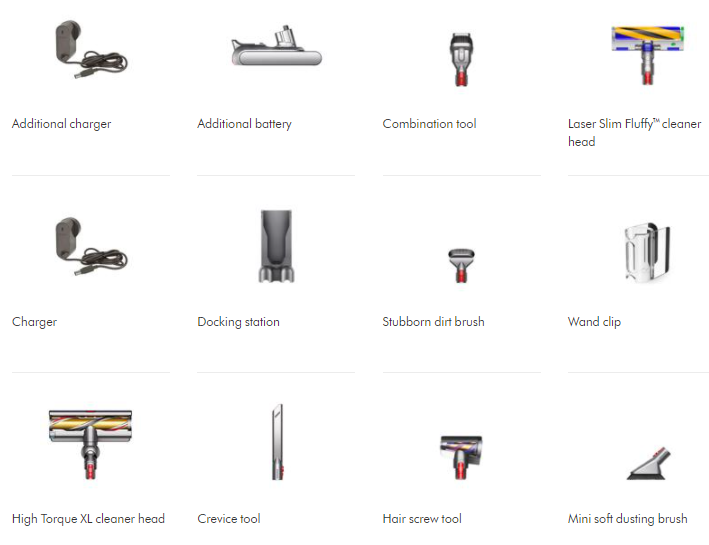 Weight and dimensions
It's good to know how heavy a vacuum is and how big it is so that you can plan accordingly. With this information, you can tell whether you can use it without straining and also how easy it will be to store. This cordless vacuum weighs only 7.9 pounds and measures 50 x 11.7 x 12.5 inches (HxLxW).
Warranty
How reliable is this home appliance? You can always tell the manufacturer's confidence by how long the warranty is. The longer the warranty, the better the vacuum and the longer you expect it to last. Dyson offers a 2-year warranty and a 30-day money-back guarantee.
Dyson Outsize Absolute+ Stick Vacuum Review: Features & Specs Summary
Now you know what to expect from this amazing vacuum. Below, we pinpoint the technical specifications of the Dyson Outsize Absolute+ cordless stick vacuum:
Color: gold
Type: stick, bagless
Cordless vacuum
Weight: 7.9 lbs.
Battery: nickel-cobalt-aluminum
Charging time: 4.5 hours
Maximum runtime: 120 minutes
Radial Root Cyclone technology: 18 cyclones
Motor: 125,000 rpm
Maximum suction: 200AW
Dust cup capacity: 0.5 Gallons
Filtration: advanced whole-machine
Attachments: 5
3 cleaning modes
In-line configuration
Green laser on the bare floor nozzle
Dimensions (HxLxW): 50 x 11.7 x 12.5 inches
Pros & Cons of Dyson Outsize Absolute+ Cordless Stick Vacuum
There's plenty to like about Dyson Outsize Absolute+. However, there are a few drawbacks that you must know about.
What we Love about Dyson Outsize Absolute+ Vacuum
Powerful suction
Gets rid of all pet and human hair
Sleek design
Lightweight and compact
Comes with a full-size floor nozzle
Ideal for carpet and bare floors
Long run time especially on Eco mode
You get numerous attachments and accessories
Exceptional filtration system
High-quality build
Very easy to empty and clean
Large dirt capacity
It's very easy to assemble and use
Easy to maneuver around obstacles as you vacuum
Green laser on the bare floor nozzle helps you to see uncollected dust and dirt
Reliable warranty
What we don't like about Dyson Outsize Absolute+ Vacuum
Pricey compared to other stick vacuums
Continuously pressing the trigger as you vacuum can be tedious
Verdict: Should You Buy Dyson Outsize Absolute+ Cordless Stick Vacuum?
This vacuum has a lot to offer whether you have bare floors, carpet, or a mix of both. The powerful suction picks up all kinds of dust, dirt, and debris. Also, you get up to five attachments to help with above-ground vacuuming. You can also convert it into a handheld vacuum.
Besides, it has an excellent filtration system that keeps allergens at bay. Also, emptying is hygienic compared to other bagless vacuums. So, you should definitely go for it – if you can afford it. The vacuum is quite pricey, but worth the money if it's within your spending limits.