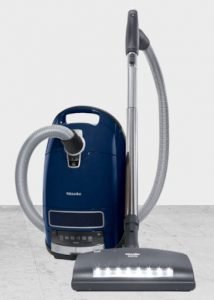 There are different brands and models of vacuum cleaners on the market. They are designed for different needs and, therefore, you must be aware of your specific needs to make the best choice.
If you are purchasing a vacuum cleaner for the first time, choosing the best one for your needs can be challenging if not time-consuming.
But information is power. If you are aware of the different types of vacuum cleaners and what they do, the selection process will be easier. In this article, we are going to help you understand what each type of vacuum does and looks like.
Let's get to it then…
The 10 Main Types of Vacuum Cleaners
Before purchasing a vacuum cleaner, you must understand exactly what you need and why. Vacuum cleaners will cost you a good amount so you cannot make the mistake of buying the wrong one.
After identifying your cleaning needs and understanding what different vacuum cleaners can offer, you can pick one of the following:
1. Upright vacuum cleaners
An upright vacuum cleaner is a free-standing unit with the motor, floor nozzle, dust bags, filters, and all other parts build together in an upright shape. They are among the most common vacuum cleaners.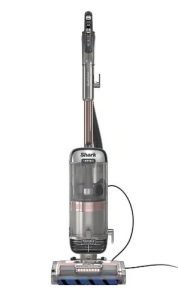 Uprights use a powerful motor-driven brushroll to clean both carpets and hard floors. Besides, some upright vacuums have settings that allow you to transition from carpets to bare floors and vice-versa for effective cleaning.
Also, they usually come with additional cleaning attachments for whole-house cleaning. These attachments include pet tools, upholstery brushes, crevice tools, and dusting brushes. They come in handy when vacuuming upholstery, drapes, stairs, and other above-ground surfaces.
Various manufacturers make different types of upright vacuums in terms of dirt collection. Some have bags where the dirt is deposited while others are bagless. Bagless vacuums have a dust/dirt bin or canister inside the main body of the vacuum.
Pros
They stand up alone hence easy storage
Most uprights can be used on different types of flooring
They usually come with additional cleaning tools for whole-house cleaning
Most have a wide cleaning path for faster vacuuming even in large rooms
Gives you an option to choose either bagged or bagless
Cons
Most uprights are bulky and heavy making them hard to maneuver
Very few uprights can reach tight spots like under furniture
Related: 15 Best Upright Vacuums of 2023
2. Canister vacuum cleaners
Canister vacuum cleaners have a separate unit with the motor attached to a long wand. The floorhead (nozzle) is attached at the end of the wand. They are light and easy to carry around.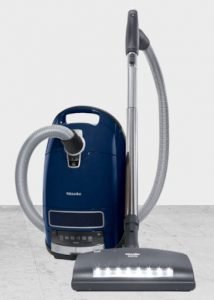 Also, most canisters feature a retractable cord and a suction hose making them effective for cleaning bare floors, carpets, the stairs, car interiors, and above the floor surfaces like curtains and upholstery.
Pros
Lightweight and easy to carry around
Powerful suction power
They can clean the floor, above-floor surfaces like stairs, curtains, upholstery, and hard-to-reach areas like under the furniture.
Come with extra cleaning tools to ensure whole-house vacuuming
Cons
The canisters can be bulky and hence difficult to store
Not recommended for very large spaces
Maneuverability is hard because it is a two-piece. So, you have to carry or pull the canister around.
Related: 13 Best Rated Canister Vacuums of 2023
3. Handheld vacuum cleaners
As the name suggests, these vacuum cleaners can be held in one hand. They come in handy when cleaning hard-to-reach areas, small and tight spaces like inside the car or between cushions.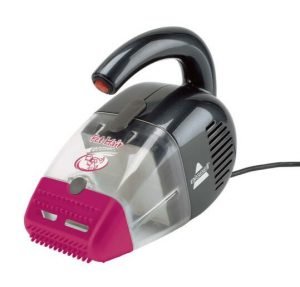 Besides, if you have pets and children, handheld vacuums are the best for cleaning after their messes on the go. However, they are not suitable for general house cleaning. Therefore, you can only buy a handheld vacuum to complement your main unit.
Pros
Lightweight and compact hence easy to carry and store
Perfect for cleaning after kids and pet messes on the go
Sleek designs allow you to store them anywhere in the house without interfering with your décor
Available in both corded and cordless designs
Cons
Cannot be used for extensive vacuuming
Less powerful compared to canister and upright vacuums
Related: Best Handheld Vacuums 2023 (Corded & Cordless)
4. Stick vacuum cleaners
Stick vacuum cleaners have always been ranked as the least powerful, but they offer a lot of flexibility and convenience. Besides, modern technology has improved the suction quite a bit – they can now compete easily with upright vacuums.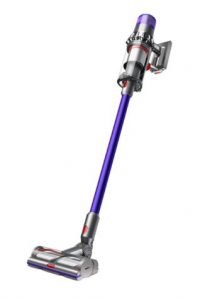 They serve the purpose of handheld vacuums, but with the design of a complete vacuum. So, you can either use a stick vacuum as a full-size vacuum or quickly convert it into a handheld vacuum. However, a few models are purely stick vacuums without the 2-in-1 functionality.
Stick vacuums are most effective in handling small chores like cleaning spills on the kitchen floor, cleaning after your kids, picking up hair from the bathroom aftershave among others. More powerful stick vacuums such as Sharks and Dysons are effective for whole-house vacuuming.
Pros
Lightweight hence easy to carry around
Their sleek design complement interior décor
Very easy to store
Effective for small messes
Excellent for vacuuming bare floors
Most stick vacuums can be converted to handheld vacuums for quick clean-ups
Cons
Generally less powerful compared to uprights and canisters
Most stick vacuums easily topple because they are top-heavy
Related:
5. Robot vacuum cleaners
Robot vacuum cleaners have been gaining popularity over the years because they do not require a lot of human effort. This technology allows you to concentrate on other chores as the robot does the vacuuming for you.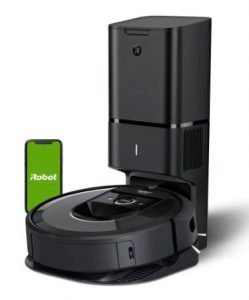 Robotic vacuum cleaners will clean your house with or without your presence as long as you have set commands on when to clean. So, they do not only save your time but also offer you the convenience you cannot get from any other type of vacuum cleaner.
Besides, most robot vacuums allow you to issue commands and get reports directly to your smartphone. You can also speak to your vacuuming buddy via Alexa or Google Assistant – amazing, isn't it?
Also, this new technology makes it possible for the vacuum to avoid falls, clean specific spots/rooms, and recharge and resume cleaning. Some newer models even empty themselves without your intervention.
Pros
It's a hands-free device. You relax as it does the cleaning
They are not bulky hence easy to store
It roams in the house cleaning even those tight spots
They can be controlled with a tablet or smartphone
Some robot vacuums can receive voice commands via Alexa or Google Assistant
You can schedule cleaning and get reports to your smartphone
Some inexpensive models perform quite well
Cons
The best robot vacuums are very expensive
They are not suitable for carpet (especially high-pile)
Related: 10 Best Robot Vacuums in 2023 (Reviews)
6. Wet/dry vacuum cleaners (shop vacs)
Wet/dry vacuum cleaners can remove wet spills from your floors. We are used to vacuuming cleaners that only collect dry dirt, but with type, you can collect both bread crumbs and spilled milk.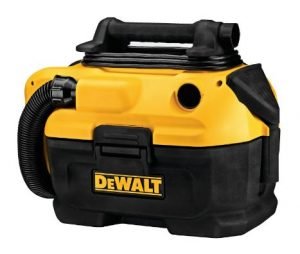 Also, they do not use bags for dirt collection but two storage areas to separate dry and wet dirt. While such vacuums can be great for day-to-day cleaning of the house, they are most normally used in workshops and garages where such messes are common.
No wonder most people call them shop vacs.
Pros
Inexpensive
Most wet/dry shop vacs are built to last
Flexible cleaning since they can handle both wet and dry messes
Perfect for homes with kids and pets because they spill all the time
Powerful suction power compared to other vacuum types
Ideal for garages and workshops
Cons
Can get smelly especially if you collect things like urine
They are usually heavy because of their high storage capacity, but wheels make movement bearable
Related: The 10 Best Shop Vacs of 2023 (Wet/Dry Vacuums)
7. Backpack vacuums
Backpack vacuum cleaners are worn like a backpack. By wearing the canister at the back, its weight and that of collected dirt are evenly distributed on your body preventing back injuries as you try to lift it.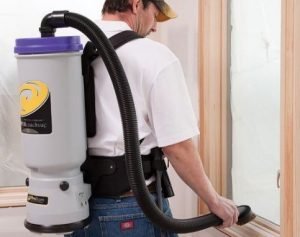 With the canister on your back, your hands will be free to operate the hose, wand, and the cleaning head. Also, movement from room to room or up and down the stairs becomes very easy.
Pros
It is a good choice for people with back problems
User's hands are left free to operate the lightweight hose
Provides a further reach
Eliminates the possibility of tripping-related injuries because they don't have to be pushed
It's very easy to maneuver around obstacles such as furniture
They are great for reaching tight spots where bugs may be hiding
Extra-large dirt capacity
Cons
Adjusting the straps might be hard in some backpack vacuums
They are usually bagged, and buying replacement bags may be costly in the long run
Related: Best Backpack Vacuum Cleaners for Home & Commercial Use 2023
8. Central vacuum systems
A central vacuum system is also known as a whole-house vacuum system. It is a vacuuming system installed in an entire building. It includes pipes installed inside the walls which connect to a large dirt collection and power unit stored in the garage or basement.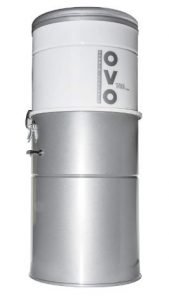 Also, suction ports that resemble power sockets are installed on the walls. To vacuum, you will insert the hose into the suction ports which transfer the dirt to the storage unit.
Pros
Typically less noisy
This system is more powerful than portable vacuum cleaners
Eliminates re-circulation of dirt and dust into the indoor air because the debris container is outside.
It requires minimal human attention
Central vacuums are ideal for bare floors and carpet cleaning
The have a very long lifespan
Cons
Can be expensive to buy and install
Related: 10 Best Central Vacuum Systems 2023 Reviews
9. Leaf vacuums
Leaf vacuums are mostly used to clean up the backyard, lawn, patio, or porch. Most leaf vacuums are versatile and offer a 3-in-1 capability. So, you can suck up leaves and small twigs, shred them (mulch), or simply blow them towards a particular area for collection.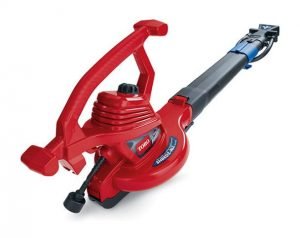 Also, leaf vacuums are usually found in the garage because of the nature of tasks that they are used for.
Pros
They are lightweight and compact
Can be used as blowers and mulchers
Are usually inexpensive
You have the option of gas-powered or electric leaf vacuums
Cons
Limited to vacuuming leaves
Related: The 9 Best Leaf Vacuum Mulchers in 2023
10. Mini vacuums
Believe it or not, there are some miniature vacuums on the market. Such vacuums are not for vacuuming your floors, stairs, or upholstery. Instead, they are ideal for vacuuming electronics – PCs, speakers, laptops, and keyboards.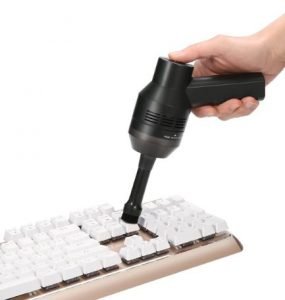 Pros
Cheap to buy
Stylish designs
Cordless convenience
Ideal for vacuuming electronics
Lightweight, compact, and easy to carry or store
Cons
Not for extensive cleaning
Batteries last for a very short period
Related: Best Computer Vacuums 2023
Final Words
We have discussed the 10 types of vacuum cleaners on the market and what to expect from them. So, if you are looking to buy a vacuum cleaner, this should make your work easier. They are available in different brands, models, colors, sizes, and even prices, but there is one for every household.
If you want a device that will help you with cleaning high traffic areas or heavily soiled carpets, consider a canister or an upright vacuum. They have powerful suction power and additional cleaning tools to tackle the deep mess. The storage space is also plenty.
If your main concern is a mess left behind by your children or pets, or you want a vacuum for your car, lean towards handheld and stick vacuums. They are lightweight and portable. Also, they are best for those hard-to-reach spaces and tight spots in the house or car.
All vacuum cleaners work, but not every vacuum will be effective for your house. So, do not buy a vacuum because you saw it perform magic in your friend's house. Narrow down to a model that suits your unique cleaning needs and you won't regret it.