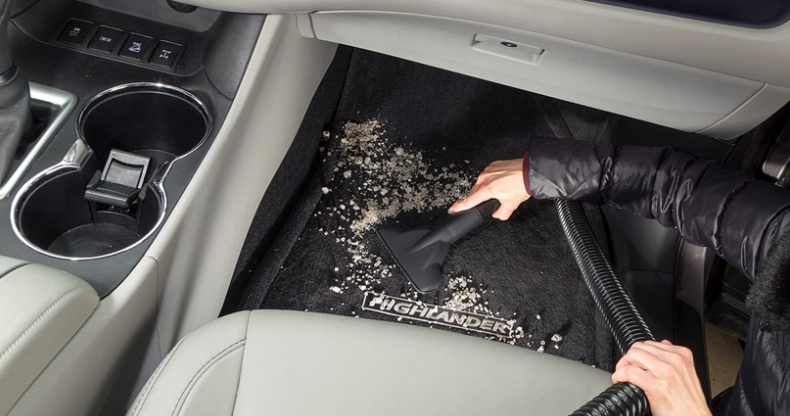 Apart from visiting the car wash or washing it yourself in the garage, your car needs regular vacuuming to remove all types of dirt. Vacuuming your vehicle ensures that you breathe clean air and eliminate allergens that may cause diseases.
So, you need to know how to vacuum your car well for proper maintenance. The following steps will guide you on how to vacuum your car like a pro.
How to Vacuum Your Car Properly – Step by Step Guide
If you feel that the car is dusty, especially when the AC is on, it means that you need to use a vacuum. The car might be clean, but dust and dirt tend to hide in nook and crannies that a regular wash cannot exhaust.
So, take your car to the car wash and ensure that they vacuum the car for you. However, if you like DIYs and want to guarantee that no spot will remain untouched, vacuum the car yourself. Not only will you be able to remove all dust, dirt, hair, and debris, but you will also have lots of fun doing it.
Step 1: Choose the right vacuum and attachments
Vacuuming a car may be hard if you use the wrong vacuum cleaner. So, you need to ensure that you buy a high-quality vacuum that works well in cars. Some vacuums are good for car detailing, and that should be your area of focus.
Also, you need to ensure you have other required tools, such as a crevice tool and an upholstery brush. It is also essential to consider the environment where you will clean your car. Do you have access to electricity or not? If there is no electricity, you should choose a cordless vacuum cleaner.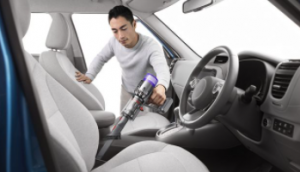 While regular vacuums can do the trick, it is advisable to choose a wet and dry vacuum cleaner. It is not a guarantee that the carpet will be dry since spillages tend to be a common occurrence in vehicles. Therefore, finding a good shop vac is a huge plus when vacuuming cars with both dry and wet messes.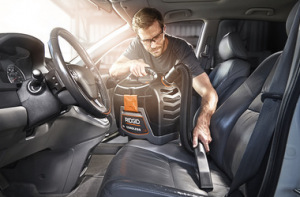 Step 2: Remove the floor mat, carpet, and large objects
After obtaining the right vacuum and tools, you need to vacuum your car appropriately. First, remove the carpet or floor mat and place them on flat ground.
Then, collect all personal items and large waste materials that may be present in the car. Sometimes, your vehicle may look untidy and congested due to the large items such as cans and paper bags. So, you need to remove them so that you can ease your work.
Step 3: Vacuum the loose dirt and debris
Using the vacuum cleaner, remove the remaining loose particles. It would serve well if you start from the top to the bottom of the car. Working your way from the dashboard and seats ensures that any loose debris will be knocked down and removed later.
You can use an upholstery tool or dusting brush to clean the corners of the upper part of the vehicle.
Step 4: Vacuum the seats
Some debris might fall on the seats while cleaning the upper part of the vehicle. So, it is crucial to vacuum all the seats. Also, ensure you vacuum other seat parts such as the seat folds starting with the driver's seat; there is a likelihood of having a lot of dirt.
A crevice tool will come in handy when dealing with dust and dirt in such folds. If you can get a really slim crevice tool, it will help to remove all dust from the threads, seams, cracks, and crevices. Remember that this tool will work for both leather seats and fabric.
Different cars have different types of seats, but careful vacuuming will ensure that there is no damage. Lastly, if the seats can move, you need to adjust their positions and access the lower and back parts of the seats.
(YouTube video by Wilson Auto Detailing)
Step 5: Clean the floor mats and carpet
Now, it is time to ensure that the floor of the vehicle is clean. Use the vacuum cleaner for the accessible parts – the brushes and crevice tool so that you reach all the tight spots. For the vehicle's floor mats that you removed, wash them or wipe them with a damp cloth and leave them to dry before returning them inside the car.
Also, it's important to note that the driver's seat has a high probability of accumulating dirt. Hence, you need to ensure that you pay more attention to it.
Step 6: Don't forget the trunk
Whether you use the car for regular shopping or tailgating, the trunk needs your attention. After you're done with the rest of the car, do not forget to vacuum the trunk thoroughly using the appropriate attachments.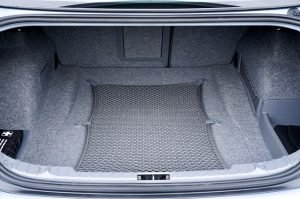 Step 7: Vacuum any other exposed area
Use the attachments such as brushes to clean any other exposed area. For example, you can go over the dashboard and the shifter area again.
Once you finish vacuuming your car, reinstall all the floor carpets and any other personal materials. For the large debris, throw them in a dirt bag and dispose them of in the trash can. Then, cross-check whether you have everything you need in the vehicle, and you are set to go.
Conclusion
If you need to vacuum your car like a pro, now you know the Dos and Don'ts. Always vacuum your vehicle procedurally to ensure you eliminate all the dirt.
Vacuuming your car properly removes all dust, dirt, pet hair, and odors, resulting in numerous health benefits. Therefore, you should vacuum your car regularly or anytime you note the accumulation of dust particles.