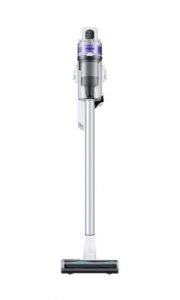 Samsung is a trusted brand and so we are always curious to know what's new in their line of products. This time, we review one of its newest vacuums – the Samsung Jet Light VS70 cordless stick vacuum. It was just recently released, so we are privileged to be among the first reviewers.
There are many new stick vacuums in the market. However, we find the Samsung Jet Light VS70 unique and commendably powerful when compared with other stick vacuums. Also, only a few stick vacuums can clean all floor types. Therefore, we feel that Samsung Jet Light VS70 can put up a good fight against the best cordless stick vacuums.
So, here we are again giving you a detailed review of this vacuum, examining its pros and cons as well as declaring our verdict.
Samsung Jet Light VS70 Cordless Vacuum Review: Features
Many things make the Samsung Jet Light VS70 a must-have vacuum. In this section, we examine every feature that makes Samsung Jet Light VS70 unique and worth your investment.
i. Power source
The Samsung Jet Light VS70 is cordless and uses a removable and replaceable battery. The battery is known to be long-lasting since it operates in its full capacity for longer than its peers. After using it for 5 years, the capacity is only expected to reduce by only 30%. Also, there is a battery life indicator to keep you informed on the charge status.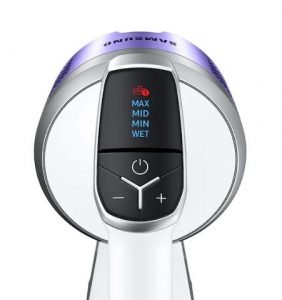 We highly recommend you buy a spare battery because it takes approximately three and a half hours to charge. As with other cordless vacuums, battery usage is dependent on the speed settings and accessories you choose. Once fully charged, it can run for up to 40 minutes on minimum settings without attachments.
ii. Suction
The battery offers powerful consistent suction that helps makes cleaning fun and effective. The unit generates up to 150 Air watts of power, which is more than enough for cleaning the standard home. Besides, the unit uses multi-cyclone technology to prevent dirt from clogging the filters. So, you get a fade-free suction from start to finish.
iii. Maneuverability
As much as stick vacuums are easy to use, the Samsung Jet Light VS70 is much friendlier; it's a pretty lightweight vacuum with an 8.5 inches wide brush. It has 3 control levels (minimum, maximum, and medium) and that helps the user clean conveniently.
Its reach between and under furniture is considerably smooth keeping in mind the friendly cleaning head size and its flexibility. It only weighs 5.79 pounds, so moving it from one spot to the other or up and down the stairs is a walk in the park.
iv. Turbo Action brush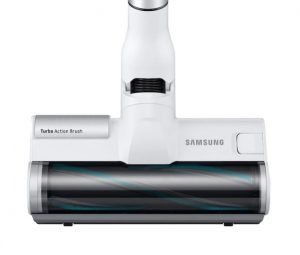 This is one of the major advantages of using the Samsung Jet Light VS70. This brush cleans spectacularly whether your floor is tiled, carpeted, or hardwood. It's a good tool for removing deeply embedded dirt, pet hair, and dried stains, especially on hard floors.
v. Multi-surface cleaning
This is another huge plus for the Samsung Jet Light VS70 considering most stick vacuums can hardly handle anything apart from hard floors. Its great suction coupled with the Turbo Active brush does a commendable job of picking hair and debris from carpets as well as hard floors.
Another plus of using the Samsung Jet Light VS70 is that it doesn't spin dirt as you vacuum and it thoroughly picks both large and fine debris.
vi. Filtration
Samsung equipped the Jet Light VS70 with a 5-level HEPA filtration system. At stage one; the filters capture the larger particles. At stage 2, the medium level particles are filtered. Then, stage 3 takes care of the fine particles such as pollen and dust. This is what minimizes dust content in the indoor air.
In stage 4, there is a washable micro-filter that takes care of the fine particles that could have been missed out. Lastly, stage 5 is almost the same with stage 4 only that it fights against the emission of ultra-fine debris.
So, if you are fighting allergies and asthma, this is a great option, given that it captures and traps up to 99.99% of allergens.
vii. Disposal system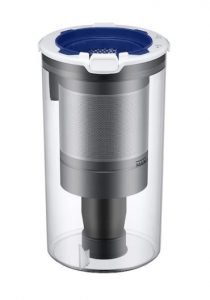 This vacuum uses a detachable, easy-to-clean dirt can (EZClean bin) with a 0.8-liter capacity. While this is not much, it is larger than what you get with other cordless stick vacs. Besides, the bin is dishwasher-friendly and can last a whole cleaning session before emptying.
viii. Charging base
One of the most appealing features of this vacuum is that it's charging base is mountable and has 2 charging slots. So, you can charge two batteries simultaneously taking the same amount of time to charge.
The charging base also has storage slots for accessories which allow convenient storage. The base can be mounted on the wall or a desk.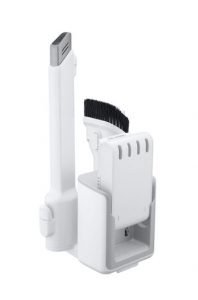 ix. Attachments
Any good vacuum is accompanied by attachments that help with cleaning stairs, drapes, upholstery, baseboards, car interiors, and so on. Apart from the Turbo Action brush, this vacuum comes with a mini motorized tool, a combination tool, and an extension crevice tool.
The accessories are easy to attach and detach and they ease above-floor cleaning. As earlier suggested, you will notice that the motorized accessories reduce the vacuum's overall runtime meaning you may need to recharge in between cleaning if you don't have an extra battery.
x. Handheld option
Like many stick vacuums, the Samsung Jet Light VS70 can also be quickly converted into a handheld vacuum. This 2-in-1 functionality only helps to increase its versatility. When used with the right attachment, the vacuum will surely leave the whole room sparkling clean.
Samsung Jet Light VS70 Review: Features & Specs Summary
Here's everything you need to know about this intriguing stick vacuum:
Features
Type: stick vacuum, bagless
Weight: 5.79 pounds
Suction power: 150 Air Watts
Dimensions (inches): 9.875W x 44.25H x 8.5D
Power – cordless (uses a removable battery)
Maximum run time: 40 minutes
Charging time: 3.5 hours
410 Watts
5-layer HEPA filtration system
EZClean bin capacity: 0.8 liters
Turbo Action brush
Reusable washable filters
Digital display for power level, brush type, and alerts such as clogs
Multi-cyclonic system – prevents debris from clogging the filters
Wall or desk-mountable 2-in-1 charging/storage base
Multi-surface cleaner
Pros & Cons of the Samsung Jet Light VS70 Cordless Vacuum
Apart from just trusting Samsung products, there are several reasons why the Samsung Jet Light VS70 proves worthwhile. Also, there must be a few drawbacks similar to any other home appliance.
Pros
It's ultra-light
Effectively cleans dust, debris, pet hair, and other dirt
Traps over 99% of microscopic particles keeping your house allergen-free
Friendly for pet owners – gets rid of pet hair and pet dander using the mini motorized tool
The Turbo Action brush is suitable for multiple surfaces types – carpets and bare floors
The Jet Cyclone system has an impressive multi-cyclone design for optimal airflow that ensures there is no loss for suction. It also ensures trapping of fine dust and protects filters from debris build-up
The battery life is relatively long – 40 minutes on minimum power setting
Commendable suction power – up to 150 Watts
Ability to view the brush when in use
You can check for clogs and machines status as well as power level from the digital display
Extends to reach above floor areas and under furniture
Sizeable, easy to maintain dust bin that is dishwasher-friendly
The removable battery is a plus since you can charge an extra battery as you continue cleaning
2-year manufacturer's warranty (limited)
Cons
It is a bit pricey
The battery run-time is relatively short when using accessories or high power – this is likely to interrupt your cleaning
Click here to see its current price.
Our verdict
Most of the stick vacuum cleaners we have reviewed have passed three tests – great suction, easy to maneuver, and highly durable. However, we feel that the Samsung Jet Light VS70 has a competitive advantage in the market. Despite being a newcomer, the brand has built trust over the years. So, we expect nothing but satisfaction from its users.
Its Turbo Action Brush is effective in cleaning carpets, tiles, wooden floors, and stairs. It's also a convenient tool for cleaning under furniture and tight spots. We also like the fact that the vacuum comes with several essential tools that can eliminate the need for a complimentary vacuum. Besides, it easily converts into a hand vacuum.
Also, it's built with a long-lasting rechargeable battery that serves perfectly for 5 years plus. We recommend you get an additional battery to make your cleaning sessions seamless. The mountable charging base has two charging slots so you can charge two batteries simultaneously. It also has slots for storing the attachments.
So, should you buy the Samsung Jet Light VS70? Overall, this cordless stick vacuum cleaner is a good investment. It's light, easy to use, versatile, and powerful for cleaning multiple floors. You should try it!