If you have bare floors such as hardwood or vinyl, it's better to get a vacuum-mop combo than using a bucket and mop after vacuuming. In this detailed Shark VACMOP Pro review, we aim to help you understand what it is all about – why it will be worth your while.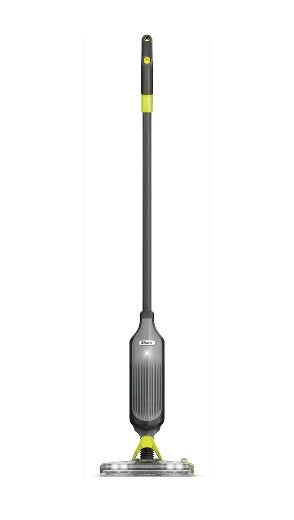 A good vacuum will efficiently pick up dust, dirt, pet hair, and debris. However, it can't sanitize the floor – and that's where a vacuum and mop combo comes in handy. Vacuum manufacturers now produce these appliances to replace the traditional mop and bucket for quick cleanups and better spill-cleaning experience.
Besides saving time and energy, we recommend using vacuum-mops because they are efficient in maintaining cleanliness. They are designed for cleaning all sealed hard floors and can effectively pick large and small debris as well as wipe off spillages.
Shark VACMOP Pro Cordless Hard Floor Vacuum Mop Review – Features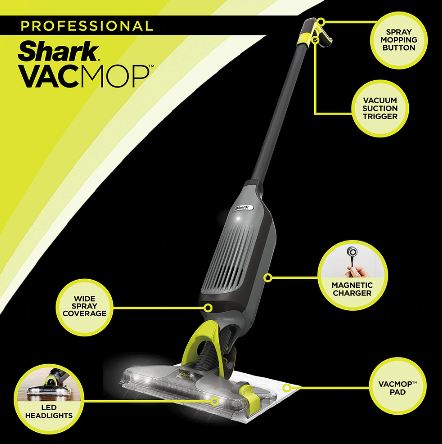 The Shark VACMOP Pro has several outstanding features that we discuss at length in this review. Its main pros are its great suction plus negligible maintenance costs. If you are planning to get an appliance that will help you clean spills and quickly pick pet messes, the Shark VACMOP Pro is worth a try.
Here is a full review to help you make an informed decision.
Suction
The Shark VACMOP Pro will surprise you with its ability to pick dust, pet hair, and debris. Its airflow is about the same level as other larger cordless vacuums. So, it effectively picks up dust, food particles, and pet litter as it pushes them to the dirt chamber.
To engage the vacuum for debris pickup, press and hold the trigger at the bottom of the handle and maneuver the vacuum over the debris. Unlike other vacuum-mops, Shark VACMOP Pro has an impressive ability to pick larger debris without missing out on the finer debris.
Weight and maneuverability
Shark VACMOP Pro weighs just 3.34 pounds – featherweight if you ask me. Therefore, it is incredibly easy to use and carry around the house. Besides that, the cleaning head is super swift and smaller than that of a traditional vacuum. Thus, cleaning the stairs, under furniture, and in between objects becomes stress-free and fun.
Disposal system
Instead of a dirt can, the Shark VACMOP Pro has a dirt chamber where dirt is collected and pushed to as you clean. The dirt chamber and the cleaning pad are attached. So, this is not a compartment that you detach, clean, and attach back like dirt can.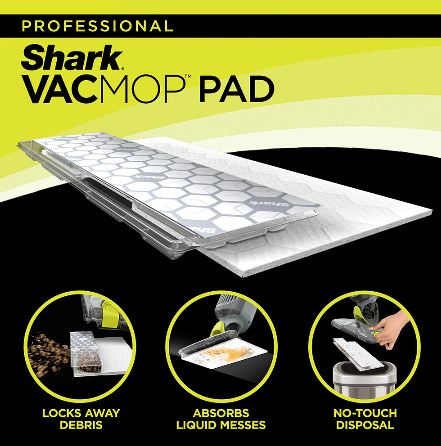 Once you finish cleaning, simply dispose the dirt chamber alongside the cleaning pad. This is pretty hygienic since you don't have to touch the pad at all. At the touch of a button, the chamber falls off into the trash.
Power
You get to enjoy cordless convenience with Shark VACMOP Pro. It comes with one rechargeable lithium-ion battery and uses a magnetic charger. The average runtime is about 11 to 12 minutes when the battery is fully charged.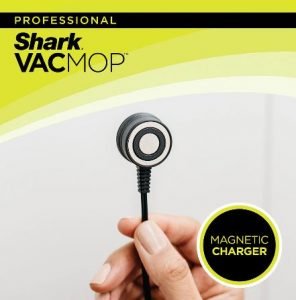 While the runtime is quite limited, we recommend cleaning often so that you don't have a lot of dirt to deal with every time.
Versatility
Shark describes this vacuum as a multi-surface hard floor vacuum. In case you doubt the results on your floor type, we recommend you test it by cleaning a small part of the floor so that you are sure your floor is safe before cleaning the whole house.
Accessories
The Shark VACMOP Pro comes with 2 cleaning pads and a bottle of the VACMOP multi-surface hard floor cleaner. The cleaning pads are disposable but each will serve you for a full cleaning session. Also, the cleaning liquid can serve for 3-5 cleaning sessions depending on your usage.
Unfortunately, you have to spend more money on buying replacement pads. That's a real downside of the Shark VACMOP Pro.
LED headlights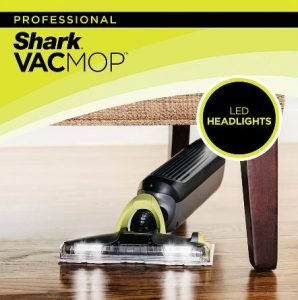 Just like most Shark vacuums, the Shark VACMOP Pro is equipped with 2 pairs of LED lights. So, it's easy to spot dust and dirt in the darker areas and under furniture. We noticed they are not as bright as those of larger vacuums but they sure serve the purpose.
Spray mopping
A mentioned earlier, Shark provides a bottle of cleaning fluid with the purchase. Once you add the cleaning liquid into the reservoir, you can now clean as you spray. To spray, push the button on top of the handle, the spray will be released from a nozzle in front of the VACMOP and will spread up to about 4 feet ahead.
Spraying small amounts of the cleaner is recommended for better performance. It also helps you to clean faster. Still, you have the option of using the spray or not. The remaining cleaning liquid can stay on the vacuum until the next cleaning session.
Shark VACMOP Pro Review: Features and Specs Summary
Below is a quick overview of everything you need to know about the Shark VACMOP Pro (VM252):
Type: cordless vacuum and mop combo
Weight: 3.34 pounds
Filtration system: none
Magnetic charger
Lithium-ion battery
85 Watts, 7.8 Amps
Runtime: 11-12 minutes
Cleaning path: 9.81 inches
Powerful LED lights
No-touch disposal
2 disposable VACMOP pads
Dimensions (inches): 38 L x 9.5 W x 47.86 H
12-oz. Shark VACMOP multi-surface hard floor cleaner bottle
Pros & Cons of the Shark VACMOP Pro Cordless Hard Floor Vacuum Mop
Before you decide on whether to purchase any appliance, it's prudent to know the good and bad. Below are the pros and cons of the Shark VACMOP Pro VM252:
What we like
Commendable suction
Inexpensive
Effective dirt-pick up and hard floor mopping
It's fun to use – very light and easy to move
Sizeable cleaning head that easily fits under furniture and in tight spots
Swivel steering – maneuvers easily between obstacles
Compact storage – the handle is thin and easily folds for storage
Easy to assemble
You enjoy cordless convenience
Friendly, easy-to-reach control buttons
Hygienic disposal – no need to touch the dirt
Soaks up spills effectively
Removes stubborn stains
What we don't like
It's costly in the long run – the cleaning pads are disposable and are mostly a one-time use item. The cleaning liquid also needs to be replaced once it gets finished replaceable. These 2 items make the vacuum relatively expensive to use.
Vacuum mops are meant for hard floors only. Therefore, you need an extra vacuum for carpets, rugs, and upholstery. Handheld vacuums come to mind.
The battery life is relatively short.
Click here to see its current price.
Vacuum Mop Buying Guide and Shark VACMOP Pro Frequently Asked Questions
The Shark VACMOP Pro is one of the most recent cleaning units from Shark. As users warm up to it there are common concerns across the board. In this section, we answer the frequently asked questions.
A lot of quick clean-up vacuum mops are flimsy and not dependable, but that's not the case with the Shark VACMOP Pro. It's a simple unit to assemble and use but it serves as effectively as the larger vacuum cleaners.
Before use, install the cleaning pads, fill the reservoir with the cleaning fluid, and ensure that it's also fully charged.
How is Shark VACMOP Pro different from Shark Steam Mops or are they similar?
No, they are not. Both are designed for hard floors. However, steam mops do not use a cleaning liquid. Instead, they sanitize the floor using water only. Vacuum mops, on the other hand, use cleaners such as the Shark VACMOP multi-surface hard floor cleaner.
Can Shark VACMOP Pro be charged while cleaning?
We recommend charging before vacuuming since this unit is ideal for quick cleanups. However, since Shark VACMOP Pro is charged using a magnetic charger, you can detach it, clean spills, and resume charging.
Note that the battery runs for about 11 to 12 minutes depending on the cleaning mode.
How often do I change the cleaning pad?
The frequency differs from user to user because it is also dependent on how dirty the floor is. Because Shark is yet to introduce re-usable pads, you cannot clean the supplied pads for re-use. The Shark VACMOP Pro comes with 2 cleaning pads. You can access extra cleaning pads online or from Shark dealers near you.
So, if you are cleaning the whole house, a pad may only serve you once. However, if you use it for quick clean-us, then it is okay to use it a few times before disposal.
How long will the hard floor liquid last?
Again, this depends on usage. You only need a small amount to mop unless you're cleaning oils and very stubborn stains. You may also opt to clean without the liquid – simply mop without pressing the button at the top of the handle.
Shark provides a bottle of cleaning liquid for the initial use. Afterward, you can buy the Shark VACMOP cleaning liquid or any other hard floor cleaner.
Is it easy to maintain the Shark VACMOP Pro?
We consider this a no-maintenance unit. It does not use filters, so the only replaceable accessories are the hard floor cleaning liquid and the cleaning pads.
How does one switch between vacuuming and mopping?
You don't have to do one at a time, you can mop and vacuum at the same time or can vacuum first then mop. The beautiful thing is you don't sacrifice one for the other when you use both functions. This unit can mop efficiently and pick up all the debris simultaneously.
Our verdict
We've already established that the Shark VACMOP Pro is a hard floor-only cleaner. So, don't expect it to tackle mats, rugs, or carpets. However, the suction is praiseworthy. Besides, you can mop and vacuum simultaneously or you can vacuum first and then mop.
Shark describes VACMOP Pro as a quick clean up tool and it sure is. It is lightweight and easy to use and move. Also, it works well on minimal spills. The debris goes right into the dirt chamber so you don't have to worry about it spilling or touching it. Besides, it easily disposes of together with the cleaning pad.
Shark VACMOP Pro uses a magnetic charger and charges easily and fast. It's convenient, powerful, and needs no maintenance. We not only recommend it for its purchase price but also its efficiency and ease-of-use.
However, you may need to contend with a very short runtime. Also, buying replacement pads may prove quite expensive in the long run.