Welcome to our Shark Rocket Pet Pro IZ162H Cordless Stick Vacuum Review article. The Shark Rocket Pet Pro IZ162H is one of Shark's latest cordless vacuum cleaners. It has been getting raving reviews from users, so we couldn't help but check it out.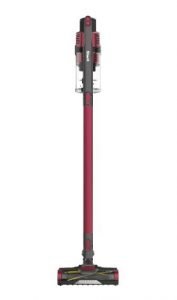 Before we proceed, many people have had their fair share of disappointments with stick vacuums. Quite a number have issues with suction, while majority wish they could run for a longer period.
Besides, some cordless stick vacs simply spin dirt around on hard floors. Only a few stick vacuums have what it takes to clean the whole house, including upholstery. The Shark Rocket Pet Pro IZ162H 2-in-1 vacuum sets high standards in the market.
Also, bearing in mind that it's one of the best stick vacuums from Shark, we have high hopes. As usual, we will review each outstanding feature, note down the pros and cons, and declare our verdict.
Shark Rocket Pet Pro IZ162H Review – Features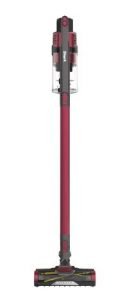 Before we let you know the advantages and the advantages of this unit, let's look at its main features.
2-in-1 functionality
The Shark Rocket Pet Pro IZ162H easily converts from a stick vacuum to a hand vacuum. The controlling buttons are on the topmost part of the handle. This makes it easy to control suction as well as switch to handheld mode.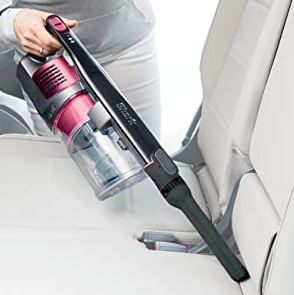 Therefore, you don't need to buy a separate hand vacuum to tackle small messes. Quick cleanup of above-floor areas such as upholstery and stairs becomes a breeze.
It's ultra-light
Finding a lightweight vacuum can be like looking for a needle in a haystack. Weighing just seven pounds, this is one of the lightest stick vacuums around. So, it is ideal for seniors, petite individuals, as well as anyone suffering from joint pains.
Just imagine how light the handheld vacuum is if the whole unit weighs just 7 lbs!
Great suction
The suction of this vacuum is surprisingly impressive. Being a stick vacuum and having the ability to deep clean carpets and leave hard floors sparkling clean is a huge plus. So, you can rest assured that no dust, dirt, and debris will be left untouched.
Dirt Engage technology
This vacuum has a superior ability to engage all-floor types whether as a stick vacuum or as a handheld vacuum. It will fiercely remove all the embedded dirt on your carpets and upholstery leaving them spotless.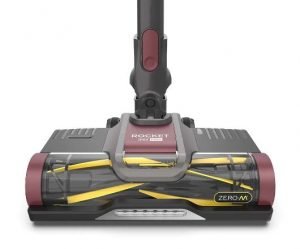 The hard floors also enjoy unmatched cleaning. The Shark Rocket Pet Pro IZ162H also does justice to your rugs as well as car interiors, stairs, and other above-floor areas.
The self-cleaning brush roll
If you have long hair and pets that shed, there is always a constant worry if the vacuum will manage to pick it all. And whether the hair will be wrapped around the brushroll or not. Well, since Shark introduced the self-cleaning brush, we no longer worry about that.
Every vacuum that has this feature is not only epic at collecting hair, but it also detangles itself as the cleaning continues.
If the vacuum sucks extra-large debris, hair may get clogged at the back of the brushroll. If this happens, power off the vacuum, remove the stuck-on debris and continue vacuuming. This is a rare occurrence, however, and shouldn't worry you much.
Runtime
This is a cordless (battery-powered) stick vacuum. It comes with a single battery that runs for approximately 40 minutes on standard mode. It will serve you for about half the time while on turbo mode.
HEPA filter + Anti-Allergen Complete Seal technology
Allergen eradication is an important part of vacuuming. This feature ensures over 99.9% of all disease and allergy-causing particles are captured and trapped. This is extremely important for households that have asthmatic people and other allergy sufferers.
Dirt cup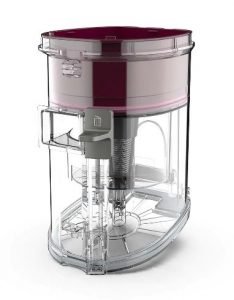 This vacuum is fitted with a pretty standard dust cup measuring 0.34 quarts – not much but sufficient if you vacuum regularly. Also, emptying is a breeze thanks to the CleanTouch dirt ejector. However, there have been a few complaints of having to manually pull out pet hair from the bin.
Accessories
The Shark Rocket Pet Pro IZ162H comes with a pet multi-tool and a crevice tool. They can be used on the stick or handheld mode. These tools are extremely essential for cleaning after pets and attending to upholstery and above-ground surfaces.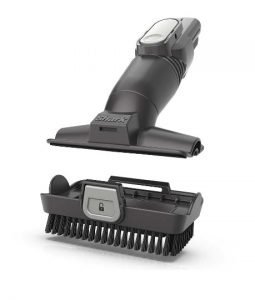 The only challenge is that there is no onboard storage for them so you will need to keep going back for them as you clean.
LED headlights
If you are a night cleaner or you have low furniture, this is a feature you never want to miss. The ability for this vacuum to illuminate dark corners is welcome. Also, even if you vacuum during the day, there must be some dark spots in the room where you may leave dust untouched.
The LED lights are placed on the floor nozzle.
Versatility
We love this vacuum's ability to clean under furniture, stairs, crevices, and in between obstacles. The cleaning head is also quite swift and easy to maneuver around furniture and other obstacles.
We like the conveniently placed button, cordless convenience, and the ease of transforming the vacuum between stick and handheld modes as well as detaching and attaching accessories.
Shark Rocket Pet Pro Review: features & specs summary
Below is a quick summary of all the features and the specifications of the Shark Rocket Pet Pro IZ162H:
Type: cordless stick vacuum
Weight: 7.17 pounds
Max run time: 40 minutes
Dirt capacity: 0.34 quarts
CleanTouch dirt ejector
Anti-Allergen Complete Seal Technology
Washable HEPA and foam filters
Dirt Engage feature – for deep cleaning
Switches to a hand vacuum
181 Watts, 8.38 Amps
Cleaning path: 10.63 inches
LED headlights on the floor nozzle
Dimensions: 10.24 L x 7.09 W x 46.1 H (inches)
Shark Rocket Pet Pro IZ162H Review: Pros & Cons
Well, this would not be a complete review without mentioning the benefits and drawbacks of this cordless stick vacuum. So, what should you expect from this little champ?
Pros
It has amazing suction
Lightweight and easily portable
The self-cleaning brush is a god-sent invention
You get to enjoy cordless convenience
Effectively deep cleans carpets and picks all dirt and debris on hard floors
Battery charging is convenient – can be charged in and out of the unit
Easily converts to a handheld vacuum for above-floor cleaning
HEPA filter plus the Anti-Allergen Complete Seal ensure removal of all allergens
LED lights illuminate every dark corner ensuring no dirty spots are left out
5-year limited warranty
Cons
This vacuum does not have a wall mount
No onboard storage for the attachments
The vacuum is top-heavy and may easily topple
Click here to see its current price.
Our verdict
If you have kids, pets, and lots of traffic in your house then you need to clean often. The Shark Rocket Pet Pro IZ162H handles such needs efficiently. It is light, thorough on the hard floors, efficient at deep cleaning carpets.
Besides, you'll rarely have to deal with tangled hair. The self-cleaning brushroll is super-efficient with both long and short hair. We wouldn't consider it a quiet vacuum but it's bearable.
Other commendable features include the HEPA filter and the Anti-Allergen Complete Seal Technology. If you have an allergic family member, this will come in handy especially if you keep pets.
There are three features Shark would have enhanced on the Shark Rocket Pet Pro IZ162H. We wish it came with a storage base, onboard storage for the accessories, and an additional battery. However, an extra battery can be bought separately.
Parents will fall in love with Shark Rocket Pet Pro IZ162H efficiency especially when it comes to multiple-surface cleaning and hair pick up. See other cordless stick vacuums that we also recommend.