These two are some of the best Shark vacuums to have been made – the many owners can attest to that. Today, we look at the Shark Navigator Deluxe NV42 vs Shark Navigator DLX NV70 in detail.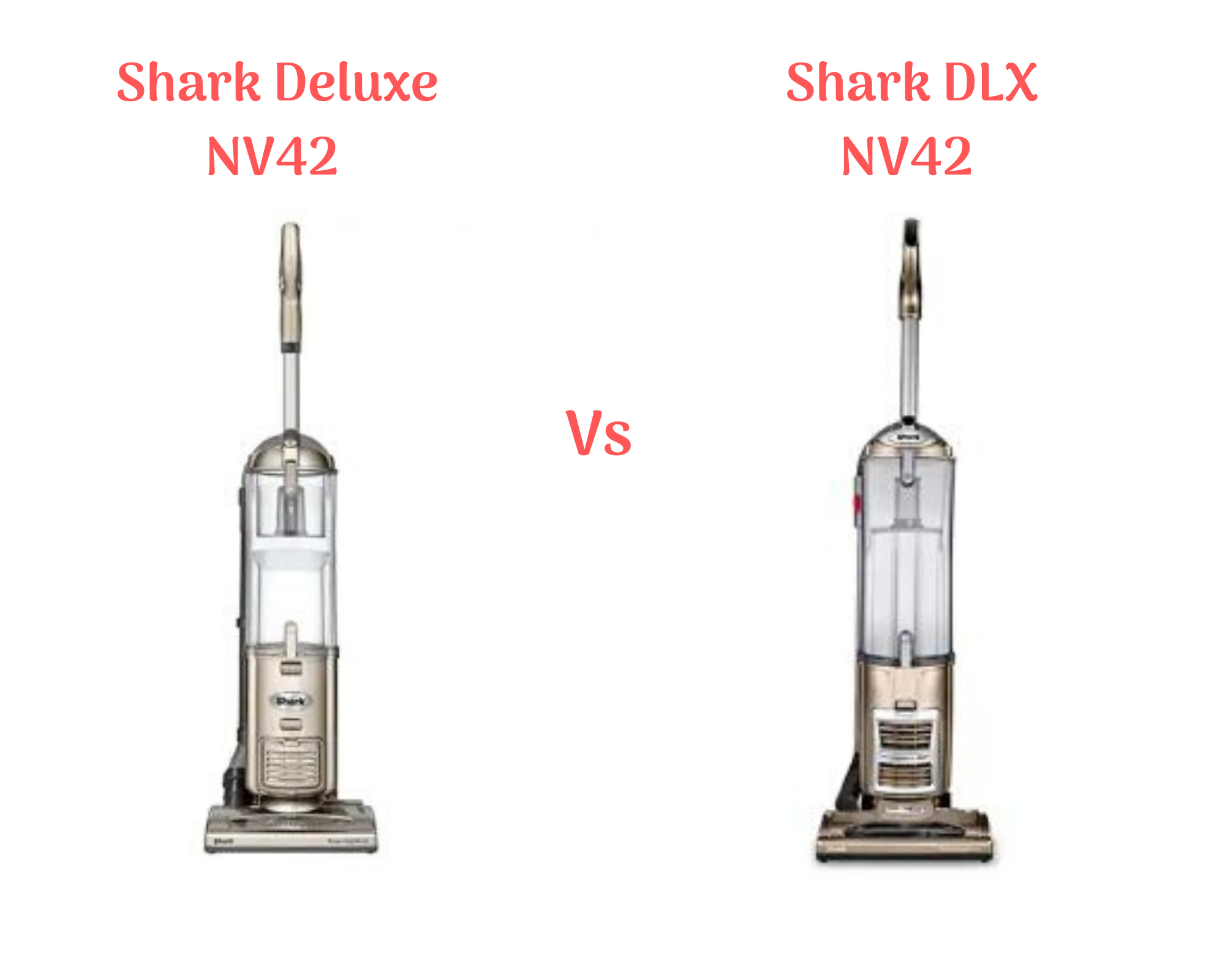 What are the differences? What are the similarities? Well, the two upright vacuums are almost identical, but there are a few things that distinguish one from the other.
You will be disappointed to learn that they both lack some of the latest Shark technologies – DuoClean, Powered Lift-Away, and the Zero-M anti-hair wrap feature. However, they have a lot to offer as far as efficient dust, dirt, and debris pick-up is concerned.
So, you can rest assured that the power, ease of use, and versatility that is characteristic of Shark uprights is present in the Deluxe NV42 and the DLX NV70.
Shark Deluxe NV42 vs DLX NV70 – Comparison Table
Before we check out the features of these two vacuums, below is an overview of the main features. Here, you can quickly see what differentiates these two magnificent Shark vacuums.
| Features | Shark Navigator Deluxe NV42 | Shark Navigator DLX NV70 |
| --- | --- | --- |
| | | |
| Weight | 14.8 lbs | 15.2 lbs |
| Power cord | 25 ft. | 25 ft. |
| Anti-Allergen Complete Seal | No | Yes |
| HEPA filter | No | Yes |
| Dirt capacity | 2.6 quarts | 2.9 quarts |
| Wattage | 1200 | 1200 |
| Amps | 10 | 10 |
| Multi-surface cleaning | Yes | Yes |
| Brushroll shut-off | Yes | Yes |
| Attachments | 2 | 2 |
| Dimensions (inches) | 11.4 L x 11.8 W x 45.5 H | 11.4 L x 12.2 W x 45 H |
| | | |
Shark Deluxe vs DLX – a Side by Side Comparison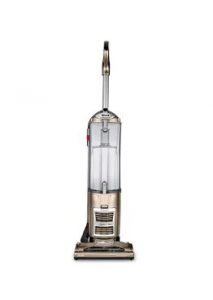 In this section, we look at the features of the two vacuum cleaners. While most are the same for both vacuums, there are a few differences. So, if there is anything to note under each feature, we'll let you know.
Suction
Both vacuums use a 1200-Watt motor. Therefore, expect to get more or less the same amount of suction from each. Sharks are known to be very powerful – and these two uprights are no exception.
So, picking up all manner of dirt such as dust, debris, and pet hair should be a walk in the park whichever you choose between the two.
Weight
Most uprights are heavy because of the bulky dirt canister. However, these two fall within the 'lighter' category. While 15 pounds may seem a lot, the vacuums are quite easy to maneuver as you clean, meaning that you won't feel the entire weight.
When moving the vacuum up or down the stairs or from one point to the next, you'll definitely feel the weight. Shark has come up with the lift-away feature in modern uprights such as the Shark APEX AZ1002. This allows you to separate the canister from the rest of the unit, making cleaning of above-floor areas such as stairs quite easy.
At just 14.8 pounds, the Shark Navigator Deluxe NV42 is a bit lighter than the Shark Navigator DLX NV70 which weighs 15.2 pounds.
Power source
Both the NV42 and NV70 are corded. So, they draw their power from the power outlet in the house by use of a power cord. The power cords for both options measure 25 feet in length.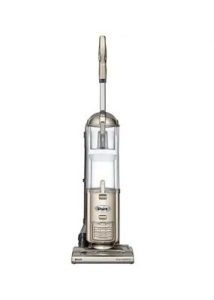 While this may be enough for most small to medium-sized homes, we feel that they could have increased the length a bit. Another thing we don't like about the two vacuums is the lack of cord rewind. This means that storage may be a bit cumbersome once you're done vacuuming.
Filtration system
A very important thing to consider when shopping for a vacuum is the filtration system. This is very important if there are any allergy sufferers or asthmatic people in the house. You see, a good filter, such as HEPA, can trap up to 99.97 percent of allergens inside the vacuum.
The Shark Navigator DLX NV70 impressed us because it combines a HEPA filter and Anti-Allergen Complete Seal technology to keep pollutants at bay. Unfortunately, the Deluxe NV42 lacks both of these features.
But that does not mean that it blows everything back into the air. However, if this is a major point of concern for you, you may have to go with the DLX.
Dirt capacity
The larger the dirt cup, the longer you can vacuum without pausing. Both options have a fairly large dirt cup. However, the DLX NV70 has a slightly larger dirt canister, measuring 2.9 quarts. On the other hand, the Deluxe NV42 vacuum comes with a 2.6 quarts dust cup.
The trick to keeping the vacuum's suction tip-top is ensuring that you empty the dirt before it gets full – preferably once it reaches half-way. Or once it reaches the 'Max Fill' line.
Multi-surface cleaning
Another incredible thing about both choices is that they can be used on a variety of flooring types. So, whether you have carpets or bare floors, they'll get the job done. Area rugs will be well taken care of, too.
All this is possible because the two vacuums have brushroll shut-off capability. Therefore, the transition between different floors is not only possible but also a walk in the park.
Attachments
A very important part of modern vacuums is the tools it comes with. For without these, cleaning above-floor surfaces would be a nightmare. So, it's good that Shark includes at least a couple of attachments with all the vacuum cleaners.
Both the Shark Navigator Deluxe NV42 and the Shark Navigator DLX NV70 have two of them – a crevice tool and a dusting brush. These will come in handy when cleaning upholstery, drapes, and other above-ground areas.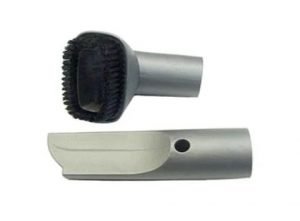 Shark NV42 vs NV70 – Which One to Buy?
As we come to the conclusion, it's time to declare our verdict. First of all, while these two uprights are good, they lack modern Shark technologies such as Zero-M, DuoClean, and Powered Lift-Away.
I'd rather have a newer model. However, some newer models cost an arm and a leg while these two alternatives are budget vacuums. That being said, while both vacuums are powerful, efficient, and easy to use, we pick the Shark Navigator DLX NV70.
Why?
The only advantage that the Shark Navigator Deluxe has over its counterpart is the weight. It weighs about 0.4 pounds less. However, the Shark Navigator DLX has a better filtration system (HEPA) and a slightly bigger dirt cup.
Therefore, if we were to pick strictly between the two vacuums, the Shark Navigator DLX is the better option.