If you go through our BISSELL 1650A Pet Hair Eraser review, you will agree that BISSELL makes some of the best upright vacuums. Today, in this detailed BISSELL 16501 Pet Hair Eraser Deluxe Review, we look at an enhanced version of the same.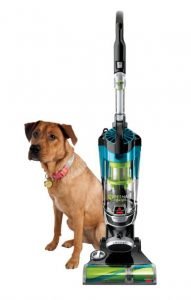 If you love pets, you know that it is a must to buy appliances that tend to have pet guardians in mind. And the BISSELL 16501 Pet Hair Eraser is a very good option for you.
Being BISSELL fans, we decided to do thorough research, dig out its weaknesses and strengths, its features, and working dynamics so that we can give an unbiased verdict. So, follow me on this review as we discover the BISSELL 16501 Pet Hair Eraser Deluxe afresh.
BISSELL 16501 Pet Hair Eraser Deluxe Review: Features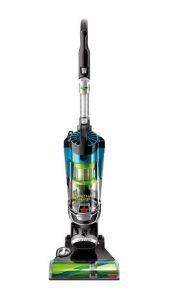 There are many things to love about this vacuum. Here is a detailed account of this vacuum's main features:
Suction and power supply
Like most upright vacuums, the BISSELL 16501 is an 8.5-Amp unit powered using a 30-foot power cord. This is quite a commendable length especially for users who have large areas to clean. There is one downside to it though, it's not retractable. So, it can be cumbersome to store it or to carry it from one spot to the next.
As expected of any good upright vacuum, the vacuum's edge to edge suction is good enough to pick up dust, pet hair, debris, and other dirt. With just a few runs, you will manage to pick up all the dirt and debris regardless of the size.
Tangle-free brushroll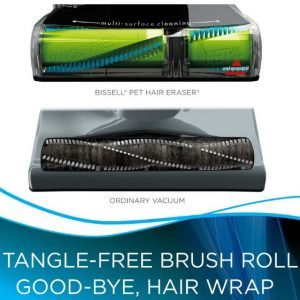 Most pet owners or people who shed hair complain of having to stop vacuuming regularly to pull out tangled hair from the brushroll. Well, not anymore. The BISSELL 16501 has a tangle-free brushroll that helps with that.
Therefore, you can be sure that manual intervention will be a once-in-a-while affair.
Multi-surface cleaning
This is a huge plus for most users. Much to my surprise, BISSELL 16501 deep cleans quite effectively. It removes embedded dirt on low-pile carpets and rugs. It also cleans hard floors such as hardwood thoroughly. Also, it helps with cleaning stairs, upholstery, and other above floors areas.
Attachments
This is where the main difference between the 1650A and the 16501 lies. The Pet Hair Eraser Deluxe Upright Vacuum has two more attachments than its sibling.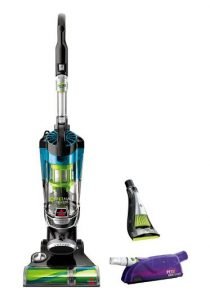 The vacuum comes accompanied with a great combination of tools. First, you get an LED-lit crevice tool that helps illuminate dark cracks and crevices. This is also available with the 1650A Pet Hair Eraser.
Apart from that, you get two more accessories to help with the above-floor cleaning. The Pet Hair Eraser tool helps to deal with stubborn pet hair on upholstery. You can also spray Funk Fresh as you vacuum to eliminate unwanted odors as well as to release the static cling.
The third attachment is the Scoop & Sweep that helps with quick cleanups of small messes such as cat litter and dog food. All the attachments are easy to attach and detach.
Filtration
No, there is no HEPA filter. However, it has an efficient multi-level filtration system known as the SmartSeal Allergen System. It's made of a washable pre-filter made of a foam layer and a felt layer and a post-filter that is not washable but can be replaced bi-annually.
There is one way you can improve the filtration system. The vacuum comes with a Febreze Pet Odor Eliminator that can be used in place of the felt layer on the pre-filter. As its name suggests, it helps to get rid of odors in your home. It also leaves a fresh scent whenever you vacuum. This Febreze layer can be replaced as soon as the scent is over.
The SmartSeal Allergen system is so efficient that once dust goes in, there is no way it can escape unless it passes through the filters. This ensures you only get clean air back. Therefore, no allergens such as dust or pollen can escape.
Dirt disposal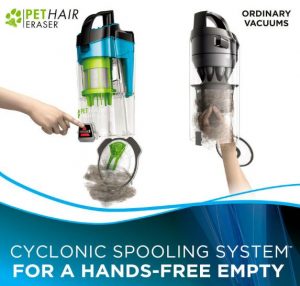 The good thing about upright vacuums is that they have bigger dust cups than stick vacuums. This unit comes with a 1.5-liter dust cup that is more than enough for regular vacuuming. Besides, it is transparent so that you can see the dirt level and empty it on time.
Talking about emptying, the BISSELL 16501 uses Cyclonic Pet Hair Spooling System to make emptying mess-free. Pet and human hair are spooled together separate from dust and other dirt. So, you don't have to use your hands to pull out the hair from the dust cup as you empty.
BISSELL Pet Hair Eraser Deluxe 16501 Review: Features & Specs Summary
If you need a quick overview of what this vacuum offers, take a look  at the breakdown of all the features and specifications below.
Features
Type: upright, bagless
Weight: 22 pounds
Tangle-free brushroll
Power cord: 30 feet
Power rating: 8.5 Amps
Hose length: 8 feet
5-surface height settings
Ergonomic handle
Cleaning path: 12 inches
Swivel steering
Soft bumper
Height settings: 5
Dual edge cleaning
Dirt capacity: 1.5 liters
SmartSeal Allergen System
Multi-surface cleaner
BISSELL Pet Hair Eraser Deluxe Review: Pros & Cons
I'm sure you'd like to know the good and the bad about this vacuum. In this section, we take a look at the many advantages and a few areas of concern that you should know about.
Pros
The tangle-free brushroll makes it easy to clean pet hair
It comes with multiple (essential) attachments
Moves swiftly, the swivel head makes it easy
The power cord is long enough for large rooms
The ergonomic handle is comfortable and makes cleaning simpler
SmartSeal Allergen System is an effective system for allergen removal
It has an on/off option for the brushroll and 5-level height adjustment that makes transitioning from carpet to hard floors seamless
The large dust cup allows uninterrupted cleaning and is also easy to empty
5-year limited warranty
Relatively quiet
It's amazing features make it a great option for pet guardians
Cons
It is difficult to vacuum under furniture
The cord isn't retractable making storage tedious
It's relatively heavy for seniors or petite people
Click here to see its current price.
Verdict
This vacuum is great for regular vacuum cleaning, especially for pet owners. Despite a few cons, there is a lot to like about it. It is qualified to rank among the best vacuums for families with pets. It's pretty efficient – especially for carpets and it has great accessories for picking up pet hair and pet dander.
We especially love the fact that it effectively cleans all floor types without needing much effort. Also, the brushroll has an on/off option which is really nice for smooth transitioning between different floors. The suction is good enough and most importantly, edge to edge.
BISSELL 16501 indeed has several limitations such as tedious storage and weight, but overall, it's a pretty good vacuum. After all, pet owners will appreciate tangle-free cleaning. Also, the attachments provided help to deal with the pet and human hair as well as quick cleanup of cat litter, dog food, and other debris.
So, we recommend it for anyone looking for a good pet vacuum that can also handle general vacuum cleaning of the entire house. Click here to see its current price.