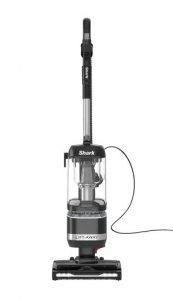 The latest upgrade of Sharks Navigator upright vacuums is the Shark LA322 Navigator Lift-Away ADV Upright Vacuum. It is the best purchase you can make right now if you are shopping for a vacuum cleaner.
Shark Navigator LA322 Lift-Away ADV Upright Vacuum has more suction power, it is lighter and is easier to use. Also, you can detach it within seconds by stepping on a foot pedal. These features allow you to clean everywhere – even under furniture.
The secret to purchasing the best upright vacuum is identifying your needs. Assuming you know what you are looking for, let us review our Shark LA322 Navigator Lift-Away ADV Upright Vacuum.
Once you know everything it entails, you can make a wise decision regarding your next long term investment.
See also: Best vacuums for marble floors
Shark LA322 Navigator Lift-Away ADV Upright Vacuum Review: Main Features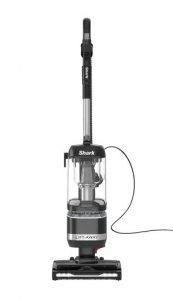 To understand what you will get from this upgraded vacuum, we will have to look at the technology behind its features and functions.
1. Extraordinary lift-away system
It is clear so far that, this is a lift-away vacuum (at least from the name). This simply means that it can be used above the floor and under furniture.
You can detach the main canister, that is, the part that holds the motor and dirt tank, and use the vacuum alone. This feature gives you the freedom to clean areas that could otherwise not be reached with the whole machine.
With the upgrade, the detaching process has been reduced to a step on a foot pedal. This makes Shark LA322 Navigator Lift-Away ADV Upright Vacuum more convenient than previous models.
With this machine, you do not have an excuse for dirt and dust on those areas termed as hard to reach. For example, vacuuming under low-lying furniture should now be a walk in the park.
2. Deep cleaning and low power consumption
Shark LA322 Navigator Lift-Away ADV Upright Vacuum has a powerful suction powered by a 10-amp motor. In addition to the high-power motor, it has a high-quality brush system.
Since the main purpose of the machine is to vacuum, it would make zero sense if its cleaning power is wanting.
With the exceptional suction power produced by the motor of this vacuum, you can remove dirt from dense carpets and bare floors like tiles and hardwood floors. So, you can be assured that even the tiniest of unwanted materials on your floors will be sucked up.
As mentioned above, this vacuum has a high-quality brush system. The brush is made of thick bristles. This allows the vacuum to grab dirt from all kinds of surfaces including those hidden in soft carpets.
Going back to power consumption, you might expect that because the motor is strong, your power bills will go up. But this is not the case. This vacuum has a wattage of 960 watts. Therefore, its power consumption is very low compared to other Shark vacuum cleaners.
3. Hair cleaning
If you have pets, you cannot run away from pet hair here and there. Although many vacuum cleaners struggle with removing pet hair, the brushes of Shark LA322 Navigator Lift-Away ADV Upright Vacuum allow it to remove pet and human hair from any surface.
So, this is a great addition to any pet guardian. Humans shed hair too; therefore it is still ideal even if you don't have pets.
4. Lightweight
Unlike most uprights, this vacuum weighs only 12.3 pounds!
Some previous models of lift-away vacuums weigh over 15 pounds. Because it is lightweight, moving around with Shark LA322 Navigator Lift-Away ADV Upright Vacuum is easy and the vacuuming process is more convenient.
This feature makes it easy to clean hidden dirt on the ceiling, fans, and other hard-to-reach areas. Besides, it is perfect for petite people or anyone who can't handle heavy vacuum cleaners.
5. Advanced swivel steering
The mobility of this vacuum has been enhanced by the inclusion of the swivel steering system. This simply means you can twist the cleaner head without moving the frame. This feature allows you to reach tight spaces of your home, such as corners and around your furniture.
Also, it makes vacuuming fun because you don't need to use a lot of energy. Maneuvering around obstacles is a breeze.
6. Powerful LED lights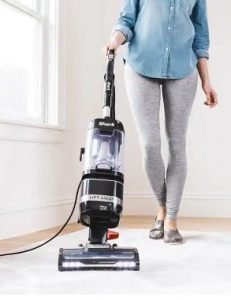 Shark LA322 Navigator Lift-Away comes with headlights on the floor nozzle. While most cleaning happens during the day, we tend to leave dust and dirt on areas that are not well illuminated. Talk of areas like corners and under the furniture.
The LED lights on the nozzle of this vacuum allow you to see and pick up all hidden dirt and dust around the house.
7. Anti-Allergen Complete Seal + HEPA filtration
This vacuum uses a HEPA filter and an Anti-Allergen Complete Seal to keep allergens at bay. If you did not know, very few vacuums blow out perfectly clean air. This calls for the use of a vacuum with the ability to trap even the smallest particles inside the canister.
Shark has had this in consideration and made a vacuum cleaner with the ability to trap almost 99.99% of allergen particles thanks to the Anti-Allergen Complete Seal technology and HEPA filtration.
If you are battling asthma or other dust-related allergic reactions, Shark LA322 Navigator Lift-Away is a great pick. Since it's not bagged, however, you can have someone empty the canister on your behalf so that the contents do not blow onto your face.
8. Attachments
One thing I like about SharkNinja is that they sell complete vacuum cleaners. A vacuum is essential for cleaning floors, but a complete vacuum must have extra tools to help vacuum above-ground surfaces such as stairs, ceilings, ceiling fans, drapes, upholstery, furniture, baseboards, and so on.
Thankfully, the brand continues its commendable history of offering attachments with every purchase. In this case, the Shark Navigator LA322 comes with a crevice tool, an upholstery tool, and a pet power brush that efficiently picks up pet hair from cushions, upholstery, stairs, and more.
You also get an extension wand to help you lengthen your reach especially when you want to reach under furniture or up the walls and ceilings.
Shark Navigator LA322 Lift-Away ADV Upright Vacuum Review: Features & Specs Summary
Below is a quick overview of all the features and specifications of this amazing vacuum cleaner:
Color: black
Type: upright, bagless
Weight: 12.3 lbs.
Power rating: 960 Watts, 10 Amps
Power cord length: 25 feet
Horse length: 6 feet
Cleaning path: 9.5 inches
Dust cup capacity: 0.89 quarts
Filtration: HEPA, foam, and felt filters (washable)
Anti-Allergen Complete Seal
Advanced swivel steering
Handle and horse assembly
LED headlights
Dimensions (LxWxH): 10 x 12 x 46.5 inches
Pros & Cons of Shark Navigator LA322
There are so many benefits of this vacuum, but nothing is perfect. Taking everything into consideration, the pros by far outweigh the cons, and that is why we think highly of this unit.
What we love about Shark  Navigator LA322 ADV Upright Vacuum
Powerful vacuuming power
Low power consumption
Deep carpet cleaning and powerful suction on bare floors
Excellent pet hair pickup
Exceptional filtration system
High-quality brush system
It's lighter than most upright vacuums
You get accessories for above-ground cleaning
Detachable pod to clean all parts of the house
Powerful LED lights on the nozzle illuminate dark areas
An advanced swivel steering system allows easy maneuvering
Comes with a long 5-year warranty
What we do not like about Shark Navigator Lift-Away ADV Upright Vacuum
It lacks DuoClean technology which is common among Shark upright vacuums like the Shark Rotator ADV LA502.
The 25-foot power cord is shorter than others which go up to 30 feet.
Verdict
Having looked at all the features, it is with no doubt that this vacuum has a lot to offer. It has a strong suction power which works well on dense carpets as well as bare floors. Besides, it is lightweight and easy to use even in the hard-to-reach areas of the house.
Also, it picks up all human and pet hair, unlike most vacuums. On the downside, they could increase the cord length and the cleaning path width for faster vacuuming, especially in larger rooms.
The benefits of using the Shark LA322 Navigator Lift-Away ADV Upright are more than the cons so far. If you are looking to buy an upright vacuum cleaner, this can be an excellent pick. With this vacuum, your floors, stairs, carpets, ceiling, and tight spots will never be the same again.