Vacuuming has become a mandatory household chore. While most people rarely struggle when vacuuming their house, it may not be as easy for taller individuals. Tall people face challenges in most places – in buses, finding the right clothes and shoes, and even fitting in their own cars!
This is a very huge struggle, which only a handful of product manufacturers address. So, it is not a surprise that finding the right vacuum cleaner can also be a nightmare. However, after thorough research, we have tracked down the best vacuums for tall people.
Whether you are tall or short, vacuuming can hard on the lower back. Now imagine the kind of struggle a 6-foot person goes through trying to vacuum with a small or short vacuum cleaner. Ask around and most tall people will tell you that it is a back-breaking chore to them.
If your tall sibling or spouse has been running away from vacuuming, now you know why. But this is not to say that there is no solution. There are various vacuum cleaners in the market made for tall people and that is what you should get them.
Best Vacuum for Tall Persons – Comparison Table
Before we review each product individually, take a look at the main features below:
What are the best vacuums for tall persons?
There are many vacuums on the market. However, only a few can be used comfortably by tall people. Currently, Miele Canister vacuums such as Miele Classic C1 Pure Suction and Miele Complete C3 Marin are the best options.
Other vacuums to consider are Eureka Mighty Mite, Shark NV356E, and Shark ION F80 which are equally reliable.
These five vacuums are the best for tall people because they are very easy to use and will not hurt your back. If you need to be hands-free, you can consider buying a robot vacuum such as the Roomba s9+. It is without a doubt the best robot vacuum on the market currently.
What makes these vacuums special? Let's take a look below:
What makes these 5 vacuums the best for tall people?
Surely, there has to be something exceptional about our top picks. For us to confidently point you in that direction, we scoured the market to establish what will work. These vacuums will allow you to have fun while cleaning without hurting your back.
But what exactly sets these vacuums apart?
Type – the best vacuums for tall people are canister vacuums. These are followed closely by stick vacuums. If you are a huge fan of uprights, then we found something for you. However, for the best experience, I'd suggest you go for a canister vacuum.
Strong suction – if you can finish vacuuming in the shortest time possible, then you wouldn't even have to worry about the size of the vacuum or the total reach. All the five recommended options produce powerful suction that will guarantee you get the job done quickly.
Extended reach – a vacuum cleaner with one or two extension wands or whose height can be adjusted is perfect for tall people. And that was one of the factors we kept in mind during this process. Also, if you go for an upright vacuum, it should be tall enough so that you don't bend while vacuuming.
Weight – if you're tall, consider getting a lightweight vacuum. This point is critical if you intend to buy an upright or a stick (the ones we have recommended are light). However, for canister vacuums, the weight really shouldn't be a deal-breaker because they are usually very easy to drag along the floor.
Affordability – out of the five vacuums, only the Miele Complete C3 Marin is expensive. The rest not so much. Therefore, you can rest easy knowing that we kept your budget in mind.
Reviews of the Best Vacuums for Tall Persons in 2023
If you have been looking for vacuum cleaners fit for tall people, look no more because we are going to review different vacuum cleaners available for tall people in the market. These are the best vacuum cleaners for tall people:
1. Miele Classic C1 Pure Suction Canister Vacuum Cleaner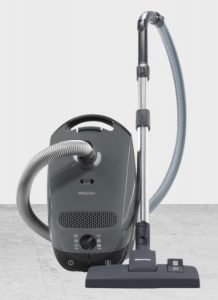 Miele Classic C1 is the best vacuum for a tall person. It has a Vortex motor that produces high suction power of 1200 W. This is an exceptional feature, especially for such a lightweight vacuum. You can be sure that all dirt and dust on your surfaces will be sucked up.
In addition to the high suction power, the speed of the motor can be controlled. It has a six-setting dial rotary allowing you to choose the suction power you need depending on the surface you are cleaning.
Also, Miele's AirClean system consists of a motor protection filter that traps all dust particles and allergens as air enters and leaves. With this system, all allergens and dust particles are trapped inside. This makes it safe for use for people who suffer from allergies.
This model has a long wand, making it ideal for use by a tall person – even 6-foot people or taller. Also, you can clean up to a radius of 29.5 feet thanks to a good combination of the power cord and hose.
Miele Classic C1 Pure Suction Canister comes with a brush suitable for both hard floors and low pile carpets. The vacuum has a footswitch that allows you to swiftly switch from bare floors to carpets and back without much struggle.
Apart from the floor nozzle, you get a few attachments to help with vacuuming above-floor surfaces. These include an upholstery nozzle, a crevice tool, and a dusting brush.
Features & specs summary
Color: graphite grey
Power source: corded
Vacuum type: canister, bagged
Weighs 12 pounds
Dirt bag capacity: 4.5 liters
Voltage: 120 volts
Maximum suction power: 1200W
Weight: 13 pounds
Power cord length: 18 feet
Cleaning radius: 29 feet
Stainless steel telescopic wand
6-stage rotary selector (suction setting)
Product dimensions (inches): 18.2 x 11 x 8.7
AirClean filter system
Pros
It's lightweight
Incredible suction
Performs well on hard floors and carpet (low pile)
It has suction control
Extensive cleaning radius
It has an efficient AirClean filter system
The long wand is suitable for tall people
It's fairly quiet
The canister moves smoothly along the floor
Compact hence easy to store
Cons
Not ideal on high pile carpets
It lacks automatic cord rewind
Click here to see its current price.
Check out this awesome YouTube video by Smart Spending Family to see the unboxing of our top pick:
2. Miele Complete C3 Marin Canister Vacuum Cleaner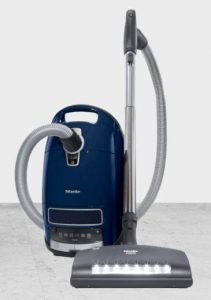 We struggled not to nominate this unit as the best for tall people because it has everything you'd wish for in a vacuum cleaner. However, it is quite expensive and we needed to strike a balance between performance and affordability.
So, if you can afford this over-1000-bucks vacuum, then by all means go for it. It is a very powerful vacuum that is very easy to use even by tall people. Besides, it is perfect for bare floors and carpets.
Miele Complete C3 Marin has six-speed settings controlled via a footswitch. This feature ensures the right kind of power is applied depending on the surface you intend to vacuum.
Also, it is equipped with an electricity-driven SEB-236 power brush. Additionally, the brush is 13.375 inches wide meaning that you need fewer passes to clean the room. Besides, it has a swivel neck making it easy to maneuver.
The main powerhead (SEB-236) has LED headlights at the front that help with illuminating dark areas of the house during cleaning. This model also comes with a Parquet Twister floorhead that rotates 180 degrees and is perfect for soft flooring.
If you are allergic or asthmatic, this is the best vacuuming option for you because it comes with a near-perfect air filtration system. The AirClean filtration system used can capture up to 99.99% dust particles which otherwise could damage your lungs. Besides, it is bagged, so you can be sure of mess-free emptying.
Lastly, Miele Complete C3 Marin has a long electrical cord and a long telescopic stainless steel wand which allows you to clean a radius of 36 feet easily. You also get an upholstery tool, a dusting brush, and a crevice tool for above-floor vacuuming.
Features & specs summary
Color: marine blue
Power source: corded
Vacuum type: canister, bagged
Weight: 23 pounds
HEPA AirClean filter
AirClean filter bag
Dirt bag capacity: 4.5 liters
Voltage: 120 volts
Power cord length: 24 feet
Cleaning radius: 36 feet
Automatic cord rewind
Cleaning path: 13.37 inch
Maximum suction power: 1200 W
Dimensions (inches): 19.52 x 11.18 x 8.94
SBB300-3 Parquet Twister
SEB236 Electro Premium Electro brush with LED lights
Pros
6-speed settings
Strong suction
Quiet vacuuming
Exceptional air filtration
Canister moves easily
LED lighting
Power brush for perfect cleaning
Additional accessories to reach all parts of the house
Wide cleaning radius
Automatic motor setting
Can be used on all types of flooring
3 year limited warranty
Cons
The powered floor head is heavy for some people
Expensive compared to other vacuums
Click here to see its current price.
3. Eureka Mighty Mite Canister Vacuum Cleaner (3670M)
This is the cheapest unit on this list. Eureka Mighty Mite Canister vacuum cleaner is a lightweight but very powerful cleaner, despite the modest pricing and compact design.
Its weight makes it very easy to use, convenient and reliable. It is very effective on bare floors, but can also be used on carpets and rugs. Besides, the small size makes it easy to carry around and maneuver. Did I mention that it weighs less than 9 pounds? Yes, it does.
This model has a power cord suitable for vacuuming small to medium-sized rooms without a change of sockets. With the 20-foot long cord, you can comfortably clean the stairs, hallway, and generally an entire room.
This vacuum uses replaceable bags. This means that you can get rid of the waste and dirt without coming into direct contact. So, it is ideal for allergy sufferers. The only downside with the dust bag is that they are not cheap and frequent replacement might be expensive in the long run.
Eureka also comes with a blower port meaning that it can be converted into a blower in the blink of an eye. It conveniently blows away dust, dirt, leaves, and debris. Therefore, it is suitable for garage and outdoor vacuuming.
To emphasize why it is suitable for tall people and cleaning high places like the ceiling, the vacuum comes with two wands. If one wand feels short to you, you can add the extra one to match your height or to extend your reach.
Lastly, you get three attachments to help you vacuum the ceiling, upholstery, drapes, walls, and other above-ground areas. These include a crevice tool, a 2-in-1 dusting brush, and an upholstery nozzle.
Features & specs summary
Color: yellow
Vacuum type: canister, bagged
Weight: 8.6 pounds
Power source: corded
Power cord length: 20 feet
Wattage: 1400W
10-Amp motor
Dirt bag capacity: 2.5 liters
Blower port
Dimensions (inches): 16.5 x 9 x 11.3
Pros
It's very easy to maneuver
Lightweight making it easy to carry around
Commendable suction power
Comes with two wands
It's easy to the empty dust bag
It has a wide cleaning path
Easy storage because of its compact size
Perfect for bare floors such as tile
Easy pick up of hair and dust
1-year limited warranty
Cons
Replacing the dust bags might be expensive
It is not the best for carpets, especially high pile ones
Click here to see its current price.
4. Shark NV356E S2 Navigator Lift-Away Professional Upright Vacuum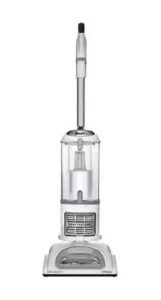 If you can't get your mind off upright vacuums, the Shark Navigator NV356E can be relied on to clean the whole house. Its design and height allow tall people to use it comfortably.
The vacuum produces powerful suction so it is perfect for carpets, rugs, and bare floors like hardwood, tile, or concrete. Besides, its detachable lift-away pod makes vacuuming under furniture a walk in the park. Vacuuming the stairs and other above-floor areas also becomes stress-free.
You'll also get a few useful attachments to help with such chores. These include a pet power brush, a crevice tool, and a dusting brush.
The vacuum is fitted with a high-power motor to ensure deep cleaning of carpets. With this motor, you can be assured that all dirt and dust particles on your thick carpets will be sucked up. Besides, the ability to switch to hard floor mode assures you of well-polished bare floors.
Also, this model uses the true HEPA filter for its filtration. You might have had issues with other vacuums letting out dirty air, but trust me with HEPA filtration even the tiniest dust particles are captured. An extra layer of protection is offered by the use of Anti-Allergen Complete Seal Technology.
Lastly, Shark NV356E S2 Navigator Lift-Away Professional Upright Vacuum uses advanced swivel steering. With this, it is very easy to maneuver as you vacuum around furniture and other obstacles.
Features & specs summary
Color: white/silver
Vacuum type: upright, bagless
Source of power: corded
Power cord length: 25 feet
Weight: 13.7 pounds
10-Amp motor
Voltage: 120 volts
Wattage: 1200W
Lift-away technology
Brushroll shutoff
Advanced swivel steering
Cleaning path: 11 inches
HEPA filter
Anti-Allergen Complete Seal Technology
Dust cup capacity: 2.2 dry quarts
Dimensions (inches): 14.96 x 11.4 x 45.5
Pros
Multi-surface cleaning
Excellent filtration system
Powerful suction
The power cord is relatively long
It's lightweight considering that it's an upright vacuum
Easy to maneuver because of the swivel steering
Can be used to clean above the floor
Holds a lot of dirt
Easy to empty and clean
Cleaning under furniture is a breeze
Five-year warranty
Cons
No headlights
It can fall over easily
Click here to see its current price.
5. Shark ION F80 Lightweight Cordless Stick Vacuum with MultiFLEX (IF281)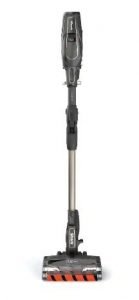 Shark ION F80 Lightweight is equipped with multiFLEX technology enabling you to bend the wand and reach all parts of your house. With this vacuum, you will never struggle with cleaning hard-to-reach areas like under furniture.
This vacuum is also easy to store because MultiFLEX technology allows you to fold it for compact storage.
Also, this vacuum cleaner transforms into a handheld vacuum at the push of a button. This feature enables you to vacuum surfaces above the floor. Besides, you can easily reach hidden parts of your house and other forgotten areas like behind your furniture.
This vacuum comes with a 2x ion power pack system that includes 2 removable and rechargeable lithium-ion batteries and a charging dock.
The extra battery allows you to keep going even after the first one is drained. Therefore, if you decide to use the two batteries consecutively, they will run up to 80 minutes when on hand vacuum power mode.
More importantly, this vacuum generates powerful suction on all types of dirt in your home. The vacuum can suck up pet hair, dirt, dust, and debris from all types of flooring. It features DuoClean technology meaning that you can use it on both carpets and hard floors.
For above-floor cleaning, this unit has only two attachments – a crevice tool and an upholstery tool. So, if a dusting brush is a must-have, you may need to look elsewhere.
Features & specs summary
Color: black and gold/blue
Vacuum type: stick, bagless
Can be converted into a handheld vacuum
Power source: cordless (battery-powered)
Weight: 8.7 pounds
DuoClean technology
MultiFLEX technology
Two lithium-ion batteries
Maximum run time: 80 minutes
Charging time: 3.5 hours
Power rating: 300 Watts, 11.9 Amps
Dimensions (inches): 13.43 x 10.24 x 45.98
Cleaning width: 8.6 inches
LED headlights on the floorhead
Dirt capacity: 0.3 quarts
Pros
Lightweight
Powerful suction
Up to 80 minutes run time
Duo cleaning technology
It has a long wand hence suitable for tall people
MultiFLEX technology makes it easy to reach tight spots
Storage is very easy thanks to MultiFLEX technology
Availability of two batteries allows you to use one as you charge the other
It can be transformed into a hand vacuum
The slim head allows you to vacuum narrow spaces
Cons
It lacks HEPA filtration
Easily topples when you leave it standing
Click here to see its current price.
Buyer's Guide – Things you should know Before Buying a Vacuum Cleaner
Buying a vacuum is usually a major purchase because some can last for up to 10 years. So, when making such a purchase, there are several things you need to consider. Because there are many options on the market, ensure that you get what works for you and one which won't break your back.
Also, do not invest in a vacuum simply because you saw it at a friend's house. Below are some of the important things you should know before the purchase of a vacuum.
Different type for every need
Before you even start browsing for the best vacuums in the market, identify your needs then proceed to make a vacuum selection. If you are not sure of your needs, you can consider your vacuuming preferences.
For example, do you prefer to vacuum that you can carry from one point to the next without worrying about power outlets? The answer here will help you choose between corded and cordless vacuums.
If you are looking for a vacuum to carry around and clean small messes on the go, a handheld vacuum is what you need.
The major models of vacuum cleaners in the market include:
Canister – its motor and suction head separated
Upright – motor and suction head come as one unit
Handheld – a small device you can carry in your hand
Stick – they are very light and compact and resemble a 'stick'
Robotic – they are programmed and require minimal human effort
Other important features to consider
Each vacuum cleaner has unique features and specifications. Take your time to go through all the features and see if they offer what you are looking for. Below are some of the important features you should look at:
Weight – it is very important to know how much the vacuum weighs because it affects portability and usage.
Power cord length – if you prefer a corded vacuum, ensure that it can clean the entire room or a large percentage of it without changing sockets.
Battery – if you choose to go with a model that uses batteries, consider how long the batteries will run as well as the recharging time.
Filtration – This is crucial for allergy sufferers. A vacuum with HEPA filtration is the best option. You can go further and choose a bagged vacuum to avoid messy emptying.
Dirt disposal – if you do not have a budget for replacing bags, choose a bagless model.
Price – some vacuums cost under 50 Dollars, but others cost over 1,000 bucks. So, you have a wide range of options to pick from depending on how much you can afford to part with.
Best time to buy
After you have identified your needs and settled on a particular vacuum you want to buy, you should consider the best time to make the purchase. As earlier said, this is a major purchase and you can spend a large amount of money.
Therefore, unless it's urgent, try to take advantage of sales, coupons, and deals to save a coin. When you land on the perfect deal, you will be able to get your preferred home cleaning partner without breaking the bank.
Related articles:
FAQs
Before we wrap up, I'm sure you have some lingering questions. Below, we tackle the most frequently asked questions regarding the best vacuums for tall people:
What is the best vacuum for a tall person?
Well, that has been our key area of focus for this article. Just to reiterate, the best vacuum for tall people is the Miele Classic C1 Pure Suction Canister Vacuum followed closely by its sibling the Miele Complete C3 Marin.
What type of vacuum is the best for a tall person?
The vacuums for tall people are canister vacuums. They are easy to use because you don't have to lift the canister. Also, they come with extension wands that extend the cleaning reach. If you dislike canister vacuums, the next best option would be a stick vacuum or a lightweight but tall upright.
Wouldn't a robot vacuum be the best option for a tall person?
To some extent, a robot vacuum can be a good option for tall people. However, most robot vacuums are not thorough on tight spots such as edges. Besides, they will not help when you want to vacuum stairs and other above-floor surfaces such as drapes, walls, ceilings, and the like.
What is the best place to buy a good vacuum?
If you are tall, going to an actual store where you can test the vacuum before buying would be ideal. However, not all neighborhoods have vacuum stores or even reliable brands. So, you can comfortably buy your vacuum online after reading objective and independent review articles such as this one.
Conclusion
Cleaning is part of healthy living. You will not have an excuse for not cleaning the house simply because you are tall and the short vacuums break your back. You will have to vacuum your space anyway.
Some people hire professional cleaning services. However, if you are not in a position to, you may have to get yourself a comfortable vacuum cleaner.
As you can see, canister vacuums dominate the list, and rightly so. They are the easiest to use for tall people. We highly recommend Our Top Pick, the Miele Classic C1 Pure Suction Canister Vacuum Cleaner because it is affordable and ticks all the boxes.
However, if you can afford it, go for the Miele Complete C3 Marin Canister Vacuum Cleaner. It is not only powerful, but it is also fantastic on all flooring types including high pile carpets and rugs.
From the reviews above, it is evident that there are vacuums fit for tall people. Some vacuums like the Eureka Mighty Mite come with 2 wands. This makes it possible to make the wand longer and hence more comfortable for you.
While other factors like the price and other features of the vacuum matter, you should consider vacuum cleaners with long wands or those with extra wands. This way, you will enjoy vacuuming just like everyone else.
In summary, these are the best vacuums for tall persons in 2023:
Miele Classic C1 Pure Suction Canister Vacuum Cleaner
Miele Complete C3 Marin Canister Vacuum Cleaner
Eureka Mighty Mite Canister Vacuum Cleaner (3670M)
Shark NV356E S2 Navigator Lift-Away Professional Upright Vacuum
Shark ION F80 Lightweight Cordless Stick Vacuum with MultiFLEX (IF281)