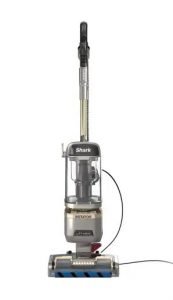 One of the latest Shark upright vacuums is the Shark Rotator ADV LA502. It has most of the technologies we pointed out in our Shark Vertex AZ2002 Review. So, expect outstanding performance from this powerful vacuum – whether you have bare floors, carpet, or mixed floors.
As you'll see, there is plenty to love about the Shark Rotator ADV LA502 model. Not only is it a perfect vacuum for dust, dirt, debris, and pet hair, but it is also great for someone looking to upgrade their current possession.
Also, it comes with a few tools for above-ground vacuuming. We'll get to the specifics later. Moving on…
Shark Rotator ADV LA502 Review: Main Features
Well, to understand what you get with this thrilling vacuum, we need to take a look at all the technologies behind its performance. As we go through the features, you'll be able to understand what the technical terms such as PowerFins mean.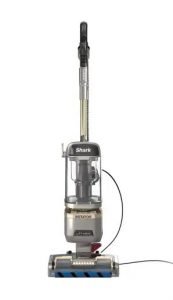 1. Multi-floor cleaner via DuoClean technology
If you have a mixture of bare and carpet flooring, you must be very careful not to buy a vacuum that is meant for hard floors only. Luckily, the Shark Rotator ADV LA502 is a fantastic option for both.
The floor nozzle has two brushrolls hence the term DuoClean. One brushroll has soft bristles and targets bare floors while the other ensures that carpets and rugs get the deep-clean they have been longing for.
Also, advanced swivel steering allows you to avoid obstacles effortlessly as you vacuum the floor. Besides, it is lighter than most upright vacuums.
2. PowerFins brushroll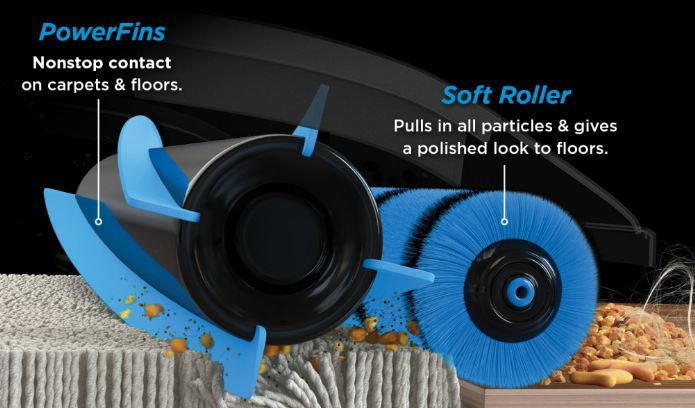 Previous Shark vacuums with DuoClean technology have a soft roller and a second roller that has tough bristles. However, these bristles may lead to tangling of hair especially for models that lack Zero-M anti-hair wrap technology. They may also scratch delicate floors.
To sort this problem out, Shark vacuums now have a PowerFins brushroll which has gentle 'fins' instead of tough bristles. These fins ensure that you no longer have to pull out tangled hair from the brushroll.
So, unlike with most vacuums, expect to find lots of human and pet hair in the dirt canister – long and short hair. Without a doubt, this vacuum is ideal for pet owners as well as those who shed lots of hair.
3. Lift-away technology
Lift-away technology means that you can detach the canister from the wand to ease above-floor vacuuming. Also, it helps you to reach under furniture, which is usually a tall order when using upright vacuums. Vacuuming stairs and other above-ground areas also becomes a walk in the park.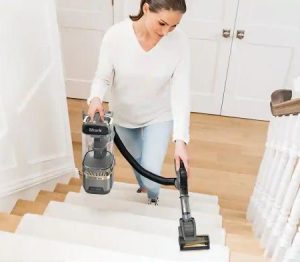 Unlike Shark Vertex AZ2002, however, the lift-away feature is not 'powered'. This means that power is not delivered to the floor nozzle once you detach the pod. Therefore, if you really need this feature, you may need to look at other options such as the AZ2002.
On a more positive note, the pod is lighter than that of most previous models. So, the vacuum is even more appealing to petite individuals as well as older users.
4. Power source
Like most of its peers, this vacuum is corded. So, you need to plug it into the nearest power outlet before you start vacuuming. The advantage is that you are not limited by a battery, and you can vacuum for as long as there is no power outage.
The 25-foot power cord is enough to vacuum medium to large rooms comfortably. However, it can be a bit stressful if you live in a small apartment. Also, the lack of automatic cord rewind means that storage can be cumbersome.
5. Suction
We have to talk about this trait even though Shark vacuums rarely disappoint. They are known to be some of the most powerful cleaning tools on the market. And the Shark Rotator ADV is no exception.
Dust, dirt, pet hair, dander, and debris are no match for this upright vacuum cleaner. Whether you're vacuuming carpets, bare floors, rugs, furniture, or upholstery, expect to be amazed by what you see in the dirt can.
The vacuum is so powerful that it pulls itself forward as you vacuum carpets. So, you don't need to use a lot of force to push it along the floor. However, this can be a challenge when you're pulling the vacuum backward.
6. Filtration
A good vacuum cleaner can be the perfect addition to your air purifier and other efforts towards eliminating pollutants from your indoor air. While standard filters do a commendable job, HEPA filters are the best. They trap particles as small as 0.3 microns in diameter.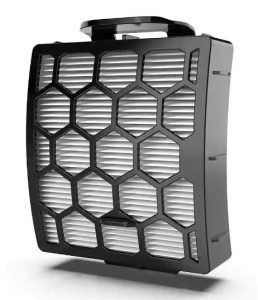 This way, almost 100 percent of dust particles, pollen, and other allergens will no longer be blown out as you vacuum.
Thankfully, Shark has its customers' best interests at heart. Apart from having a HEPA filter, the Shark Rotator ADV LA502 utilizes Anti-Allergen Complete Seal Technology to reinforce its effectiveness in handling allergens.
So, this is a very good pick for anyone who wants to keep winning the fight against allergies and asthma. However, be careful when emptying the dirt canister so that the contents do not blow onto your face.
7. LED headlights
Sometimes, we tend to leave dirt and dust in areas that do not get much light, especially in corners and under furniture. But with bright LED headlights on the floor nozzle, this will no longer be an issue. The lights illuminate the floor so that nothing is left behind.
8. Attachments
This unit doesn't have tons of attachments, but whatever you get will be sufficient for your above-floor needs. Shark packs a crevice tool, a pet multi-tool, and a self-cleaning pet power brush together with the vacuum so that you can easily take care of upholstery, furniture, drapes, baseboards, stairs, and so on.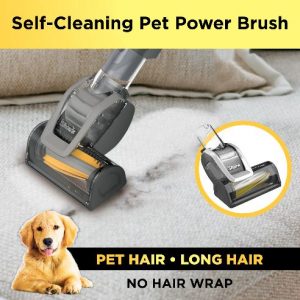 The self-cleaning pet power brush, in particular, is fantastic for picking up pet hair and dander from the carpet, cushions, stairs, and upholstery.
9. Dirt disposal
As is the case with all Shark uprights, this unit is bagless. So, you will not incur the extra cost of purchasing vacuum bags. Also, you can see the level of dirt to ensure that you don't take too long before emptying.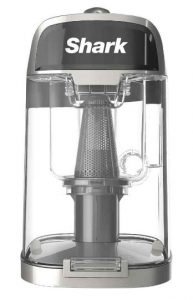 The dirt canister is very easy to empty and clean, while its 0.89-quart capacity is sufficient for most homes. Besides, you don't want to leave dirt, no matter how little, inside the vacuum for too long. This could lead to the emission of unwanted and potentially harmful odors.
Shark Rotator LA502 ADV Upright Vacuum Review: Features & Specs Summary
If you need to know every aspect of the Shark Rotator ADV, below is a quick overview of all its features:
Type: upright vacuum, bagless
Color: silver
Weight: 12.3 pounds
25-foot power cord
Hose length: 6 feet
Power rating: 910 Watts, 10 Amps
Cleaning path: 9.5 inches
DuoClean PowerFins
Self-cleaning brushroll
Lift-away technology
LED headlights
Anti-Allergen Complete Seal technology
Washable HEPA and foam filters
Dust cup capacity: 0.89 quarts
Dimensions (LxWxH): 10 x 12 x 46.5 inches
Shark Rotator ADV LA502 Review: Pros & Cons
There are many good things about this modern vacuum cleaner. However, nothing is perfect in this world. Below, we take a look at both sides of the coin…
What we love about the Shark Rotator ADV LA502
The vacuum produces incredible suction
It works well on bare floors, rugs, and carpets
Hair tangling on the brushroll is a thing of the past
Excellent filtration system
It's not expensive
Tackles pet and human hair like a champion
It's very easy to assemble and use
Compared to other uprights, it is relatively light
LED lights help to illuminate dark spots
Maneuvering around obstacles is a breeze
Comes with attachments for above-floor vacuuming
It has a sizeable dirt cup that is easy to empty and clean
Lift-away technology allows you to reach tight spots such as under furniture
5-year limited warranty
Relatively quiet when compared to most vacuums
What we don't like about the Shark Rotator ADV LA502
The lift-away feature is not powered, so the brushroll stops running once you detach the pod
A 30-foot power cord would be better especially for vacuuming large rooms
Because the vacuum practically pulls itself forward on carpets. While this is a good thing it may need a bit more effort to pull it back
Click here to see its current price.
Verdict – should you buy the Shark Rotator ADV?
All factors considered, this vacuum has a lot to offer. It has strong suction, cleans all floor types, and is very easy to maneuver as you vacuum. Besides, the price is attractive considering that it is a pretty new model. It is also very good for vacuuming pet hair – picks it all up without tangling.
On the other hand, the power cord could use a few more feet to enhance convenience for those with large rooms. Also, powered lift-away would have been a welcome feature given that it is available in other Shark vacuums.
That being said, the pros outweigh the cons by far. So, we recommend this vacuum for anyone looking for a great partner for cleaning their floors, walls, ceilings, fans, stairs, upholstery, baseboards, and so on. The places you could vacuum using the Shark Rotator ADV LA502 are limitless.
Therefore, you can consider the vacuum for whole-house cleaning and you won't be disappointed. Besides, it's quite a looker! In the coming months, it will surely find its way into the best Shark vacuum list.