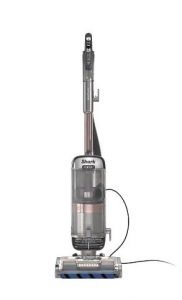 When you have a large family with kids and pets, daily vacuuming becomes a necessity thus a good vacuum goes a long way in making your life bearable. Today's Shark AZ2002 Vertex DuoClean PowerFins Upright Vacuum Review presents a fantastic option for you.
To lighten the burden of cleaning after pets, picking up fur from furniture, beds, carpets, literally everywhere, a good upright vacuum comes in handy. They are also adept at collecting debris leaving your carpets clean and bare floors polished.
Shark Vertex AZ2002 is a 2-in-1 upright vacuum, designed to clean all floor types. It also features Shark's best technologies that help to keep your home clean and free from pet hair and other allergy-causing particles.
In this review, we explore its features and how they work to boost your hygiene. We also check its merits and demerits and finally share our verdict. Let's explore together…
Shark Vertex DuoClean PowerFins AZ2002 Review: Main Features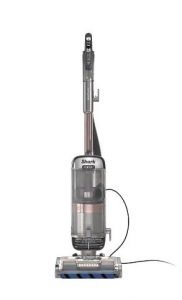 Unlike older Shark upright vacuums, Shark Vertex AZ2002 has new technologies that will definitely put a smile on your face. Not only is the design superb, but it also outdoes the predecessors in terms of performance.
Here is a detailed review of the vacuum's main features:
a) DuoClean PowerFins
Shark AZ2002 Vertex is equipped with PowerFins and a soft roller to engage various surfaces. Unlike traditional brushrolls that have tough bristles, the PowerFins brushroll is equipped with flexible silicone fins that run from one end to the other.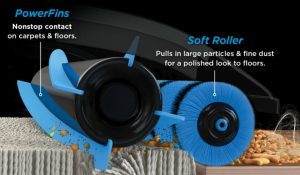 So, it easily handles embedded dirt and stuck-on hair pulling them out from carpets therefore leaving your home spotless. At the same time, the soft roller ensures that as dust, dirt, and debris is picked up from bare floors, it leaves a remarkably polished finish.
b) Self-cleaning brushroll
Hair can be stubborn; it can cause your brush to jam. However, you don't need to worry. The PowerFins brushroll is self-cleaning, and the hair is sent straight to the dust cup because there are no bristles where it can get tangled.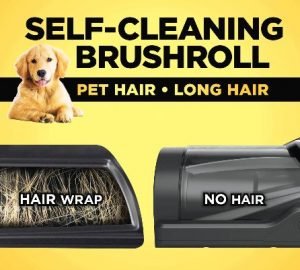 Therefore, you no longer have to remove pet and human hair manually. Gone are the days when you had to get your hands dirty pulling out hair or keeping a pair of scissors nearby.
c) HyperVelocity suction technology
As mentioned before, expect better performance form this upright vacuum than its predecessors. The Shark AZ2002 Vertex utilizes HyperVelocity suction technology to offer a more concentrated suction as you vacuum your floors or any other surface.
Besides, it maintains this level of suction throughout cleaning whether you are using attachments or the main unit.
d) Multi-surface cleaning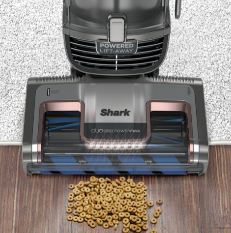 The bristle-less system proves more effective on this upright more than the traditional system. Equipped with a soft roller, the Shark AZ2002 Vertex pulls together large particles, hair, and finer debris in detail leaving your floor superbly polished.
The DuoClean PowerFins are designed for systematic carpet cleaning. They maintain non-stop contact on rugs and carpets picking up all the embedded dirt and hair.
e) Powered Lift-Away technology
While reaching above-floor areas such as the ceiling can be hectic, this vacuum enables you to 'lift away' the pod. So, it becomes way easier to vacuum previously tough areas such as under the furniture, stairs, and walls.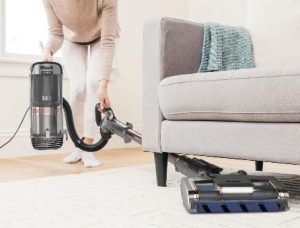 Because the lift-away feature on this unit is 'powered', power is continuously delivered to the floor nozzle even after you separate the canister from the rest of the vacuum. So, top-notch performance is achieved regardless of the mode you're using.
f) Active-Glide technology
For a slightly heavy vacuum like this, maneuverability makes a lot of difference. You need a steady but effortless movement. And that's what this technology is all about.
Active-Glide technology allows you to push the vacuum without straining whether you're vacuuming carpets or hard floors. Also, it ensures that suction is not affected. So, you get the same powerful but consistent suction without breaking a sweat.
g) Filtration
Just like the best Shark vacuums, the Shark Vertex AZ2002 is also equipped with Anti-Allergen Complete Seal Technology to lock in pollutants. This is complemented by a washable HEPA filter that captures over 99.9% of allergens such as dust, mold, and pollen. So, particles measuring as small as 0.3 microns in diameter have nowhere to run.
It also has two pre-filters – the foam and felt filters that are used mainly to capture larger particles. These prolong the life of the HEPA filter as well as improve the filtration efficiency. Besides, they help to ensure that suction is fade-free.
This combination of filters is great for allergy sufferers since they work to minimize allergic reactions offering a safer and cleaner environment even for homes with pets.
h) Disposal system
Shark AZ2002 Vertex holds up to 1 quart of dirt, which is sufficient for several cleaning jobs. We recommend emptying when the dirt reaches the 'Max' level to ensure the suction remains consistent. This results in effective uninterrupted cleaning.
Besides, leaving certain types of dirt in the vacuum for too long can result in the emission of odors. You can also choose to clean the dust cup after every use so you are not interrupted during the next task.
i) LED headlights
Conveniently placed on the nozzle, these bright LED lights make it convenient to clean dark corners ensuring spotless cleaning. Therefore, you will rarely leave any patch of your floor untouched or with specs of dust and dirt.
j) Extended reach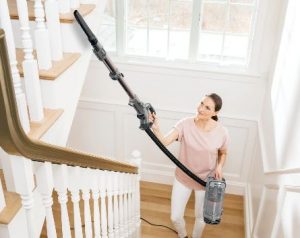 For the above-floor cleaning, Shark Vertex AZ2002 is equipped with a 5.5-foot hose to help vacuum areas such as the ceiling, stairs, drapes, and frames. This upright also boasts a long power cord measuring 30 feet. So, from one power outlet, it's possible to vacuum almost everywhere.
The 12-inch cleaning path is also commendable. Regardless of how big the room is, therefore, you are going to take a short time to vacuum. Not many vacuums offer such convenience overall.
k) Attachments
Shark Vertex Upright Vacuum has extra tools include a dusting brush, a self-cleaning pet power brush, and a pet crevice tool. The pet power brush is self-cleaning so you don't have to worry about manually removing tangled hair.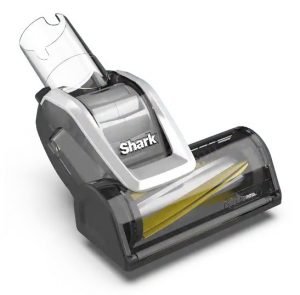 This is a huge plus to any vacuum. While most manufacturers have embraced the fact that any good vacuum cleaner should have attachments, a few are still lagging behind. Well, not SharkNinja. And that is one more reason to love their latest upright vacuums.
Shark Vertex Upright Vacuum AZ2002 Review: Features & Specs Summary
Below is a quick overview of all you need to know about this upright vacuum:
Type: upright vacuum, bagless
Color: rose gold
Weight: 16.38 pounds
Power cord: 30 feet
Hose length: 5.5 feet
Power rating: 1344 Watts, 11.8 Amps
DuoClean PowerFins
Self-cleaning brushroll
Powered Lift-Away technology
LED headlights
HyperVelocity suction technology
Active-Glide technology
Anti-Allergen Complete Seal technology
Washable HEPA, foam, and felt filters
Cleaning path: 12 inches
Dust cup capacity: 1 quart
Dimensions (LxWxH): 12 x 15.09 x 46.25 inches
Shark Vertex AZ2002 Upright Vacuum Review: Pros & Cons
While no appliance is perfect, there are so many things to love about this upright vacuum. Expect a few drawbacks, too.
Pros
Powerful, fade-free suction
It has an excellent filtration system
It's very easy to maneuver
Excellent with pet hair
You can easily vacuum tight spots and under furniture
The self-cleaning brushroll offers convenient cleaning with no hair wrap
Extended reach using the long power cord and hose
Easy to empty and clean
It has useful attachments for above-floor vacuuming
Offers thorough vacuuming of all floor types using DuoClean PowerFins
The bright LED lights illuminate dark areas enabling spotless cleaning
5-year limited warranty
Cons
It's a bit pricey
Slightly heavy
The power cord is not retractable
There are only two onboard storage spots for the three attachments
Click here to see its current price.
Our Verdict
Apart from multiple supportive technologies, Shark Vertex upright vacuum represents convenience and power. Apart from the charming looks, you have great suction and deep cleaning ability for carpets and bare floors alike.
We mainly recommend it for its efficiency in cleaning multiple floors plus commendable extended reach. The long power cord plus the hose help to reach high ceilings, walls, handrails, and other above-ground surfaces.
Also, the Powered Lift-Away feature enables easy cleaning of the stairs, under furniture, and external areas. The vacuum also comes with a powerful floor nozzle that eliminates pet hair and glides easily on all floor types.
The filtration system is thorough and favorable to allergic people. It features foam and felt filters, a washable HEPA filter, and Shark's Anti-Allergen Completely Seal technology. HEPA filtration captures up to 99.97% of allergens such as dust and pollen.
Lastly, the handle feels comfortable and has a firm hand grip. You'll also enjoy effortless movement, great suction, and thorough cleanups. The only feature we think would have been a plus is if the cord was retractable. That would save lots of time, especially during storage.
Overall, this is one of the best vacuums in the market currently.