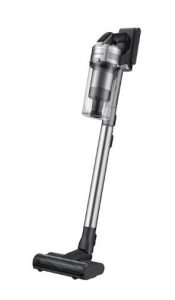 If you have already read our Samsung Jet Light VS70 Cordless Vacuum Review, you already know that Samsung means business. After decades of making mobile phones and home appliances such as fridges, TVs, and home theatres, the company has re-ignited its interest in the vacuum cleaner space.
After making robot vacuums for some time, Samsung has branched into cordless vacuums which seem to be the order of the day. Today, we present to you a detailed Samsung Jet 90 Complete Stick Vacuum Review to help you make an informed decision.
Samsung Jet 90 Complete is in no only a quick-pick vacuum for small messes. It has way too much power and is equipped with excellent and state-of-the-art vacuum cleaner technology. So, this vacuum could easily top the list of best cordless stick vacuums.
Samsung is a pacesetter in hygiene-related home appliances. Therefore, we are certain of two things with its products – efficiency and durability.
In today's review, we explore one of Samsung's newest stick vacuums. Samsung Jet 90 Complete is one of the best Samsung stick vacuums in our opinion. It prides in great filtration among other top features. We shall discuss them at length and also check out its pros and cons. Later, we share our verdict. Here we go!
Samsung Jet 90 Complete Stick Vacuum Review – Main Features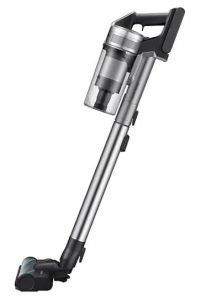 There are many things to love about this unit. Before we look at its pros and cons, however, let us explore the main features of this superb cordless stick vacuum.
a) Power
Samsung Jet 90 Complete is surely climbing the ladder amongst other cordless stick vacuums on the market today. With a maximum runtime of an hour on minimum mode, you can finish cleaning without interruptions.
The only drawback is when using motorized attachments or vacuuming carpets or stubborn surfaces that need the high powered maximum mode. The vacuum only offers six to ten minutes of run-time on this mode. That's why you need an extra battery (bought separately) to make your cleaning seamless.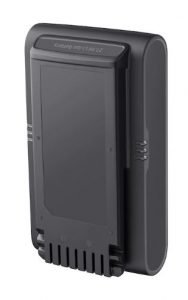 Besides that, you get a dual charging dock. So, you can charge two batteries simultaneously. You can also charge one battery as you continue cleaning since the battery is detachable. It takes an average of three and a half hours for the battery to fully charge. However, that's pretty standard for cordless vacuums.
While corded stick vacuums offer unlimited runtime, they limit you in terms of reach. Well, unless your rooms are small.
b) Suction
Suction is one of the most commendable features of the Samsung Jet 90 Complete stick vacuum. The vacuum offers sufficient suction power for deep cleaning carpets and area rugs as well as above-floor cleaning. Of course, vacuuming hard floors is a breeze.
To spur this suction, the vacuum is designed with Jet Cyclone technology which boasts 9 cyclones and 27 air inlets. Two things stand in the way of great suction, clogged filters, and a full dirt can. If you can empty on time and clean the filters regularly, then you are sure the suction will remain fade-free.
Besides, the Jet Cyclone technology prevents the filters from being blocked by dust, dirt, and debris.
c) 5-layer HEPA Filtration System
When shopping for a vacuum cleaner, one of the key features to look at is filtration – especially if you struggle with allergies.
Samsung uses an advanced 5-level HEPA filtration to keep allergens such as pollen and dust trapped inside the vacuum. This way, the vacuum can achieve close to 100% filtration efficiency. It's no wonder that it has a Seal of Approval by Allergy UK.
d) Multi-surface cleaner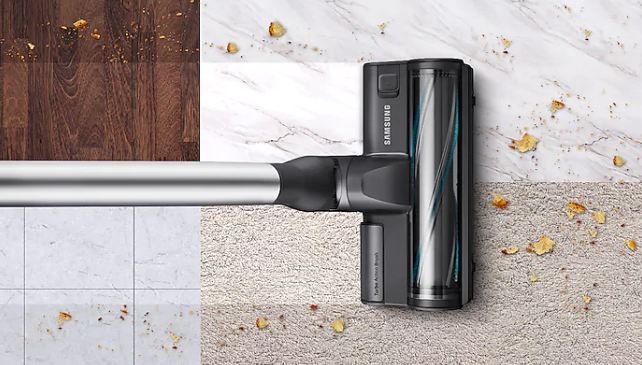 A good vacuum should be able to handle hard floors, carpets, and rugs. So, look for a vacuum that has a beater bar (motorized brushroll that agitates even the toughest dirt). However, if you don't have carpets, you can go for any vacuum that has enough suction and you'll be good to go.
This vacuum's main tools are the Turbo Active Brush which is aggressive on carpets and rugs and a Soft Active Brush for cleaning all kinds of bare floors.
e) Handheld mode
This is a 2 in 1 vacuum. So, when you buy the Samsung Jet 90 Complete, you get two vacuums for a price of one – a stick vac and a hand vac. At the press of a button, you can quickly convert this unit into a handheld vacuum for picking up small messes.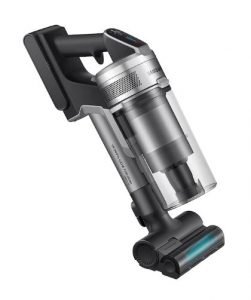 The handheld vacuum is especially suitable for vacuuming tight spots as well as above-floor areas. Besides, it's very light and can be used by seniors, teens, and petite individuals.
f) Attachments
To complement the two floor brushes and handheld mode, the vacuum has additional attachments that come in handy when vacuuming above-floor surfaces.
These include a crevice tool, a combination tool, a flexible tool, and a mini motorized tool. They are all well-built pieces and very instrumental for cleaning areas such as upholstery, furniture, stairs, drapes, window sills, etc. They are also essential in vacuuming car interiors.
Besides, having onboard storage minimizes the chance of misplacement thus makes it possible to locate them easily and clean faster.
g) Versatility
It will take you approximately five minutes to assemble and start using the vacuum, it's that simple. What we love most though is the efficiency of the parts and the vacuum's swivel on the floor nozzle and the attachments.
Also, each part is extremely essential and all the accessories snap easily onto the extendable wand. The two floor brushes serve interchangeably to deep-clean carpets and polish bare floors. Overall, the vacuum's versatility can be seen in its user-friendliness, extended reach, as well as performance.
h) Disposal system
For a stick vacuum, an 800ml dust cup is commendably large. You won't find that in many cordless vacuums. The Samsung Jet 90 Complete uses a transparent, detachable, easy to empty bin. Being placed at the vacuum's handle makes the vacuum top-heavy meaning you have to dock it after use.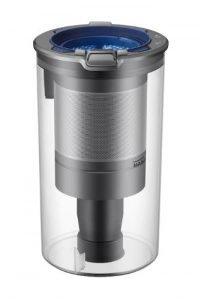 Always remember not to fill up the dirt cup past the 'max' line. In fact, you should try to empty it after every use or when it reaches half full. This way, you will be able to maintain constant suction from start to finish. Also, leaving certain types of dirt inside the vacuum for too long can cause the emission of odors.
i) Digital LED display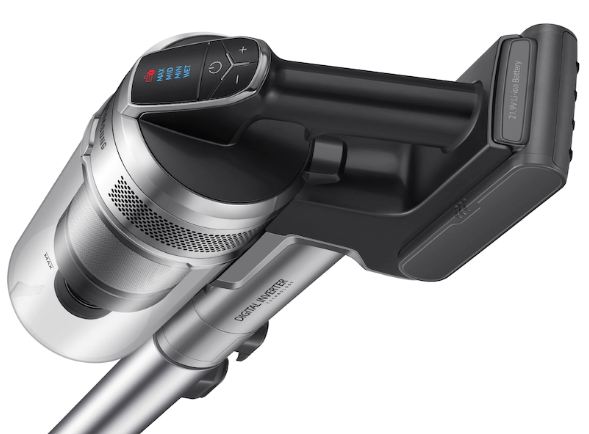 Besides the excellent performance, you can see the power level and blockage alerts to prevent brushroll damage. Also, you can see which brush type you're currently using on the LED display to avoid scratching delicate floors or using a weak brush on the carpet.
j) Storage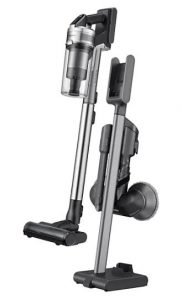 The freestanding Z station makes storage quite convenient because the vacuum snaps easily into it. It also doubles as the charging dock. Being a self-standing dock saves you the hustle of mounting the vacuum on the wall.
Samsung Jet 90 Complete Review: Features & Specs Summary
Below is a summary of all technical aspects of the Samsung Jet 90 Complete VS20R9046T3 stick vacuum:
Color: titan silver
Type: stick vacuum, bagless
Converts into a hand vacuum
Weight: 6.17 pounds
Cordless: uses a 21.9V li-Ion battery
Digital inverter motor (550W)
A 5-level HEPA filtration system
Maximum runtime (Min mode): 60 minutes
Minimum runtime (Max mode): 6 minutes
Charging duration: 3.5 hours (dual charging)
Suction power: 200 Air Watts
Multi-cyclone technology
Dirt cup capacity: 0.8 liters
Noise level: 86dBA
LED display
Cleaning path: 8.5 inches
Turbo Action and Soft brushes with 180-degree swivel
Self-standing storage/charging dock (Z station)
Dimensions (WxHxD in inches): 9.875 x 44.75 x 8.5
Samsung Jet 90 Stick Vacuum Review: Pros & Cons
While there are many things to love about this vacuum, a few drawbacks have concerned a few users. However, Samsung has tried its level best to address these issues as you'll see.
Pros
Powerful suction
It's very light and easy to use
An excellent HEPA filtration system
It's a multi-surface cleaner
Sleek but ergonomic design
Very easy to maneuver around obstacles
Comes with multiple attachments
Convenient storage using a self-standing storage dock
Extended reach using an extendable telescopic wand
Sizeable, easy to empty dust cup that is easy to clean
Pet-friendly – the mini-motorized tool cleans pet hair and dander efficiently
Cons
It's a bit pricey
Very short run time on Max mode (about 6 minutes). However, you can purchase a separate battery since it uses removable batteries.
Click here to see its current price.
Our verdict
To make the best use of this vacuum cleaner, there are several modes to choose from. You can select among Wet, Min, Mid, and Max mode easily with on-handle fingertip controls. We find this vacuum's versatility commendable. Everything from assembling, cleaning, attaching, and detaching accessories is super-easy.
If for no other reason, the powerful suction filtration system should be a good reason to invest in the Samsung Jet 90 Complete. It has almost 100% efficiency in capturing and trapping allergens. The dirt cup also allows hygienic emptying so you barely interact with dust.
This vacuum also takes care of pet hair and dander by use of the mini-motorized tool. You have additional attachments for above-floor cleaning.
The major downside is the short runtime, which can be addressed by investing in an extra battery. But that only increases its cost. However, the vacuum is an overall good performer regardless of the floor type you're dealing with. It can comfortably compete with the best cordless stick vacuums on the market on that front.