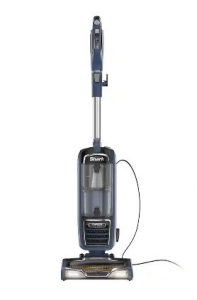 Just like the Shark Rotator Lift-Away DuoClean Pro ZU782, this one also lives up to the best SharkNinja standards. In today's Shark Rotator ZU632 Powered Lift-Away Upright Vacuum Review, we explore what it has to offer, and if it's a sensible investment.
Shark uprights have several features in common. They have a great ability to tackle various floor types and they are also configured to easily switch from one cleaning mode to the other. Also, they are pretty user-friendly, from assembling to maintaining filters, emptying, and cleaning the dirt canister.
Shark Rotator ZU632 carries on these attributes plus Shark's durability legacy. It is simple yet very effective. In this review, we delve into the features that make it worthy of your consideration. We have listed a summary of the features plus pros and cons. We also share our verdict in the end. Let's dig in.
Shark Rotator ZU632 Powered Lift-Away Upright Vacuum Review: Main Features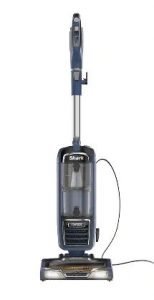 While this unit is not as advanced as the Shark Vertex AZ2002, it has most of Shark's outstanding technologies. In this section, we look at what makes the Shark Rotator ZU632 one of the best Shark vacuums on the market.
a) Powered lift-away technology
This vacuum offers flexibility that is rare to find on upright vacuums. First, you can press the handle release button to detach the vacuum's pod whenever you need to extend your reach. Once the canister is out of the way, you can easily reach tight spots such as under furniture.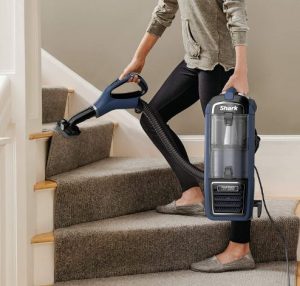 For above-floor vacuuming, press the wand-release button, insert the relevant attachment, and you are set. Therefore, it becomes easier to clean stairs, drapes, furniture, shelves, windows, walls, and so on. You also enjoy easier movement and minimize fatigue.
The fact that the lift-away feature on this vacuum is 'powered' means that even after you detach the pod, power is still delivered to the floorhead. So, the vacuum continues to powerfully pick up dirt, dust, and debris even though it looks incomplete.
b) Self-cleaning brushroll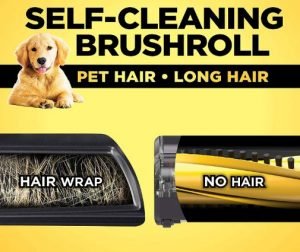 Apart from dust, pet hair is the other major reason you need to get a vacuum. It's frustrating and time-consuming to have to cut off long human or pet hair from the brush roll each time you vacuum. This vacuum's anti-tangle brushroll is a real lifesaver.
As you vacuum, the brushroll actively prevents hair from getting wrapped around the brushroll. While it may not be 100% perfect, it is definitely way better than your standard brushroll. Rarely will you have to get your hands dirty.
c) Filtration system
Allergy and asthma sufferers need appliances that have their needs at heart. And SharkNinja has really mastered the art of keeping allergens away from the indoor air. While you may have to get an air purifier if your condition is severe, a good vacuum should complement it ably.
Shark Rotator ZU632 uses a washable HEPA filter to eliminate over 99.9% of all allergens. This filter is accompanied by two pre-filters. The foam and felt filters trap larger particles therefore prolonging the life of the HEPA filter while making it more effective.
The vacuum also boasts complete sealing of allergens within the vacuum using the Anti-Allergen Complete Seal Technology. So, no dust, pollen, or dust mites will be blown back into the air.
d) Power
One downside of the Shark Rotator ZU632 is that you won't enjoy cordless movement. But that is only a drawback if you love cordless vacuums. Actually, I prefer corded vacuums because you are not limited in terms of how long you can vacuum.
See it at work (YouTube video courtesy of Shark Cleaning):
However, the power cord could use a few more feet. It only measures 25 feet, which is sufficient for small to medium-sized rooms but not for large rooms. Thank God for extension cords!
e) Suction
One of the features Shark has mastered is enhancing suction on its vacuums. This upright vacuum has a powerful, fade-free suction across all floors and in whichever mode you use. To maintain the suction, clean the filters regularly and empty the dirt bin before it passes the max fill line.
f) Multi-surface cleaning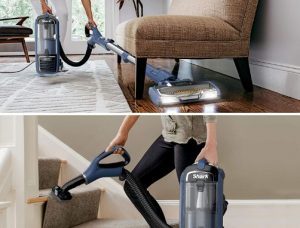 This vacuum makes a great companion if your house has tiles, hardwood, rugs, or carpet. The transition is simply at a button press and it's so smooth you hardly notice it. Here's the best part – you can deep clean carpets with ease and also remove dust and dirt on bare floors with minimal effort.
Also, you'll love how easy it is to use the Shark Rotator ZU632. The control buttons are well placed and easy to use. Besides, switching between different modes for instance becomes easy at a button press. This versatility is rare to find in most vacuums.
g) Advanced swivel steering
While vacuuming any floor type, you can maneuver easily around obstacles with Shark Rotator ZU632. Also, the floor head is impressively swift it almost propels itself. This is a huge plus considering that some vacuums lack swivel heads.
h) Disposal system
If you dislike bags then this is your type of vacuum. It has an easily detachable dirt cup with a 0.88 quarts capacity. You will enjoy mess-free emptying and cleaning plus longer uninterrupted cleaning sessions. Besides, it saves the costs associated with buying replacement bags.
i) Headlights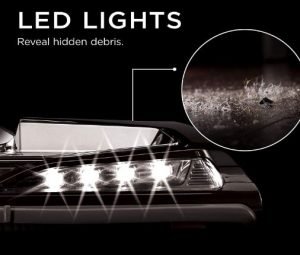 Cleaning dark spots is easier with the Shark Rotator ZU632. It has LED lights on the floor nozzle – and they are quite powerful. They are also conveniently placed thus you can spot any hidden dirt and debris without much struggle.
j) Attachments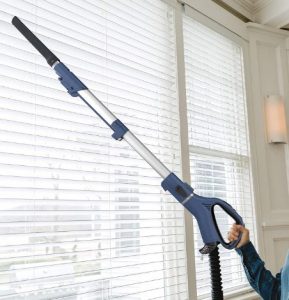 Unlike the other Shark uprights, Shark Rotator ZU632 only comes with a pet crevice tool and a pet multi-tool. They are capable tools but a few more would be welcome. However, these tools are super-efficient and the vacuum also accommodates tools from other Shark uprights.
Shark Rotator ZU632 Features and Specifications Summary
Below is a summary of everything you need to know about the Shark Rotator ZU632:
Type: upright vacuum, bagless
Weight: 16.2 pounds
Powered lift-away technology
Self-cleaning brushroll
Power cord length: 25 feet
Power rating: 1150 Watts, 9.5 Amps
Hose length: 6 feet
Washable HEPA, foam, and felt filters
Anti-Allergen Complete Seal Technology
Cleaning path: 12 inches
Dust cup capacity: 0.88 quarts
Accessories: a pet multi-tool and a crevice tool
LED headlights on the floor nozzle
Dimensions (LxWxH in inches): 15.54 x 11.96 x 46.23
Shark Rotator ZU632 Review: Pros & Cons
Just like any other vacuum we have reviewed, this Shark upright also has its drawbacks. However, the advantages out way the disadvantages by a lot. Let's take a look…
Pros
Great suction that remains constant from start to finish
2-in-1 cleaning – use upright mode for floors and reach other areas such as stairs, tight spots, above the floor, and under furniture conveniently on lift-away mode.
No hair tangling – the self-cleaning brush roll constantly unwraps hair
Convenient storage – onboard storage for accessories at the back of the vacuum
User-friendly – it's easy to assemble, empty, and clean
Efficient allergen removal – captures and eliminate over 99.9% of pollutants using HEPA and the Anti-Allergen Complete Seal Technology
The pet multi-tool is an essential addition especially for cleaning sofas and cars
Commendable reach using the 6-foot hose and a 25-foot power cord
Powerful multiple floor cleaning
Bright LED headlights help spot dust and dirt in the darker spots
Cons
Few attachments
At 25 feet, the power cord is relatively short
The power cord is not retractable
Click here to see its current price.
Our verdict
For a vacuum that looks regular, one would be tempted to despise it. But you'll be surprised at how efficient and all-rounded the Shark Rotator ZU632 is. It has impressively powerful suction, easy maneuverability, and the best of all, it's a multi-surface vacuum.
We also love the self-cleaning anti-hair wrap brushroll. It makes cleaning pet hair from carpets, rugs, and furniture pure bliss. We also appreciate the pet multi-tool for how it simplifies above the floor cleaning. The only downside is that it comes with two attachments only unlike other Shark uprights.
Overall, this is an ergonomically designed, highly functional vacuum with great HEPA filtration. It has a well-done disposal system, and commendable extended reach. Despite the few cons, it's a home appliance worth your consideration as you shop for your next vacuum.