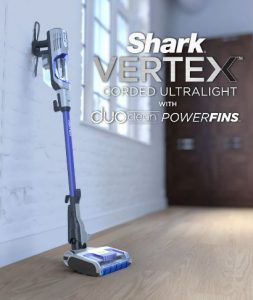 The Shark Vertex UltraLight is the newest Shark corded stick vacuum after the amazing Shark APEX UpLight. In this detailed Shark Vertex UltraLight Corded Stick Vacuum HZ2002 Review, we expound on what makes it a worthy investment.
Stick vacuums have always been quick pick-up instruments until recently. Nowadays, they make up almost half of vacuum cleaner purchases in our households. And they're increasing in popularity by the day.
Modern stick vacuum models are dynamic and offer superior performance just like uprights. Besides, their capability to handle extensive vacuuming has greatly improved.
The Shark Vertex HZ2002 falls under this category offering the ultimate vacuuming experience. Its system is unique in that it's bristle-less and uses Shark's PowerFins brushroll to deep-clean carpets and collect dust, dirt, and debris from hard floors.
This review will help you understand it better. First, we discuss each of its features at length but you can skip to the summary for a quick review. We'll also list its pros and cons to help you make an informed purchasing decision.
Shark Vertex UltraLight Corded Stick Vacuum Review: Main Features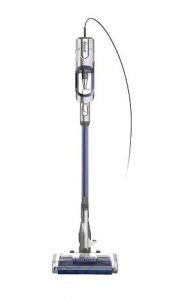 A few features stand out and make this vacuum cleaner unique. We discuss them in this section. Later on, we'll share a summarized list of all the features.
HyperVelocity
Shark's HyperVelocity technology ensures that suction power is enhanced. In fact, it is much higher than that of older Shark Rocket stick vacuums. One notable advantage is that the suction is consistent whether you are cleaning using the handheld vacuum or the full-size unit.
So, you can be sure that all dust, debris, dirt, and even pet hair will be powerfully sucked into the vacuum. That is the whole essence of owning a vacuum cleaner, and the Shark Vertex UltraLight meets and exceeds most people's expectations.
DuoClean PowerFins
This vacuum is designed with two brushrolls – a PowerFins brushroll plus a soft roller. The PowerFins brushroll is made of flexible silicone fins. This combination provides consistent deep cleaning on carpets and rugs. You also get thorough debris pick up on hard floors and a polished finish courtesy of the soft roller.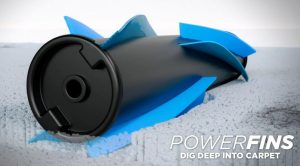 The use of the fins instead of the usual bristles ensures that you don't leave any gaps on the floor as you vacuum. Also, they solve a major problem as you'll see next.
Self-cleaning brushroll (anti-hair wrap)
If you own pets, you will appreciate this vacuum for its ability to ease pet hair vacuuming. Shark Vertex HZ2002 ably picks pet and human hair from all floor types with zero hair wrap.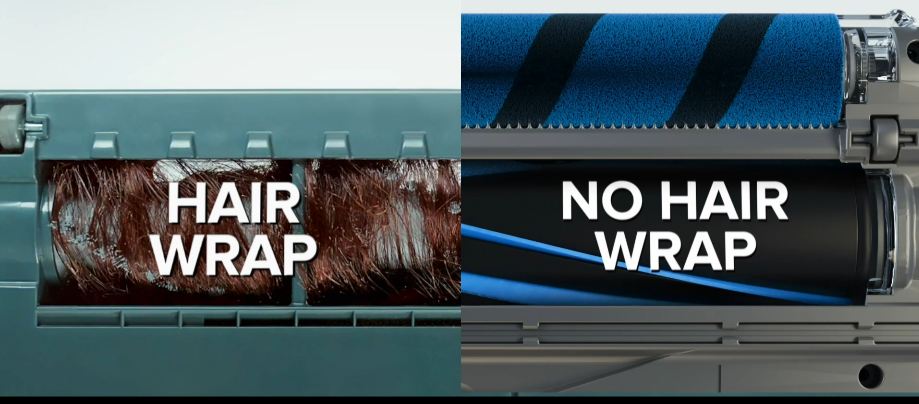 This is thanks to Shark's innovative PowerFins brushroll system. Hair has nowhere to get tangled, unlike on other brushrolls which have tough bristles. The pet power brush also thoroughly picks hair as it self-cleans. This makes deep cleaning of upholstery easier and quicker.
Unique hand vacuum
At the push of a button, you can convert this unit into a powerful hand vacuum for cleaning small messes on the go.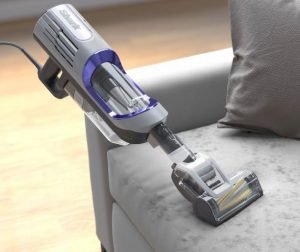 Shark Vertex Stick Vacuum HZ2002's handheld vacuum does not need accessories to clean. It has a tapered design and a rubberized tip. This allows in-depth cleaning for furniture, corners, and other tight spaces such as car interiors.
However, you can still use any attachment you want depending on the job at hand.
Versatility
This vacuum is super easy to set up and use – the initial assembling takes five minutes on average. Also, changing cleaning modes from vacuuming the floor to above-ground areas, stairs, and furniture using the hand vacuum is also seamless.
Besides, the controls are conveniently placed on the handle making them easy to reach and use. The handle is also ergonomically designed to minimize fatigue. Also, the removable handheld vacuum is equipped with a rubberized tip for thorough cleaning of tight spaces, corners, stairs, and above-floor surfaces.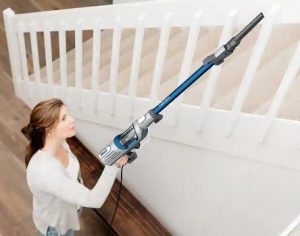 Lastly, the Shark Vertex stick vacuum has a low-profile design that allows you to lay it flat to reach below furniture.
Multi-surface cleaner
The vacuum's DuoClean PowerFins and soft roller allow a comprehensive cleaning of all floor types. This PowerFins brushroll increases agility on carpets and rugs while leaving them intact. Although it uses a bristleless system, deeply embedded dirt has no chance against this system.
Also, transitioning from one surface to another with this vacuum is effortless. Besides, the soft roller at the front helps to sweep all kinds of dust and debris leaving your bare floors spotless and well-polished.
Advanced swivel steering
Apart from being light, the Shark Vertex has a swivel head that is very easy to maneuver as you vacuum. It turns and bends effortlessly making it easy to vacuum between furniture and in tight spaces.
LED headlights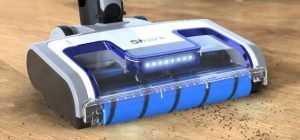 Even the most ardent cleaner occasionally leaves patches of dust especially on the darker parts of the floor. However, this will no longer be a problem if you have the Shark Vertex HZ2002. The floor nozzle has powerful LED lights that illuminate the floor so that you don't miss a spot.
Attachments
Shark has equipped this stick vacuum with several accessories for comprehensive cleaning. You get one self-cleaning pet power brush for pet hair removal, a crevice tool for cleaning cracks and crevices, and a dusting brush.
If you got pets, the pet brush will help a great deal in cleaning beds, furniture, upholstery, and other areas where the pets frequent.
Power source
With a 30-foot power cord, Shark Vertex HZ2002 offers you extended reach. This is enough for most homes. However, if you have a very large house or a few power outlets, you can make use of an extension cord.
Ideally, however, you should be able to clean the whole house from a single outlet. The only downside of this vacuum is that it does not have the automatic cord rewind. So, storage can be a bit tedious.
LED user interface
Unlike most stick vacuums, this unit has a stylish LED interface that further makes vacuuming enjoyable. For example, it allows you to easily change cleaning modes as you transition from bare floors to carpets and vice versa.
Disposal System
This stick vacuum has a rather tiny dust cup. At 0.32 quarts it can hardly manage whole-house cleaning meaning you need to empty severally as you clean. However, it works perfectly for quick pick-ups. Besides, if you vacuum regularly, this may not be an issue at all.
Emptying and cleaning the dirt cup is a breeze. It's also very easy to detach from the vacuum and put it back.
Shark Vertex UltraLight HZ2002 Review: Features & Specs Summary
Below is everything you need to know about this lightweight yet powerful corded stick vacuum:
Type: stick vacuum, bagless
Weight: 9.05 pounds
LED user interface
Converts into a hand vacuum
Hand vacuum weight: approx. 3 pounds
30-foot power cord
Power rating: 680 Watts, 5.7 Amps
HyperVelocity suction
DuoClean PowerFins
Self-cleaning brushrolls
Foam and felt filters
Cleaning path: 8.11 inches
Dust cup capacity: 0.32 quarts
LED headlights
Advanced swivel steering
Dimensions: 10.24 x 10.24 x 45.27(LxWxH in inches)
Shark Vertex Corded Stick Vacuum HZ2002 Review: Pros & Cons
This super-lightweight stick vacuum has impressed us with how much dirt it can pick up. There are many things to love about it. However, there are a couple of drawbacks to note, though they are common with stick vacuums.
Pros
Fade-free and powerful suction
Superb for all floor types cleaning
Ultra-light – easy to carry around
Its hair pick-up is impressive
The long power cord offers cleaning convenience
Lies nearly flat to reach far under furniture
It's very easy to maneuver because of advanced swivel steering
You get a few attachments for above-floor vacuuming
5-year limited warranty
Cons
The dust cup is relatively small
Just like most stick vacuums, it is top-heavy meaning it can't stand upright on its own unless you lean it against a wall.
Click here to see its current price.
Our verdict
Several attributes make this Shark vacuum great. We love its extended since it adds to the cleaning convenience. We also appreciate its superior ability to clean multiple floor types and to transition easily between various floors.
To be honest, the suction exceeds expectations given that it is a compact vacuum.
Shark Vertex HZ2002 beats its peers in terms of cleaning excellence. The DuoClean PowerFins floor nozzle is a great innovation and does a thorough job. It also helps that it's self-cleaning so you don't have to keep removing tangled hair manually.
Besides, this vacuum is ultra-light and rolls smoothly from one floor to another. The swivel head turns with ease as you navigate around tables, seats, and other obstacles.
Also, you enjoy thorough debris pick-up on bare floors, upholstery, carpets, and rugs. Armed with superior suction, this vacuum removes embedded dirt in just a few passes. Moreover, it maintains the same fade-free suction when using attachments.
The only downside is that you have to find a place to lean it against whenever you are done or taking a break. The dirt canister makes it top-heavy thus unable to be stored upright. However, this is a common challenge with most corded stick vacuums.
Besides that, the Shark Vertex HZ2002 Corded Stick Vacuum has more to offer than regular stick vacuums.