Dyson is well known for its top-of-the-range vacuums – mostly the Dyson Ball uprights and its powerful cordless stick vacuums. There have been many Dyson stick vacuums produced over the years, and the latest two versions are the V10 and V11. Today, we compare Dyson V10 vs V11 in detail.
First, you need to know that each model of the Dyson Cyclone Stick Vacuum line has different versions. For example, the V10 has three versions – Animal, Motorhead, and Absolute. On the other hand, the V11 also has three types – Animal, Torque Drive, and Outsize.
Dyson V11 Outsize has sub-models which you can see here: Dyson V11 Outsize vs Outsize Origin.
Being the newer release, we expect the Dyson V11 cordless vacuums to be superior. However, they will obviously be a bit more expensive. In this article, we point out the similarities and differences between the two options so that you can know what to expect from each.
Dyson V10 vs V11 Comparison Table
Below, we compare the two Dysons in depth so you can have a clear overview of the three Dyson V11s versus the three Dyson V10s. Ultimately, you will be able to decide which one to go for much quicker.
| | V11 Animal | V11 Torque Drive | V11 Outsize | V10 Animal | V10 Absolute | V10 Motorhead |
| --- | --- | --- | --- | --- | --- | --- |
| | | | | | | |
| Type | Stick, bagless | Stick, bagless | Stick, bagless | Stick, bagless | Stick, bagless | Stick, bagless |
| Converts to hand vacuum | Yes | Yes | Yes | Yes | Yes | Yes |
| Color | Purple | Blue | Red | Purple | Copper | Red |
| Charging duration | 4.5 hours | 4.5 hours | 4.5 hours | 3.5 hours | 3.5 hours | 3.5 hours |
| Max runtime | 60 minutes | 60 minutes | 120 minutes | 60 minutes | 60 minutes | 60 minutes |
| Motor | Dyson digital V11 | Dyson digital V11 | Dyson digital V11 | Dyson digital V10 | Dyson digital V10 | Dyson digital V10 |
| Cyclone technology | 14 concentric cyclones | 14 concentric cyclones | 14 concentric cyclones | 14 concentric cyclones | 14 concentric cyclones | 14 concentric cyclones |
| Suction force | 79,000g | 79,000g | 79,000g | 79,000g | 79,000g | 79,000g |
| Dynamic Load Sensing | Yes | Yes | Yes | No | No | No |
| Auto suction control | Yes | Yes | Yes | No | No | No |
| Cleaning modes | 3 | 3 | 3 | 3 | 3 | 3 |
| Cleaner head | High Torque | High Torque | High Torque XL | Torque drive | Torque drive, soft roller | Direct drive |
| Multi-surface vacuum? | Yes | Yes | Yes | Yes | Yes | Yes |
| Good for pets? | Yes | Yes | Yes | Yes | Yes | Yes |
| Extra tools | 4 | 5 | 5 | 4 | 4 | 2 |
| Filtration | Advanced whole-machine | Advanced whole-machine | Advanced whole-machine | Advanced whole-machine | Advanced whole-machine | Advanced whole-machine |
| Display | LED | LCD | LCD | None | None | None |
| Weight | 6.68 lbs | 6.68 lbs | 7.85 lbs | 5.88 lbs | 5.88 lbs | 5.88 lbs |
| Bin size | 0.77 liters | 0.77 liters | 1.9 liters | 0.77 liters | 0.77 liters | 0.54 liters |
| Dimensions (LxWxH inches) | 49.65 x 9.84 x 10.28 | 49.65 x 9.84 x 10.28 | 50.63 x 11.7 x 12.5 | 49.2 x 9.5 x 10.1 | 49.2 x 9.5 x 10.1 | 48.85 x 9.5 x 10.1 |
| | | | | | | |
Dyson V11 vs V10 – Side by Side Comparison
What's the difference between Dyson V10 and V11? The best way to compare vacuum cleaners is to look at each feature individually. This way, you can see the differences or similarities more clearly as we proceed.
1. 2-in-1 capability
All six Dyson V10 and V11 vacuums are bagless stick vacuums. For sure, they are among the best at vacuuming all types of floors. Also, their design is stylish despite the price-point being a bit on the higher side.
Apart from cleaning the floor, however, you need to vacuum stairs and other above-ground areas from time to time. Also, small messes on the floor do not require a full-size vacuum. Thankfully, all the V10 and V11 vacuums can quickly be transformed into handheld vacuums for this purpose.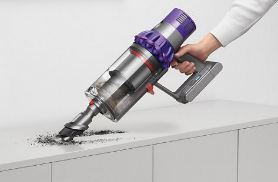 Besides that, the handheld vacuum can prove quite useful whenever you want to vacuum your car's interior.
2. Power source & runtime
All these vacuums are cordless. Well, cordless vacuums offer great freedom in terms of how far you can go without the limitations of power cords. Besides, you can even vacuum when there's no power. However, one pain point is that the battery may run out before you finish the task.
So, a key consideration when shopping for the best cordless stick vacuum is the runtime. Luckily, Dyson has really outdone itself in this aspect. While most cordless stick vacuums have a maximum runtime of about 30 to 45 minutes, that is less than the maximum runtime of any of the six options.
This extended cleaning time can be attributed to high-capacity lithium-ion batteries used to make the Dyson battery packs.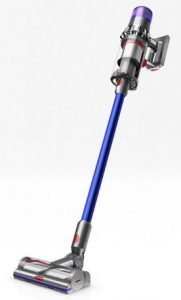 Five out of the six vacuums allow up to one hour of vacuuming. But the Dyson V11 outsize goes a step further – you can vacuum for up to two hours! Crazy, right? This because it comes with two interchangeable battery packs. So, if one runs out, you can leave it to charge as you vacuum using the other battery.
However, please note that such figures can only be reached at the lowest settings where the suction is not too much. Therefore, when you engage Boost mode on the V11 Animal or Suction Mode II on the V10 Absolute, the runtime can be reduced to even less than 30 minutes.
These high-suction modes are ideal when you want to dislodge stubborn dirt from carpets. So, this is when you expect the battery to drain faster. However, when vacuuming bare floors or upholstery, you can easily achieve the estimated maximum runtimes.
3. Suction
Suction is everything when it comes to vacuum cleaners. Well, except if it's a toy vacuum for your kid to play with as you clean. While many features define a good vacuum, the most important is how powerful it is.
Thankfully, you don't have to worry too much about that if you're in the market for a Dyson. These cordless stick vacs have powerful digital motors that help to generate enough suction to pick up all kinds of dirt.
Dyson V11 makes use of the Dyson digital V11 motor while V10 employs the Dyson digital V11 motor. These motors partner with 14 cyclones to generate very powerful suction (79,000g) that sucks dust, dirt, debris, and pet hair straight into the bin.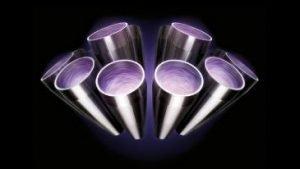 Further, Dyson's straight-line design helps to boost the suction and ensure that it is fade-free.
Also, depending on the floor type you're vacuuming, you have three cleaning modes to choose from. And that applies to all the six Dysons. However, Dyson V11 utilizes Dynamic Load Sensing technology to automatically adjust suction to match the exact surface you're vacuuming.
The Dyson V10s, on the other hand, lack automatic suction adjustment. However, you can manually adjust the suction as you please. For example, Suction Mode II is ideal for deep-cleaning carpets and rugs.
4. Cleaner heads
Dyson has come up with different types of floor nozzles, so you won't find the same thing on all the six options. The newer versions, the Dyson V11s, use High Torque cleaner heads to powerfully pick up dirt from carpets using stiff nylon bristles, Furthermore, there are soft fibers that leave hard floors sparkling clean, free of dust.
On the Dyson V11 Outsize, however, the floor nozzle resembles that of a full-size vacuum. So, it is a bit wider hence the name High Torque XL; and is ideal for vacuuming large rooms in a short period.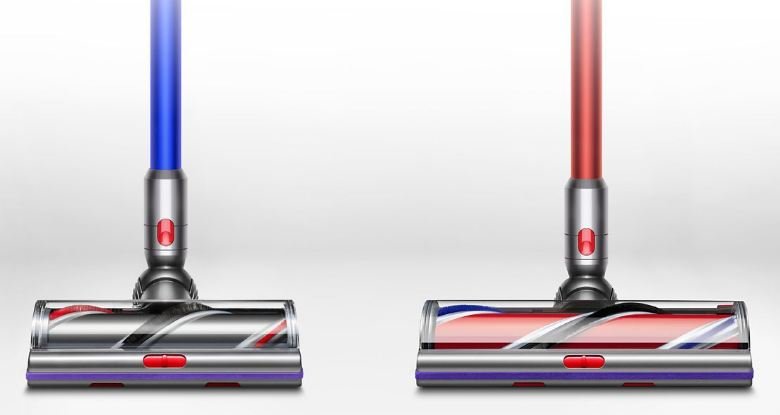 V10 Animal and V10 Absolute both come with a Torque Drive cleaner head which works very well on both carpets and bare floors. On top of that, Dyson V10 Absolute also has a soft roller cleaner head that is gentle on delicate floors such as luxury vinyl planks.
Lastly, the Dyson V10 Motorhead comes with a Direct Drive which is also perfect for deep-cleaning carpets and vacuuming hard floors.
5. Floor types and pets
If you have mixed floors and some rugs, the last thing you want is to buy a vacuum for each part of the floor. Instead, you want a vacuum that is a jack of all trades – a vacuum that digs deep into your carpet for dirt and is gentle on your bare floors.
Luckily, all the six vacuums can be used for vacuuming carpets, rugs, as well as hard floors. If you have very delicate floors, you may want to get the Dyson V10 Absolute which comes with a soft roller cleaner head. Alternatively, you can buy a soft roller cleaner head separately if you go with any other option.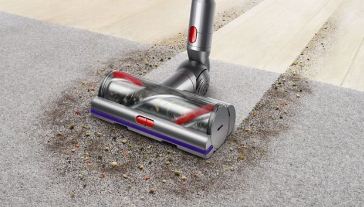 Do you have pets? If the answer is yes, you must be sick of all the pet hair and dander that you have to deal with. Buying a decent vacuum can solve the problem albeit partially. The good news is that all the six Dyson cordless vacuums are capable of picking up pet hair and dander with ease – especially the Dyson V11 Animal.
6. Attachments
We have talked a lot about floors and the capability of Dyson V11 and V10. What about other surfaces such as upholstery, walls, drapes, windows, tabletops, shelves, and stairs? Well, you can convert the vacuum into a handheld tool, but you need attachments to really get the job done.
All the vacuums we're comparing have diverse sets of accessories, ranging from two to five.
Dyson V10 Animal and Absolute both have four attachments – a crevice tool, a mini motorized tool, a combination tool, and a soft dusting brush. However, the Dyson V10 Motorhead only has a couple of attachments – a crevice tool and a combination tool.
Let's see what the V11s have…
Dyson V11 Animal has four attachments including a combination tool, a crevice tool, a mini motorized tool, and a stubborn dirt brush. On the other hand, Dyson V11 Torque Drive and Outsize both have five attachments. These include a mini motorized tool, a combination (2-in-1) tool, a stubborn dirt brush, a crevice tool, and a mini soft dusting brush.
See the Dyson V11 in action: (YouTube video courtesy of Dyson)
7. Filtration
Allergens such as pollen and dust can be a real problem for allergy and asthma sufferers. So, apart from buying an air purifier, you may want to get yourself a vacuum to complement it. I'm talking about a vacuum that prevents such pollutants from being blown back into the air.
Dyson has managed to do that pretty well even without the conventional HEPA filters. Both Dyson V10 and V11 take advantage of an advanced whole-machine filtration system to keep allergens at arm's length.
As you vacuum, particles as small as 0.3 microns in diameter are captured and trapped inside the dirt bin. So, Dyson V10 and V11 cordless vacuums are a good choice for anyone in such circumstances.
8. Display
Wouldn't it be nice to have a screen where you can get an alert in case of a malfunction? Or where you can monitor the battery level? Well, Dyson V11 has addressed this fantasy in all three versions.
Using either an LED or an LCD screen, you can be able to see a variety of things that are geared towards ensuring that you vacuum properly while minimizing damage to your vacuum. You can also see the battery level, cleaning mode, blockages, and filter-related issues such as when to clean or replace them.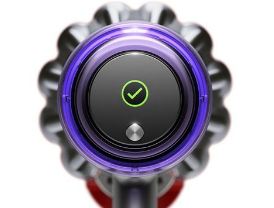 Unfortunately, Dyson V10 cordless vacuums lack this feature. But we can cut them some slack because they are the older version.
9. Weight
Cordless vacuums, especially cordless stick vacuums, are generally very light. This is due to their design that doesn't leave much room for large canisters. Both Dyson V11 Animal and Torque Drive weigh 6.68 pounds, while all the three Dyson V10 are a bit lighter. They weigh just 5.88 pounds.
However, Dyson V11 Outsize is the heaviest among the six vacuums, weighing 7.85 pounds. This is understandable because it has a much bigger dirt bin and a full-size floor nozzle. All in all, the six units are very light – and even lighter when you convert them into handheld vacuums.
10. Dirt cup size
Typically, stick vacuums have small bins, but we might see an exception with Dyson V11 Outsize.
Out of the six vacuums, Dyson V10 Motorhead has the smallest bin, measuring just 0.54 liters. Dyson V11 Animal, V11 Torque Drive, and V10 Animal have slightly bigger bins measuring 0.77 liters.
If you go for the Dyson V11 Outsize, expect a bigger bin. Having a full-size nozzle on a stick vacuum means that the dirt collected will be more. So, Dyson fitted a full-size bin on this unit. It measures 1.9 liters (0.5 Gallons) and is about 150% larger than that of V11 Torque Drive.
Verdict – Which One Should You Buy?
Given that Dyson V11 cordless vacuums are newer, we are not surprised that they beat the V10 alternatives in many aspects. However, the V10s can still hold their own when it comes to vacuuming carpets as well as hard floors. They're also good with pet hair and are cheaper, too.
Besides, if you vacuum your house regularly or live in a relatively clean neighborhood, you don't need a huge investment in a vacuum cleaner. Dyson V10 Absolute or Animal should be adequate for your needs.
However, a new model of any appliance means better design and performance. And that can be clearly seen in the increased suction made possible by the use of the newer Dyson V11 Digital motors. Also, Dyson V11s have better cleaner heads, automatic suction adjustment, and handy displays.
All factors considered, we nominate Dyson V11 Torque Drive as the overall winner of our Dyson V11 vs V10 contest. However, if you have very large rooms and need a full-size floor nozzle, you can go for the V11 Outsize. It's slightly more expensive though.