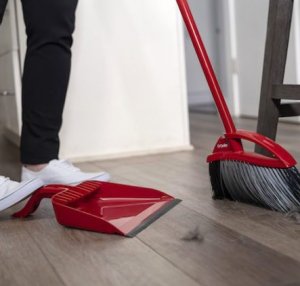 This is one of the most frequently asked questions for people who have hardwood flooring in their homes. We always get such questions from our readers, and it's time to answer in detail. So, should you sweep or vacuum hardwood floors? What's better between a broom vs vacuum cleaner?
Read on…
Vacuum vs Broom: Which One is Better?
To answer this question straight away, neither is better. However, each option has its advantages and disadvantages. Most people would say that since every home has a broom and a dust pan, it's the better option. Also, it is very cheap to buy a broom and a dust pan.
On the other hand, vacuum cleaners are generally more expensive to buy. You can also scratch the floor if you forget to switch off the brushroll. However, they are better at picking up dust and dirt, even in grooves or inside wood plank joints.
Well, let this boxing match begin!
In the blue corner…the broom (sweeping)
Let's start with the age-old cleaning tool – the broom. Practically any home or office has a broom and a dust pan among the cleaning arsenal. While brooms are quite handy and easy to use, they may leave traces of dust and dirt on the floor in tight spots. Also, they usually stir up dust that may trigger allergies.
Besides, you have to bend to collect the dirt. This can be terrible news for anyone with back problems. But what are the advantages of using a broom to sweep hardwood floors? Let's find out…
Advantages of sweeping over vacuuming hardwood floors
Brooms have a lot going for them in this battle:
Cheap to buy
Simply pick it up and sweep
No noise, so you can even sweep while the baby is sleeping
Easier to store (small in size)
Zero maintenance costs
Doesn't add to your electricity bill
Minimal chances of damaging the floor
You don't need attachments to clean hard to reach spaces
Very light hence easy to use and move from one point to the other as well as up and down the stairs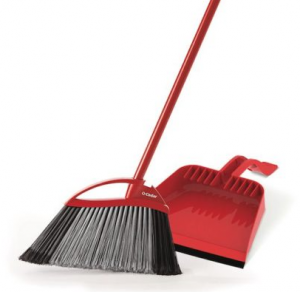 In the red corner…the vacuum
While vacuums are heavier, bulkier, noisier, and more expensive, they have numerous advantages. Also, vacuums are becoming a necessity for anyone who wants to create a habitable environment for themselves and visitors.
Advantages of vacuuming over sweeping hardwood floors
Despite the few cons, vacuums have lots of pros:
Vacuums suck up all dust and dirt from hardwood floors. The same cannot be said of brooms
Some vacuums are very easy to set up and use, especially if they have swivel steering
Easy on the back because you don't have to bend to sweep dirt onto the dust pan
You get attachments for above-floor vacuuming (drapes, walls, ceilings, stairs, etc.)
Vacuums have filters that remove dust and other allergens from the indoor air
Some vacuums are very affordable; some vacuums cost less than 50 Dollars
Ideal for removing hidden dirt from cracks, crevices, corners, and the wood plank joints
You may have a few area rugs and you can be sure that a broom won't be the best option
There are many vacuum cleaners on the market. However, some may cause more harm than good. For example, if you cannot turn off the tough brushroll (beater bar), it may leave scratches that will damage your floor and leave it looking ugly.
Hardwood flooring can be expensive to install, and any damage may set you back financially. Also, you don't want your floor to be an eyesore. Therefore, you must only consider the best vacuums for hardwood floors to save yourself from such regrets and unnecessary expenditures.
So, Should you Sweep or Vacuum Hardwood Floors?
Whether you go for the broom or vacuum, both have numerous advantages. Therefore, it boils down to your individual needs as well as preference. For quick pickups, you can simply use a broom. Sweeping is easy, quiet, cheap, and noise-free. Besides, you're less likely to damage the hardwood while sweeping.
On the other hand, vacuums are powerful enough to remove all dust, dirt, and debris from hardwood floors as well as above-floor surfaces. Most vacuums are also easy to use and some are quite affordable. Besides, vacuums with HEPA filtration are the best for allergy sufferers.
As you can see, both options are good for hardwood floors. It all depends on what you need at a particular moment. My advice is that you have both and use them interchangeably. Some tasks will also require that you use both.
In this YouTube video, Angela Brown Cleaning gives a few more tips on how to clean your hardwood floors: