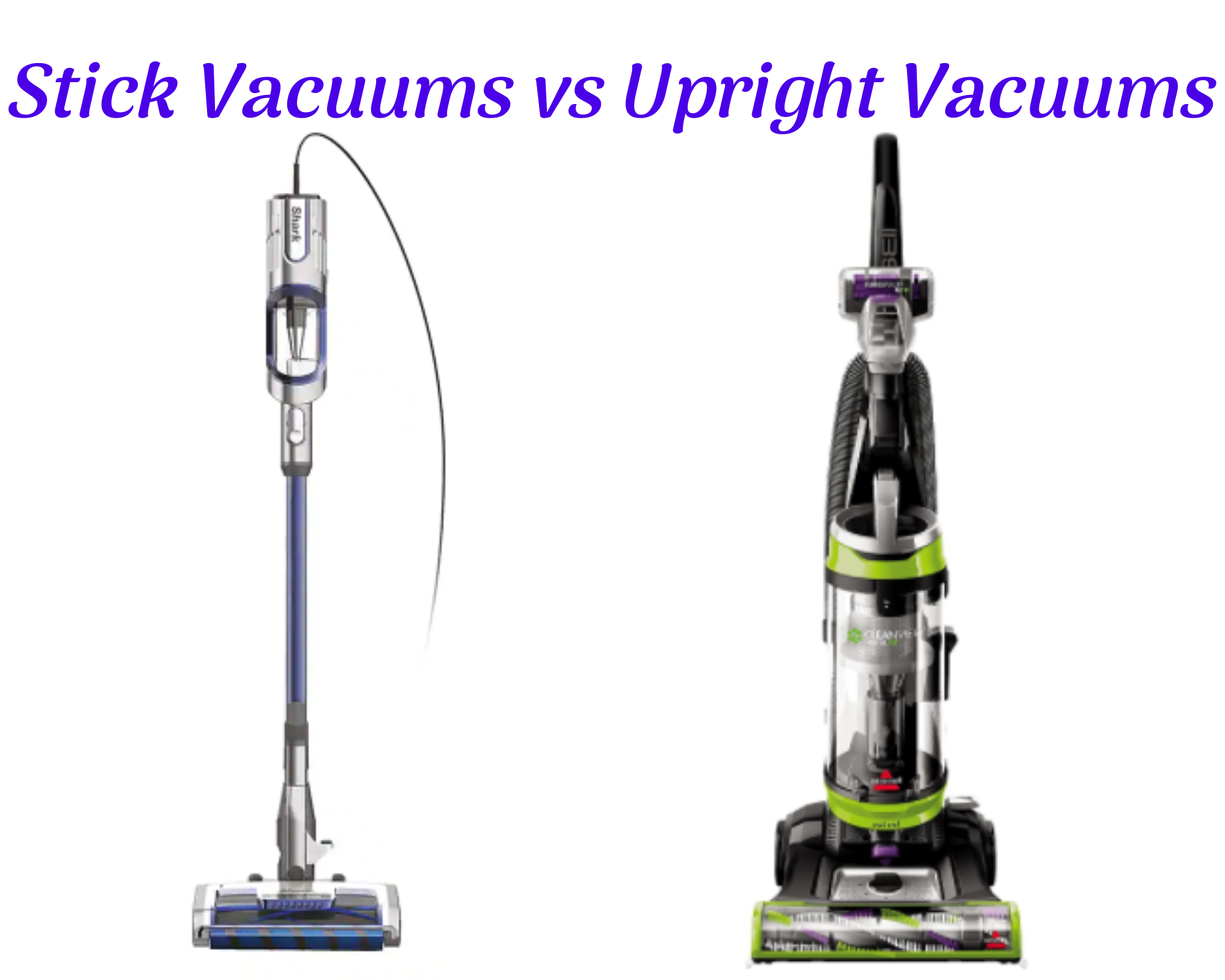 Which one should you get between a stick vacuum and an upright vacuum? Well, this is a complex question that you can only solve if you have several facts in place. It all boils down to your needs as well as your preference.
However, today we look at these two types of vacuum cleaners in detail and side-by-side. Once you know what each one has to offer, the decision will be a lot easier. After all, you want to get the best value for your money.
Stick Vacuum vs Upright Vacuum – a Side by Side Comparison
The only way to find out which vacuum suits you and your home is to go through the below points one by one. Go for the one that gets the most points and you won't regret it. So, what are the main features or characteristics of these vacuums?
Let's find out…
Design
From the way they're made, a stick vacuum is a type of upright vacuum, only that it is more compact. So, the dirt canister on an upright vacuum is usually bigger than that of a stick vacuum. Also, you can find bagged upright vacuums but stick vacuums are too small for bags.
Besides, upright vacuums stay upright because the dirt canister comfortably sits on the floor attachment. On the other hand, stick vacuums are usually top-heavy and you have to place them against the wall or on a wall mount.
Suction power
Overall, upright vacuums are more powerful than stick vacuums. They are ideal for vacuuming both carpet and bare floors, pulling out even the most deeply embedded dirt. However, recent advancements in technology are beginning to change this narrative.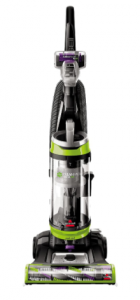 Some stick vacuums are powerful enough to match uprights. A good example is the Dyson V15 Detect line of cordless stick vacuums.
Dirt capacity
As hinted above, due to their difference in size, you expect an upright vacuum to store more dirt than a stick vacuum. So, if there's a lot of dirt to be removed from your floors, an upright vacuum would be the better fit.
However, if you vacuum regularly, the dust cup size should be the least of your concerns. The more you clean the house, the less dirt will be there to pick up.
Storage
This one depends on how your house is set up and how much space there is. After you finish vacuuming using an upright, you can simply set it at the corner or inside the storage closet. However, this may be challenging if you live in a small house or apartment.
On the other hand, you can't just leave a stick vacuum anywhere. Because stick vacuums easily fall over when placed against the wall, you must find somewhere to hang it. Luckily, most stick vacuums come with wall mounts.
Some manufacturers have also come up with ways of storing stick vacuums more easily. For example, Shark ION F80 (IF281) has MultiFLEX technology that allows you to fold it in the middle into a standing position.
Overall, stick vacuums are easier to store and also do not occupy too much space.
Deep cleaning thick carpet
If you have carpet flooring, chances are that there is a lot of deeply embedded dirt – dust, sand, pet hair, and debris. Generally, upright vacuums are better for such tasks. They are more powerful and usually have tough brushrolls that can get to the hidden dirt.
If you have delicate floors, however, you may want to buy an upright vacuum that has an on/off switch for the beater bar. This will prevent scratches and leave the floor with a polished look, especially if the vacuum has an extra brushroll with soft fibers.
That's not to say that stick vacuums are terrible for deep cleaning carpet. In fact, newer stick vacuum cleaners such as Sharks and Dysons are also powerful enough to remove all types of dirt from bare floors and carpet.
Dealing with bare floors
Stick vacuums are generally superior to upright vacuums when it comes to vacuuming bare floors especially delicate ones such as vinyl. However, an upright vacuum with brushroll-shut off will still do a marvelous job.
Pet hair pick up
Upright vacuums are generally better at picking up pet hair than stick vacs. A few exceptions are still there, because some stick vacuums are powerful and have desirable features for pet hair.
Some stick vacuums have anti-hair wrap technology and special pet tools. Also, the fact that you can switch to handheld mode makes them better for quickly removing pet hair from upholstery, furniture, stairs, and car interiors.
2-in-1 capability
If you have kids or pets, picking small messes on the go from floors, furniture, or inside your car can be a daily task. Therefore, you need a handheld vacuum and probably a few attachments. While upright vacuums have such attachments, only a handful can be converted into handheld vacuums.
On the other hand, you can quickly transform most stick vacuums into handheld vacuum cleaners. So, if you have such needs, a stick vacuum would be better.
Weight
Most uprights, except for some Oreck vacuums, are heavy. What makes them quite easy to use is swivel steering. However, carrying them from one point to the next or up and down the stairs can be stressful.
So, upright vacuums are not ideal for petite individuals or anyone who is not strong. Also, if you want to introduce your kids to vacuuming, they may not be the best option.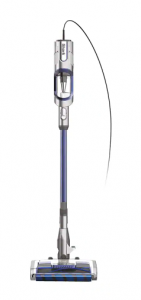 On the other hand, stick vacuums are lightweight by design. They are smaller and more compact. So, they are very easy to use and to carry up and down the stairs (or from one spot to the next). Besides, they become even lighter when you convert them to handheld vacuums.
The Differences Between Stick Vacuums and Upright Vacuums
Modern stick vacuums are giving uprights a run for their money. But when comparing them Dollar to Dollar, there are a few differences that should inform your choice between the two. Below is a summary:
| | | |
| --- | --- | --- |
| | Stick vacuum | Upright vacuum |
| Suction | Strong | Very strong |
| Dirt capacity | Small | Large |
| Storage | Wall-mount | Self-standing |
| Converts to a handheld vacuum | Yes | No |
| Deep-cleans carpet | No | Yes |
| Bare floor vacuuming | Excellent | Good |
| Pet hair pick up | Good | Excellent |
| Weight | Light | Heavy |
| Size | Compact | Bulky |
Conclusion
Stick vacuums are generally ideal for quick pick-ups and vacuuming bare floors. They are also easy to handle and store because they are light and compact. However, they have limited storage and are not as powerful as uprights.
While most uprights are bulky, heavy, and not easy to store, they're powerful enough to pick up even the toughest dirt from bare floors as well as carpet. Also, they usually have a larger dirt storage capacity. Therefore, you can vacuum more times or for a longer period before emptying.
When comparing upright vs stick vacuums, there are features that across each type. However, due to technological advancements, stick vacuums are also becoming more powerful. So, you should compare a particular stick vacuum to a specific upright instead of going or the general comparison.
This YouTube video by Smart Life sheds more light on the age-old upright vs stick vacuum comparison: